---
Niche Product Design, a New Model for Assistive Technology
W.S. Harwin
Department of Cybernetics
University of Reading
P.O. Box 225 Reading
RG6 6AY England
tel: +44 118 9316792
fax: +44 118 9318220
email: w.s.harwin@reading.ac.uk

Summary
A niche product is a product that is unlikely to gain a wide volume of sales and therefore cannot necessarily benefit from mass production manufacturing techniques. Most assistive technologies can be considered niche products. The small volume of sales combined with the dramatic pressure to make assistive technology products affordable to an individual further complicates the production of assistive technologies and makes innovation in this field difficult. Thus the majority of manufacturers are small or micro businesses who necessarily maintain a highly conservative business approach.
This paper outlines the existing approaches and outlines an alternate approach in which although intellectual property is protected, it is not necessarily a source of income for the inventor, nor are product patents a protection for the manufacturers from rival products. Thus a company must derive income from products that have a high quality of manufacture, and have additional value in the maintenance and technical support agreements that are sold with the package.
In return the manufacturer can benefit from a free exchange of ideas with a wide range of interested parties including voluntary medical engineering organizations (including student engineers), assistive technology practitioners, technically sophisticated users, and research organizations.
---

| Top|
Introduction - What is a Niche Product?
Four ways of producing rehabilitation technology can be identified, 1) Adopting the universal design principle to mainstream products, 2) Manufacturing a `one of a kind' product tailored to the individual's needs, 3) Using a well defined manufacturing process to customize a product or part to the user, and 4) Developing a production technique that is flexible, but is still cost effective for production of an item in small quantities. The term `niche product' applies to the last three of these techniques (figure 1). The concept of a niche product can allow a significant level of customization to occur, a feature usually desirable in assistive technologies (Mahoney et al. 1996).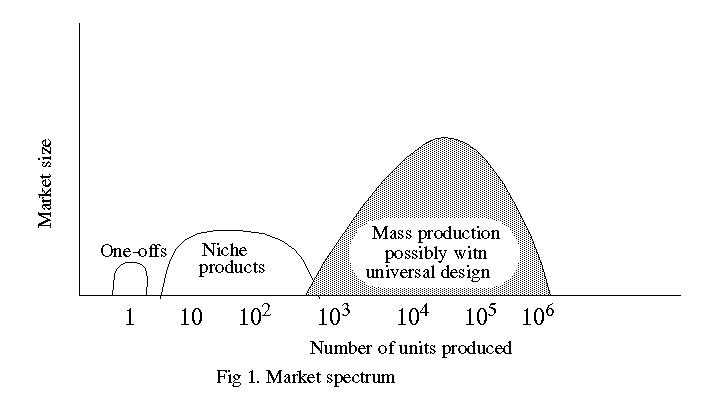 ---

| Top|
Universal design
The principles embodied in the concept of universal design are laudable although the term is often misunderstood. There are no such things as universal design! No matter what is done to a product to ensure universal access for all people there will always be individuals for whom this does not work. The universal design approach has been championed in architecture, telecommunications and computer access systems design, and can be considered as the process of creating products and environments to be usable by the widest possible range of people without the need for adaptation or specialized design. There are many examples of products that benefit from the universal design approach. However often a successful universal design has the benefit of legislative backing, for example laws that ensure that all new public buildings are fully accessible.
---

| Top |
One of a kind' rehabilitation products
A considerable amount of innovation can occur in the production of `one of a kind' assistive technologies. Commercial production of `one of a kind' products are extremely high and to avoid this most `one of a kind' assistive technologies are designed and manufactured by volunteers such as organizations, students for course credit, or technically sophisticated users, or their family or friends. Several charitable organizations have developed to facilitate `one of a kind' products. One organization in the UK is the Rehabilitation Engineers Advisory Panel (REMAP), while in the USA the Volunteer Medical Engineers (VME) performs a similar role. Often there are no manufacturing or material costs to the client who pays a nominal fee. This does not equate to low cost since projects use a high level of expertise over a long time frame and may contribute other sources of funding in the manufacture of the product. Intellectual property is not clearly protected and reinvention is common. Likewise repair and servicing of this type of `one of a kind' device is inconsistent and dependent on the good will of the person or persons who acted as the inventor, designer and manufacturer. An additional problem is that there are seldom user manuals, no warranty, minimal training, no consumer protection, and the devices may not be reliable. Production methods are often time consuming and lack quality assurance, and as a result many of these devices may not be used for apparently trivial reasons. Despite these shortcomings the production of `one of a kind' rehabilitation products can meet a very specific need for an individual in an innovative and effective manner.
---

| Top|
Highly customized products
Hospital medical engineering services are often based on a single method of manufacturing customized components that attach to an existing product. Thus for example the socket for a prosthetic leg can be customized to fit an individual's stump shape. The process of producing the socket is complex with the majority of effort devoted to optimizing the shape of a unique former and the production of the actual part, for example vacuum forming plastic over this former, being a simple final stage of the process. Likewise customized seating clinics may use a single production process that optimizes the shape of the seat to the individual but once manufactured this attaches to an existing wheelchair. Again a single process is used that provides a consistent recipe for manufacture. The actual manufacture of the components and the integration into the overall system is often done by small businesses that are on-site at the hospital thus allowing a high degree of interaction with the clinical staff. Products of this nature are more likely to be specified by prescription and funded from a single source such as a health-care trust or a health insurance company. Such technologies have multiple gate keepers such as the health-care provider and the clinical staff but excluding the final user. Innovation in this process tends to be low on the principle that ``if it is not broken don't mend it'' and, as the needs of the user may change over the short term, the product may have a short lifetime.
---

| Top|
Catalogue niche products
Non hospital based assistive technology manufacturing companies have a product or product range that is usually advertised in catalogues or product brochures, although companies are making increasing use of the world wide web and CDROM databases such as Abledata or Rehadat to provide information about their product. There are numerous examples of such catalogue niche items such as page turners, mouthsticks, reachers, devices to aid with eating, standing frames, environmental controllers, computer access equipment and general ADL equipment. Costs of these items are perceived as being high, again reflecting the small market size. This market is dominated by small or micro businesses often with a highly conservative business attitude resulting in low levels of innovation.
---

| Top|
Promoting Innovation in Rehabilitation Products
Given these short comings it is appropriate to explore new ways to encourage innovation in the process of design, development and manufacture of assistive technologies. The small and fragmented market for assistive technology products favours a conservative approach to new innovation and a temptation to reinvent products neither prospect is in the best interests of the consumer. Making individuals aware of the product is difficult, since there is no simple way to access potential users and providers, nor is there an easy method to illustrate the functioning and advantages of the product. After a sale, although consumers may provide feedback about the qualities of the assistive technology, it is often difficult to quantify these in a form that can be used to improve the design of future generations of the product.
Assistive technology producers are highly sensitive to the possibility of competition making it difficult to share ideas. Ironically protection via patents and design registration is not an effective solution as these mechanisms are costly and don't afford the protection that a company might expect. Similarly it is almost impossible to get a financial benefit from the intellectual property associated with the design and functional principles of assistive technology. A company producing a niche scale assistive technology has significant production startup costs and in practice using trade secrets may be a more effective way of protecting intellectual property in this instance. Likewise the materials and manufacturing of the product (often fallaciously assumed to be the primary cost of the product), represent only a small percentage of the added value that is provided by assistive technology companies. Like most mainstream counterparts, the knowledge resources held within the company to offer a complete service to the consumer represent an asset of high value and in practice it is use of this resource that will benefit assistive technology companies. Thus the company sells not just the product but includes a complete package, that might include user and careworker training, technical support, rapid response product repair and maintenance, and extended warranties. These have been identified as highly valuable assets for an assistive technology product (Batavia and Hammer 1990).
Given the poor record of a financial return from any intellectual property associated with inventing an assistive technology, it is appropriate to explore alternative models that still ensure that manufacture of assistive technologies is a viable business yet promotes the range of products available to the consumers. One possibility is that whereas a company may choose to keep a device secret until it is put on the market thus securing competitive advantage, thereafter although the right to be identified as the inventor should be preserved, it would then be possible for rival companies and individuals to copy that device. For most assistive technologies a direct copy is neither cost effective or useful for a rival manufacture given the market size and cost of starting production. The cost of making a direct copy becomes even less attractive if considered with the extra services the originating company can provide in respect to product reliability, extended warranties, training, technical support packages etc. In return designers and manufacturer can benefit from a free exchange of ideas with a all interested parties and encourage the feedback of information from users and consumers to improve the quality of subsequent products.
---

| Top |
Production processes
New methods of production are also needed (Beitler et al. 1996). Techniques such as injection moulded plastics may be cost effective in mass production, but in niche markets the tooling charge becomes a significant percentage of the overall cost making it much less attractive. New production methods are available that could be exploited to a greater extent, often based on computer control of a cutting machine or laser. The most sophisticated of these methods are the free form fabrication methods (Baczy et al. 1996) based on using a laser to build up the bulk of the component from a soup of plastic or metal. Whereas free form fabrication is not widely available, techniques such as laser cutting machines and numerically controlled machines are more common and as production mechanisms become more flexible it becomes feasible to use the concept of a virtual company to manufacture prototype and production versions of a product. Furthermore production processes may allow partially finished products to be manufactured enhancing the potential for a final customization stage, via intermediate organizations, the customer or even the user.
---

| Top |
Conclusions
A new philosophy for product design is required that encourages innovation and free distribution of ideas. Some protection of intellectual property must be afforded but it is unlikely that companies will be able to trade this asset. Techniques must be established to not only speed the development of new products but also to make greater use of the knowledge resources and associated support provided by the company to the consumer, user and health-care provider.
---

| Top|
Literature
R. Bajcsy, V. Kumar, W.S. Harwin, and P. Harker, "Rapid Design and Prototyping of Customised Rehabilitation Aids", Communications of the ACM: Special Section on Computers in Manufacturing, 139, No.2, 55-61, February 1996
A. I. Batavia and G. S. Hammer, "Toward the development of consumer-based criteria for the evaluation of assistive devices" Journal of Rehabilitation Research and Development, 27(4), 425-36, 1990
Richard M. Mahoney, James W. Fee Jr, William S. Harwin, "Design activity in the consumer innovation laboratory" Proceedings of Resna96, ISBN 0-932101-36-4, pp 151-153, 1996
Matthew T. Beitler, William S. Harwin and Richard M. Mahoney, "Virtual prototyping of rehabilitation aids" Proceedings of Resna96, ISBN 0-932101-36-4, pp 360-362, 1996
---

| Top|