ASIA & PACIFIC JOURNAL ON DISABILITY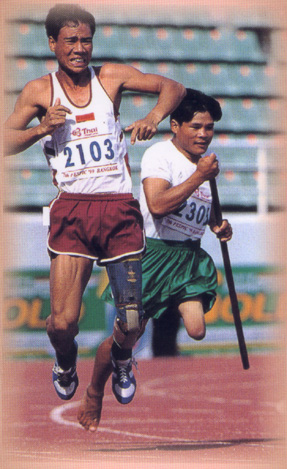 Vol. 2, No. 1, May 1999
---
Contributed by Mr. Tsuyoshi Takeda, Asahi Shimbum Newspaper
ISSN 1029-4414
Printed by :
Association for Engineering and Medical Volunteer Services
EMV Jockey Club Desktop Publishing Centre
---
Asia and Pacific Journal on Disability
Aim and Scope
The Asia and Pacific Journal on Disability is a bi-annual publication. It aims at providing a forum for discussion and dissemination of information among policy makers, practitioners, academics and advocates. In each issue, there will be topics that are directed to specific themes as identified by the 12 Agenda for Action adopted by the Asian and Pacific Decade of Disabled Persons, 1993-2002. The emphasis will be on publishing articles or research reports that have significant impact on policy and practice concerning people with disabilities and their families. Original research reports, review articles, policy analysis, program descriptions, case studies, etc. are welcome for publication.
Sponsorship
The Asia and Pacific Journal on Disability is published by the Asia and Pacific Regional Committee of Rehabilitation International (RI) and the Regional NGO Network (RNN) for the promotion of the Asian and Pacific Decade of Disabled Persons, 1993-2002.
Editorial Board Committee
Chief Editors :

Mr. Ryosuke Matsui
Dr. Joseph Kwok

Executive Editor :

Mrs. Karen Ngai

Honorary Advisors :

Prof. Sir Harry S. Y. Fang
Chairman, Joint Council for the Physically and Mentally Disabled, Hong Kong
Mr. Maomi Yamashita
President, Japanese Society for the Rehabilitation of Disabled Persons, Japan
Dr. Saloshi Ueda, M.D.
Former President, the International Rehabilitation Medicine Association
Emeritus Prof. Kwang Yeon Seo, M.D.
Honorary President, Korean Society for the Rehabilitation of Persons with Disabilities, Korea

Editorial Board Members :

Mr. Ichiro Maruyama, Mr. William Brohier
Prof. R. S. Chauhan, Prof. Dahong Zhuo
Prof. Magpili Policarpia, Dr. Maya Thomas
Prof. Simon Haskell, Dr. Errol Cocks
Dr. Tizun Zhao, Mr. David Henderson
Mrs. Etsuko Ueno, Prof. Ik Seop Lee
Dr. Koon Sik Min, Prof. S. Vasoo
Dr. Isamu Niwa, Prof. Evelina Pangalangan
Prof. Hisao Sato, Prof. Nareewan Chintakanond
Prof. Teresita Sicat, Dr. Padmani Mendis
---
---
Notes to Contributors
1. The Journal welcomes ideas for contributions, which can take the form of :
Articles : between 2,000 and 3,000 words in length
Research reports or reports of research in progress : Between 1,000 and 2,000 words
Critical comments on articles already published : between 500 and 1,000 words
Reviews of recent publications : between 500 and 1,000 words
2. Papers submitted will be reviewed by the Editorial Board.
3. Submissions for publication must be clearly typed on A4 (or equivalent) paper in double spacing and with ample margins. Two copies of each submission should be sent directly to the Executive Editor. Articles should have a cover sheet showing the complete title, the name, professional position and full address of the author. The second page should contain a title and an abstract of 100 - 150 words.
Authors should also provide another copy of the manuscript in a (5.25/3.5 inch) floppy disk using IBM/PC compatible word processing system in text format(.txt) for error-free typesetting if the manuscript is accepted.
4. Authors alone are responsible for opinions expressed in their articles and for obtaining permissions to reproduce copyright material. Articles are accepted on the understanding that they are not already published elsewhere, and authors are required to transfer copyright to the publisher.
5. Maunscripts should be sent to :

Mrs. Karen Ngai
Executive Editor
c/o Division of Social Studies
City University of Hong Kong
Tat Chee Avenue
Kowloon
Hong Kong


Tel: (852) 2788 8834
Fax: (852) 2788 7709
E-mail: scngai@cityu.edu.hk