Francisco Martí nez Calvo
Power Point Presentation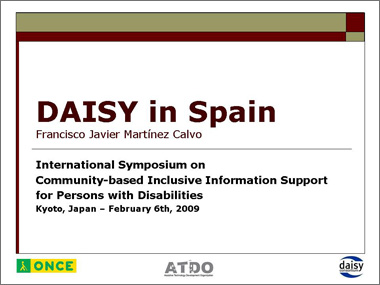 DAISY in Spain
Francisco Martí nez Calvo
International Symposium on
Community-based Inclusive Information Support
for Persons with Disabilities
Kyoto, Japan - February 6th, 2009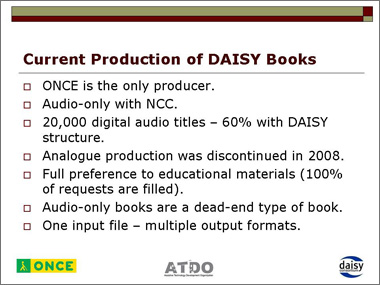 Current Production of DAISY Books
ONCE is the only producer.
Audio-only with NCC.
20,000 digital audio titles - 60% with DAISY structure.
Analogue production was discontinued in 2008.
Full preference to educational materials (100% of requests are filled).
Audio-only books are a dead-end type of book.
One input file - multiple output formats.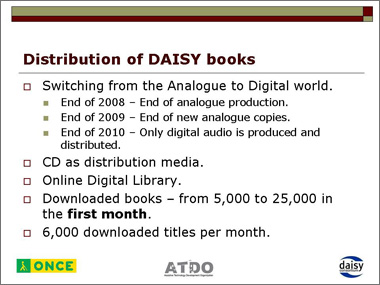 Distribution of DAISY books
Switching from the Analogue to Digital world.

End of 2008 - End of analogue production.
End of 2009 - End of new analogue copies.
End of 2010 - Only digital audio is produced and distributed.

CD as distribution media.

Online Digital Library.

Downloaded books - from 5,000 to 25,000 in the first month.

6,000 downloaded titles per month.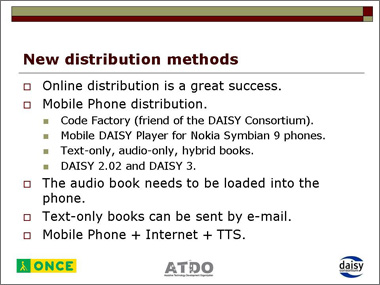 New distribution methods
Online distribution is a great success.

Mobile Phone distribution.

Code Factory (friend of the DAISY Consortium).
Mobile DAISY Player for Nokia Symbian 9 phones.
Text-only, audio-only, hybrid books.
DAISY 2.02 and DAISY 3.

The audio book needs to be loaded into the phone.

Text-only books can be sent by e-mail.

Mobile Phone + Internet + TTS.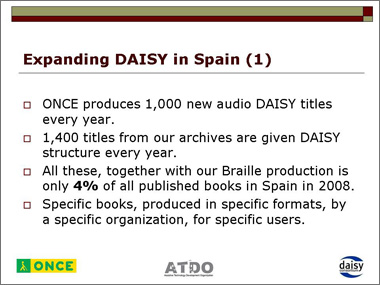 Expanding DAISY in Spain (1)
ONCE produces 1,000 new audio DAISY titles every year.
1,400 titles from our archives are given DAISY structure every year.
All these, together with our Braille production is only 4% of all published books in Spain in 2008.
Specific books, produced in specific formats, by a specific organization, for specific users.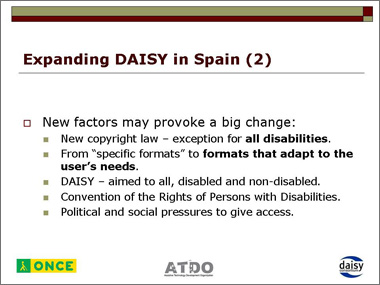 Expanding DAISY in Spain (2)
New factors may provoke a big change:
New copyright law - exception for all disabilities.
From "specific formats" to formats that adapt to the user's needs.
DAISY -aimed to all, disabled and non-disabled.
Convention of the Rights of Persons with Disabilities.
Political and social pressures to give access.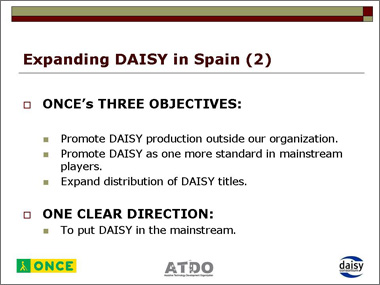 Expanding DAISY in Spain (2)
ONCE's THREE OBJECTIVES:

Promote DAISY production outside our organization.
Promote DAISY as one more standard in mainstream players.
Expand distribution of DAISY titles.

ONE CLEAR DIRECTION:

To put DAISY in the mainstream.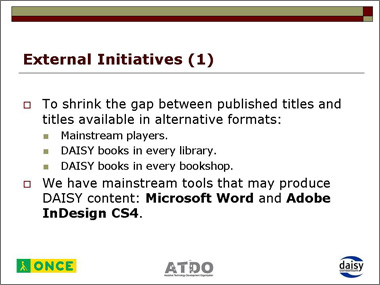 External Initiatives (1)
To shrink the gap between published titles and titles available in alternative formats:

Mainstream players.
DAISY books in every library.
DAISY books in every bookshop.

We have mainstream tools that may produce DAISY content: Microsoft Word and Adobe InDesign CS4.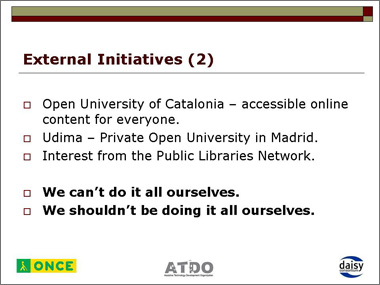 External Initiatives (2)
Open University of Catalonia - accessible online content for everyone.
Udima - Private Open University in Madrid.
Interest from the Public Libraries Network.
We can't do it all ourselves.
We shouldn't be doing it all ourselves.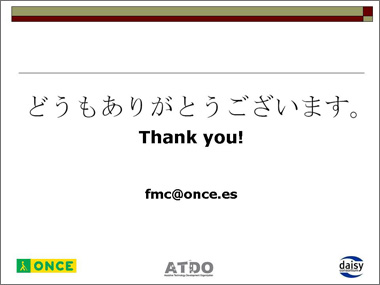 Thank you!
fmc@once.es