George Kerscher
Power Point Presentation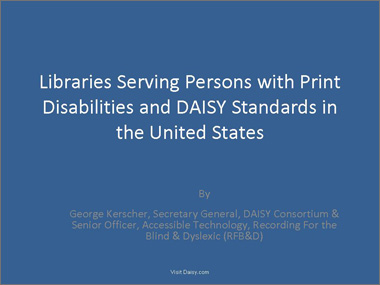 Libraries Serving Persons with Print Disabilities and DAISY Standards in the United States
By George Kerscher,
Secretary General, DAISY Consortium & Senior Officer, Accessible Technology, Recording For the Blind & Dyslexic (RFB&D)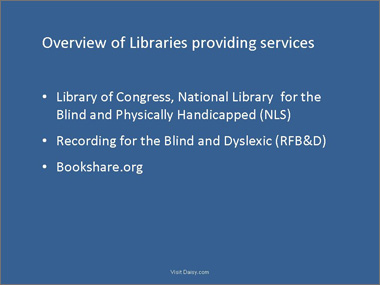 Overview of Libraries providing services
Library of Congress, National Library for the Blind and Physically Handicapped (NLS)
Recording for the Blind and Dyslexic (RFB&D)
Bookshare.org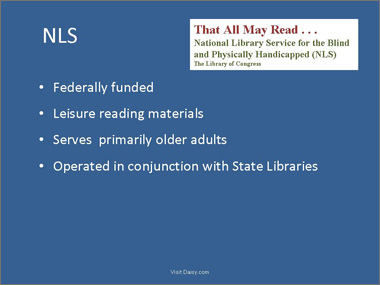 NLS
Federally funded
Leisure reading materials
Serves primarily older adults
Operated in conjunction with State Libraries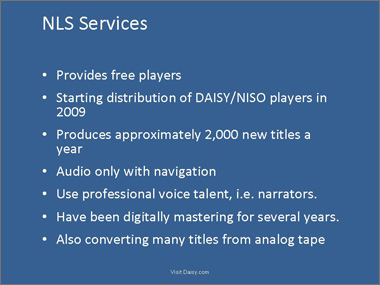 NLS Services
Provides free players
Starting distribution of DAISY/NISO players in 2009
Produces approximately 2,000 new titles a year
Audio only with navigation
Use professional voice talent, i.e. narrators.
Have been digitally mastering for several years.
Also converting many titles from analog tape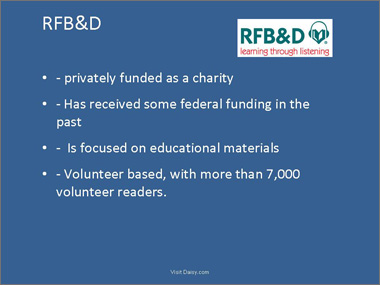 RFB&D
privately funded as a charity
Has received some federal funding in the past
Is focused on educational materials
Volunteer based, with more than 7,000 volunteer readers.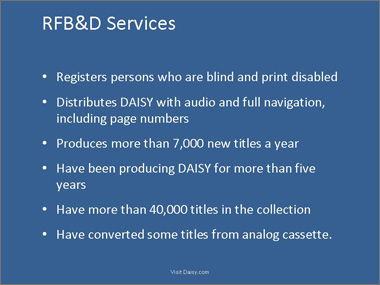 RFB&D Services
Registers persons who are blind and print disabled
Distributes DAISY with audio and full navigation, including page numbers
Produces more than 7,000 new titles a year
Have been producing DAISY for more than five years
Have more than 40,000 titles in the collection
Have converted some titles from analog cassette.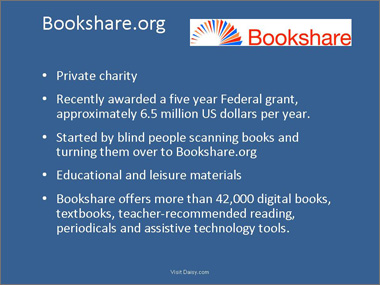 Bookshare.org
Private charity
Recently awarded a five year Federal grant, approximately 6.5 million US dollars per year.
Started by blind people scanning books and turning them over to Bookshare.org
Educational and leisure materials
Bookshare offers more than 42,000 digital books, textbooks, teacher-recommended reading, periodicals and assistive technology tools.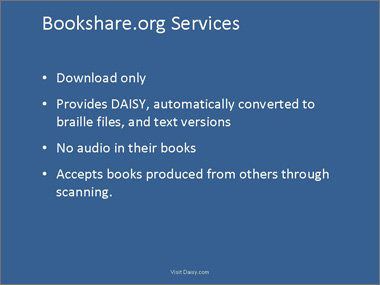 Bookshare.org Services
Download only
Provides DAISY, automatically converted to braille files, and text versions
No audio in their books
Accepts books produced from others through scanning.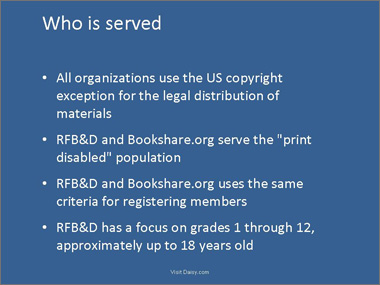 Who is served
All organizations use the US copyright exception for the legal distribution of materials
RFB&D and Bookshare.org serve the "print disabled" population
RFB&D and Bookshare.org uses the same criteria for registering members
RFB&D has a focus on grades 1 through 12, approximately up to 18 years old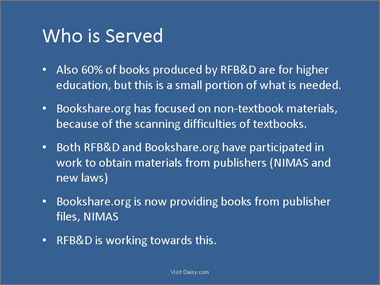 Who is Served
Also 60% of books produced by RFB&D are for higher education, but this is a small portion of what is needed.
Bookshare.org has focused on non-textbook materials, because of the scanning difficulties of textbooks.
Both RFB&D and Bookshare.org have participated in work to obtain materials from publishers (NIMAS and new laws)
Bookshare.org is now providing books from publisher files, NIMAS
RFB&D is working towards this.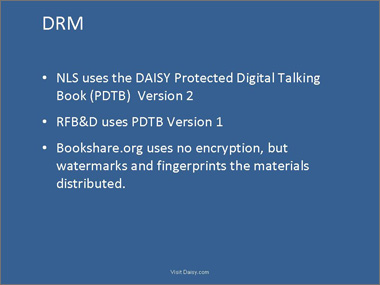 DRM
NLS uses the DAISY Protected Digital Talking Book (PDTB) Version 2
RFB&D uses PDTB Version 1
Bookshare.org uses no encryption, but watermarks and fingerprints the materials distributed.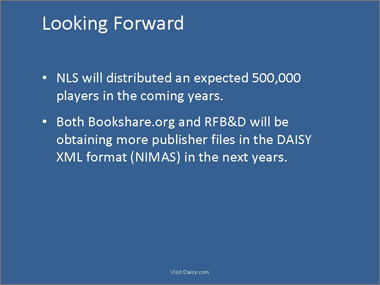 Looking Forward
NLS will distributed an expected 500,000 players in the coming years.
Both Bookshare.org and RFB&D will be obtaining more publisher files in the DAISY
XML format (NIMAS) in the next years.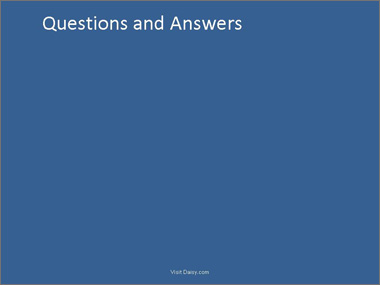 Questions and Answers