Japan-UK Symposium 2001
Community Re-invention in Bromley by Bow
Presented by Professor Paul Brickell
Thank you very much for inviting me to speak to you today. Over the past week I have visited community-based projects in Tokyo, Yokohama, Kobe and Osaka and I have learned an enormous amount about community re-invention in Japan.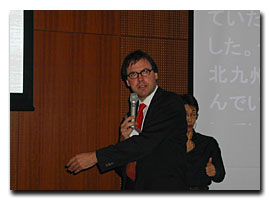 It is an honour to be able to share with you some of the things that we have learned in Bromley by Bow over the past 16 years about "community re-invention powered by the participation of people in the community" the theme of this symposium.
I speak from my experience as chief executive of the Bromley by Bow Centre an NPO in east London and as an elected New Labour Councillor in a neighbouring administrative district called Newham. This gives me a slightly split personality because one of the key issues we struggle with in the UK is to create good and effective relationships between NPOs and local government an issue that I know you also face.
Bromley by Bow Centre
Keynote speaker profile Paul Brickell
After graduation Paul was trained as a research scientist in molecular and cell biology. He took up a Lectureship at University College London in 1985 and over the next 10 years built a research group of 15-18 people, focusing on molecular mechanisms of embryonic development and the molecular basis of leukaemia. He was promoted to Reader in 1992. In 1995 he was promoted to Professor and invited to establish a new interdisciplinary research unit at the Institute of Child Health, focusing on childhood leukaemia. In the next 5 years he recruited 5 research team leaders at Lecturer and Senior Lecturer level and these now form the core of a lively and successful unit. In 1997 he took on the additional role of leading the cancer research department at the Institute of Child Health.
In the course of the research career Paul won research grants totalling approximately £3 million and published 120 peer-reviewed research papers and articles and one text book. He organised and/or taught on a large number of courses for undergraduates, postgraduates and medical students and supervised 16 successful PhD students.
In 1999 Paul decided to change career and was appointed Director of Regeneration at the Bromley by Bow Centre. Over the next year he established partnerships between the Centre, Poplar HARCA (a £200 million local housing company) and Leaside Regeneration Ltd (a company set up by the local authority to co-ordinate and lead local regeneration), and developed existing partnerships with local authority departments and others. On behalf of this local regeneration partnership he wrote a successful bid for £20.7 million of regeneration funds from central government. He also helped position this partnership to deliver key elements of the government's "neighbourhood renewal strategy" locally. At the end of 2000 he published reflections on this work in a book for the think tank Demos, aimed at influencing the government's emerging agenda for neighbourhood renewal (Brickell, P, People Before Structures: engaging communities effectively in regeneration, Demos). In 2001 the Chief Executive of the Centre moved into a new role and he was asked to take over.
Paul retained his professorship at the Institute of Child Health (now merged with University College London) in order to develop the succession to his leadership of the research unit and department (to be completed in October 2001) and to develop research and teaching links between the college and the Centre. He has set up two University College London
course modules delivered at the Centre and have just been awarded his first research grant in primary health care, with colleagues from the University of Central Lancashire and Open University (Dunhill Medical Trust; £199,999).
Paul has been active politically and in voluntary sector organisations all his adult life, and has had a range of leadership roles in the local Labour Party since 1989. In 1998 he was elected to represent Forest Gate ward in the London Borough of Newham. In addition to dealing with casework, he has been involved in shaping service delivery (focusing on library services, community development support and early years services), in establishing two major regeneration programmes in the Borough (SRB5 and Sure Start) and in shaping new local government structures in the wake of the government's new agenda for local government in Britain. In this latter role He has recently been elected to drive new arrangements for scrutiny of the Council's Executive.
For many years, through both career and voluntary activities, he has been involved in the planning and delivery of a range of public sector services (from higher education and research to domestic waste disposal) at both strategic and local levels. In particular, the past four years have given him very broad experience of the rapidly changing role of local government, from the perspective of both a public sector representative and a community sector worker.