DINF Seminar on Development of DAISY LimSee2
LimSee2 : a generic SMIL2.0 authoring tool
Slide show presentation
Nabil Layaïda - Daniel Weck
INRIA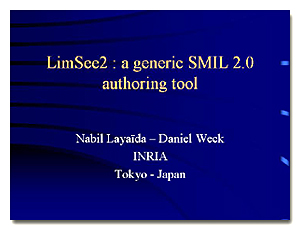 LimSee2 : a generic SMIL 2.0 authoring tool
Nabil Layaïda - Daniel Weck
INRIA
Tokyo - Japn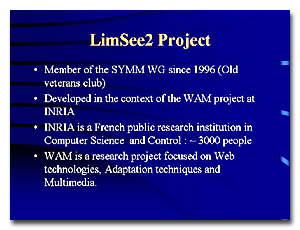 LimSee2 Project
Member of the SYMM WG since 1996(OLD veterans club)
Developed in the context of the WAM project at INRIA
INRIA is a French public research institution in Computer Science and Control : 3000 people
WAM is a research project focused onWeb technologies, Adaptation techniques and Multimedia.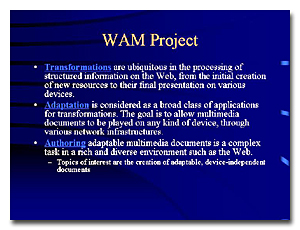 WAM Project
Transformations are ubiquitous in the processing of structued information on the Web, form the initial creation of new resource to their final presentation on various devices.
Adaptation is considered as a broad class of applications for transformations. The goal is to allow multimedia documents to be played on any kind of device, through various network infrastrucutures.
Authoring adaptable multimedia documents is a complex task in a rich and diverse envirnment such as the Web.

Topics of interest are the creation of adaptable, device-independent documents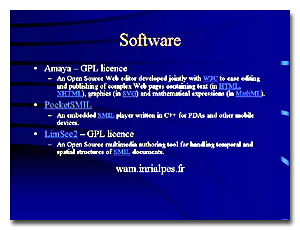 Sfotware
Amaya - GPL licence

An open Source Web editor developed jointly with W3C to ease editing and publishing of complex Web pages containing text (in HTML, XHTML), graphics(in SVG) and mathematical expressions(in MathML).

PocketSMIL

An embedded SMIL player written in C++ for PDAs and other mobile devices.

LimSee2 - GPL licence

An Open Source multimedia authoring tool for handling temporal and spatial structures of SMIL documents.