IFLA
The International Federation of Library Associations and Institutions (IFLA) is the leading international body representing the interests of library and information services and their users. It is global voice of the library and information profession. IFLA now has over 1500 (*1) Members in approximately 150(*2) countries around the world.
Its aims are to promote high standards of provision and delivery of library and information services, to encourage widespread understanding of the value of good library and information services, and to represent the interests of our members throughout the world.
Source: IFLA
For the detailed information:
http://www.ifla.org/
There are two sections related to disability; namely Library Serving Persons with Disabilities Section (LPD) and Library Services to People with Special Needs Section (LSN). DINF provides the information on the activities of these sections and other sections, focusing on access to information and the related copyright issues for people with disabilities.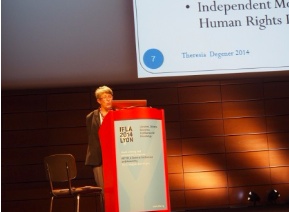 IFLA General Assembly meeting in 2014