---
TRAINING OF PERSONNEL
| | | |
| --- | --- | --- |
| Chairperson: | Dr. the Hon. Harry S. Y. Fang | Immediate Past President, RI (Hong Kong) |
| Co-chairperson: | Rev. Kentaro Buma | Director, Agape Workshop for the Disabled (Japan) |
---
A REALISTIC APPROACH TO THE TRAINING OF ASIAN PHYSIATRISTS
THE PHILIPPINE - INDONESIAN EXPERIENCE
T.M. REYESand O.L. REYES
Division of Rehabilitation Medicine, Santo Tomas University Hospital, Manila, Philippines
---
There are presently 500 million disabled persons in the world. It is estimated that about 100 million more people with disability will be added to this figure by the year 2000. 80 per cent of the disabled live in develcping countries. In fact, of 146 million children with disability today, 88 million are in Asia. There can be no question therefore of the great magnitude of this problem in the developing countries of the world - especially those in the Asia-Pacific region.
The first hard fact to be faced is that there is not enough health manpower to meet the needs of today's disabled persons. There are not enough doctors and not enough allied rehabilitation professionals.
In our opinion, the physician supply is beyond question the most critical single element in manpower for rehabilitation services. The physician calls the shots in every individual case. And the toll of disability is only the sum of individual cases. Realistic approaches to the training of physicians who will provide medical rehabilitation services to these millions of disabled persons therefore, should receive our prime consideration.
We submit that the experience we've had in the training of rehabilitation physicians, for two developing countries in the Asia-Pacific area, the Philippines and Indonesia, have been largely succesful owing to the realistic approaches utilized in the program.
Prior to the start of our program in 1974 at the Santo Tomas University Hospital in Manila, we identified the following problems: 1.) A significant lack of physiatrists practicing in the Philippines. There were then only 10 physiatrists working in the Philippines. 2.) A continued brain drain in the physiatric supply of the country. Many Filipino physicians who trained abroad, especially the United States, never returned to the Philippines. As a result, we had the paradoxical situation wherein there were more Filipino physiatrists practicing in the United States than in the Philippines. 3.) A maldistribution of physiatrists existed. All of the rehabilitation physicians were then practicing in Manila. Nobody was practicing in the provinces. 4.) The practicing physiatrists were much too Western-oriented, reflecting their training in more advanced countries of the world. These proved disadvantageous at times since the physiatrist trained in a country which was much more economically advanced and with a different psychosocial background than in that where he was going to practice.
We found a godfather in Dr. Howard Rusk, who mobilized the resources of the World Rehabilitation Fund, Inc. to assist us in organizing a program meant to train initially physiatrists in the Philippines.
The program had the following features: 1.) It was university hospital - based with a good academic support from its medical school. We wanted a program that will produce quality trainees. We made up our minds early that it will be quality first before quantity. 2.) It was of course, an in-country type training program, rather than the previous practice of sending physicians for training abroad. It expanded later in 1977 to include physicians from Indonesia since no training program then existed in that country. 3.) Since the graduates of the program will have various responsibilities other than patient care, training and experience on the following were also included: Teaching and Training, Administration, Research, and Public Information. 4.) The program emphasized local diseases and conditions ccmmonly seen and treated in practice. It also considered native sccial and psychological values.
The selection criteria were as follows: 1.) Must not be more that 35 years cld. *2.) Must be proficient in the English language (TOEFL required) *3.) Must have at least cre year of residency trainingin a related clinical field. 4.) Must pass the pre-residency examination given by the university hospital and a 3 month pre-residency clinical evaluation, and 5.) Must have an assured placement in a hospital, as certified by the proper hospital authorities, preferably in an institution outside Manila. (* Required for Indonesian candidates)
The program has proved succesful. Thirty-one (31) physiatrists, nineteen (19) Filipinos and twelve (12) Indonesians, graduated from the program from June 1974 to May 1988. All were given positions in various hospitals in different parts of the Philippines and Indonesia. At this point in time, practically all major cities in the Philippines have already been covered by the prcgram. In Indonesia, at least 3 physiatrists each have been assigned in Jakarta, Surabaya and Bandung.
Twenty-nine (29) out of thirty-one (31) or about 95% of the graduates of the program have continued to hold their original placements and have stayed ir their places of assignments. Indonesia has now started its own In-country Training Program manned by graduates from the mother program in Manila.
The quality of the training program can also be judged by the fact that it has consistently scored at par, and in some years even higher, than the average norm for American residents in the Self-Assessment Examination (SAE) given by the American Academy of Physical Medicine and Rehabilitation.
Our analysis of the results have shown that better success in the program is achieved when the following factors are taken into consideration: 1.) The candidate must preferably be from the locality where he is going to practice. The advantage to that includes: continued family support, familiarity of local customs, and ability to speak the local dialect. 2.) The hospital from the locality must be the one to request for the training of a candidate with a promise of taking him back and supporting his practice upon his completion of the program. 3.) The female graduates have a more succesful record in terms of staying in practice and in their locality of assignment than their male counterpart. 4.) Support for equipment is necessary to allow the physician to practice effectively in his assigned hospital. 5.) Support for referral of patients by the hospital staff is very important. The reality is that these graduates will be happier and will most likely stay in their assigned hospital if they earn enough money to support themselves and their family. If not, they will transfer to larger cities or go into general practice. 6.) There must be continued moral support from the staff of the mother hospital. This includes maintenance of regular communication. Continued support for intellectual development is necessary by sending them journals, important articles, and possibility to attend post-graduate courses for continuing education. 7.) Possibilities of success are increased if the graduates can work in more than one hospital in the locality. He would usually prefer to use a private hospital as a base and work also as a consultant in the area's public or government hospital.
Future plans for the program include the opening of Fellowship training in such subspecialty areas as Electrodiagnosis, Pediatric Rehabilitation, SCI and Brain Trauma Rehabilitation, and others. The program is also seeking additional funding from other sources to intensify its training and research functions.
Though much has already been accomplished, there is still much that needs to be done. The success in the Philippines in terms of physiatric supply has been dramatic. We now have about 30 physiatrists practicing in the country. As we succesfully conclude the Indonesian program (they are now producing their own graduates!), we are about to launch the same program for another Asian country. We hope that this succesful program, utilizing realistic approaches appropriate to the state of development of the countries concerned, may be replicated as a model, in other developing countries of the world.
---
TRAINING OF PERSONNEL
PREPARATION OF CURRICULA RELEVANT TO COMMUNITY NEEDS
C. MORENOand I. CONTINELI-TELMO
Santo Tomas University Hospital, RI Education Commission, Portugal
---
It is nowadays quite clear that the teacher's training cannot confine itself to the boundaries of a certificate accumulation. It is therefore unnecessary to describe the long list of reasons for alternative teacher training models namely to justify the in service training. Thie obvious concern can be synthesized in two reasons:-
| | |
| --- | --- |
| - | the constant changes of conditions and responses Education has to offer; |
| - | the constant innovations brought by knowledge to be used by educators. |
Beyond these certitudes no omission of the emotional factor can be forgiven as it influences human relations, complex and always renewed, as is the relationship between teacher-student-class-school-family-global context. When any teacher is requested to have in his/her classroom a child with learning or integration difficulties he or she will most certainly be confronted with an emotional factor.
To diminish the effects of a confrontation with the unknown it is important that the teacher, who will always be, despite outside counselling, intrinsically bound to a failed or achieved integrating process, given all the information on how to organize and plan it. This perspective does not diminish the importance of specialized teachers, on the contrary it promotes mutual collaboration, common languages and increase of knowledge on both sides.
However it means that the teacher will deal with a greater amount of diversified situations and if it is wished to have a balanced training program of teachers these circumstances will have to be taken into account.
The needs of an in-service training for any professional group have to be analyzed in the context of the initial training and that of real working experience. In the case of training of teachers for pre-school, primary and secondary education, we can identify one factor which is relevant in all the circumstances: the DIVERSITY factor. We find diversity in the academic training, in the available educational resources in geographical situations, in cultural and socio-economic conditions and even religious influences.
To contribute to an answer, pondering as many variables as possible, it became quite clear in the R.I. Education Commission that an effort should be made to produce an useful instrument.
Benefiting from a great variety of professional expertise and educational sensibilities of most of the world Regions, the project to build an accessible manual, as universal as possible, was launched.
To confirm our viewpoint this May 1988 at the Mid-Term UNESCO Consulation on Special Education, two of the recommendations focuses on:
"Member States should ensure that Special Education is included as a compulsory component in the pre-service and in-service training programs of teachers at all levels".
"Non categorical training programs which prepare teachers to work with children with all types of disabilities in addition to providing concentration on one or more specific areas of disability should be encouraged".
PART I
Child Development and learning process
This chapter deals with human development through its various steps, from birth to puberty/adolescence. Its inclusion in a Manual for teachers and educators justifies itself with a definition of each developmental stages to be used as a working tool by the user. Therefore in the described developmental stages there has been a concern to relate the evolution of functional and emotional aspects within their own interaction and, as far as possible, also within the educational situations.
Information on children below the age of 3 is given considering that a balanced dimension of the child's development must be known to understand the next stages.
To avoid repetition along the text, the introduction brings out the basic notions that underly all the developmental process. Next are referred the characteristics of the child from birth to the time of the acquisitions necessary for group life.
In the pre-school chapter there is information on language acquisition, socialization, symbolic functions and mental representation. The decoding process is also mentioned as well as the irreversability as one of the most important characteristics of the pre-operational period. Following this previous information the child in the age of basic educational acquisitions is described in his process of transition from pre-logic to operational logic. Description is given of quantity, conservation, weight, time, space, velocity notions and most of all class notion and inclusion of different classes. His capacities show that he can do, understanding what he is doing, and also comprehending the relations that allow him to be operational, simultaneously "seeing" its opposite.
It is in the the period that runs from the basic acquisitions of primary education to secondary education that the individual grows in its capacity to reflection and abstraction leading to an adult reasoning, although, some elements of a sincretic and egocentric thinking are still and easily introduced.
These circumstances demand that a teacher should be able to guarantee learning tasks accessible to each student's level, but at the same time stimulating, in such a way, that individual capacities are potencialized. The secondary education transitional period is defined by a crescendo in the adolescent capacity to reason with reality abstraction or even reasoning on an hypothetical basis he knows to be contradictory to reality.
Formal reasoning gives to the adolescent new and complex learning tasks that he uses with plasure and even some exhibitionism.
The physical and psychological transformations of the adolescent bring him some adaptation problems to which educators should be aware to help them to develop an individual satisfactory image.
At the end of Part I, human development charts are included, representing different approaches to the subject. However, conditions related to socio-cultural and economic environments are paralleled with age and development.
PART II - The Teacher - A communication Act
It is indispensable that a teacher should be a good communicator for an efficient learning process environment.
In this part of the Manual the focus is on communication as a whole and the teacher is understood and explained as a communication agent.
Next, the role of the educator in the school and the community is brought forward, underlying the importance of a great diversity of strategies taking advantage of the group contribution.
To integrate all children, it is crucial that the educator knows the school context and be aware of the individual needs, the group dynamic and the environment, conditioning factors to the learning process.
It is important to the teacher to know how to complete his information through data collection in the family, social and economic environments.
It is also equally important to the teacher to have a through knowledge of himself (working rythm, capacities, limitations, etc.) and of his feelings towards each student. Some attention is given to the importance of the teacher's role in the community.
For the teacher to understand well the child it is shown that he needs to know him and therefore to know how to observe him.
In this chapter some observation strategies are indicated without pretending to be exhaustive and avoiding any recipe...
It is considered that each teacher might use his imagination and knowledge to adapt and create new ways of collecting information, adjusted to his own personality, school context and to each student. Emphasis is also given to how the teacher has to be cautious with his own behaviour as a communicator and how it reflects on the students attitudes and on the learning process.
To facilitate the clarification of the observed situations it is recommended to the educator to look for additional information on previous experiences and educational environments the children might have lived.
In the communication process the context in which it takes place is of an exceptional importance. The teacher is lead in this Manual to understand how the context can facilitate or repress the communication process. The cultural differences, health conditions, handlicapping conditions, preventing measures are mentioned. All these conditions are considered information that every teacher should know how to collect and also how to deal with it, in relation to the school, peers, other teachers and parents.
It is also stressed that the collaboration among teachers, experts, parents, students and school staff is part of the building up of a propitious atmosphere for a successful integration of a child with an educational special need.
It is only when the teacher masters the knowledge of the child, the group, and the school context that he can start his journey through the learning process organization.
In this part of the Manual suggestions are given on how to adapt and improve school spaces and facilities to the children with special needs. Suggestions are also given for improvements in communication aid.
The difference between curriculum and program is established and it is indicated how to proceed objectives, contents, strategies and methods and how these can be altered, substituted or adapted to each child's needs, group or school.
Some students can follow the curriculum if they have access to complementary aids, others have learning problems. For both situations recommendations are made and it is also mentioned that some children will not adjust to any of these two possibilities and will need specific curriculum with as many as possible contact areas with the curriculum for all.
Strategies for the implementation of a successful curriculum are also given with emphasis on the necessary pre-conditions to learning and to group preparation.
Evaluation is also a matter of concern and it is expressed that self-evaluation can be included as a personal valorative measure. Some evaluation measures are referred to, and examples are given showing the importance of individualized and diversified evaluation.
The communication and inter-aid among educators, parents and experts, the choice of common attitudes and a coordinated intervention will only bring better learning results. In this section different collaboration avenues are explored and successful examples are given.
The integration of a child in a school is the first step towards a community integration. A good link between the school and the community should be established. Some concrete suggestions are made and the teacher is called to have an important role in this link which implies a change of attitude particularly in relation to the child that has a special need. Facilitating measures are described.
Part III - Communication difficulties
In each chapter of this Part III is always stressed how important language, movement, sight, hearing, emotional and learning problems can be in the education of an individual.
Next, alarm signs are referred to, for each difficulty.
From these alarm signs the teacher can identify and discover the causes of a communication problem which at first glance might not seem related with a sensorial or any other difficulty.
In the chapter dedicated to gifted children, no alarm signs are included. They are substituted with information on behavioural patterns. As to children with retardation in mental development, alarm signs are mentioned as well as existing differences related to the retardation degree.
In all chapters myths and prejudices are denounced and it is enlightened how they can influence human relationships.
In every chapter positive stories are told about educational involvement adapted to each disability, handicap or difficulty so the teacher is confronted with reality and fear is tamed.
Finally all this Manual was built on the principle "EDUCATION FOR ALL" and its innovation is to be found in the fact that it considers education as a communication process and focuses all its information on how to liberate the learning process from communication barriers beyond children's categorization.
Methodology
The writing and testing of the Manual was concentrated at the Ministry of Education of Portugal, where a team of teachers of all educational levels, parents and experts coordinated the project.
The experimental version, discussed within Rehabilitation International was tested on 302 voluntary teachers and 95.5% found it was easy to read and enjoyed it.
To the question "Why did you wish to participate in this project?".
The first choice was that "it contributed to the school success of the children who had learning difficulties" (1);
Followed secondly by an "increase in quality of the school environment" (2); an "increase in communication" (3); a "wish for a change in attitudes" (4), an "increase in information" (5); a "practice in group work" (6) and finally "personal curiosity" (7).
To the question "The Manual can contribute to your teaching?"
| | | | |
| --- | --- | --- | --- |
| | 64.1% | ....... | YES |
| | 37.7% | ....... | A LOT |
| | 1.2% | ....... | LITTLE |
To the question "How does it contribute?"
| | | | |
| --- | --- | --- | --- |
| | 50.5% | ....... | Suggestions of activities |
| | 40.5% | ....... | Liaison between theory and practice |
After this pre-test the final version was written and tested with a control group. Three questionnaires of a different nature (content, evaluation, attitudes and development of educational strategies) and a personal interview are being aplied to 403 teachers (pre-school, primary, secondary and special education levels). The results are not yet available but positive feed-back has been registered.
---
PARTICIPATORY TRAINING METHODOLOGY
-PROGRAMS OF THE ASIAN HEALTH INSTITUTE-
HIROMI KAWAHARA
Asian Health Institute, Aichi, Japan
---
Preface
The Asian Health Institute (AHI) is a training center for middle-level health and development workers from rural areas and urban slums in developing countries of Asia. It is located just outside of Nagoya, in Aichi Prefecture, Japan. AHI was established as a juridical foundation in December, 1980.
Most Asian countries are agricultural with eighty percent of the people living in rural areas. Their economic situation is very poor, with an annual per capita income of about 200 US dollars. However, medical facilities and human resources are available for less than twenty percent of these people. Their life expectancy is still between forty and fifty years of age while life expectancy is almost eighty years of age in Japan where people enjoy the fruits of a health and welfare system.
International Medical Cooperation
There has been medical assistance of different levels given by developed countries to the developing world. This has been done on the governmental level (ODA) with large amounts of money. With lesser amounts of money, it has also been actively done on the non-governmental level (NGO). As medical aid, material and human resources have been provided from Japan since 1960. These medical aids have included sending medical workers, building hospitals, and donating instruments and medicines. In other words, they have been mainly providing the human resources and technologies of Japan.
Some leaders of one of the NGOs in Japan, however, realized that this type of medical cooperation had certain limitations. Therefore, AHI was established by them with an entirely new approach to third world assistance. Instead of including techniques and resources from developed countries, AHI encourages the grass roots people in developing countries to build up communities where the community people themselves work to establish and maintain their own good health.
In most Asian countries, there is only one doctor for several thousand people and sometimes even for over ten thousand people. Most of the available doctors stay in the big cities where a few rich people can afford the expense of medical care. For the vast majority of the people living in rural areas, medical doctors are simply not available. Because of these facts, for the rural and slum areas it is much more appropriate to educate middle-level health workers rather than doctors and encourage these middle-level workers to stay with those people who need them so badly.
Training Programs of AHI
Based on this philosophy, AHI has been conducting its training activities since 1980. For the first couple of years, all training courses were done in Japan, mainly at the AHI Training Center in Aichi Prefecture. However, it was soon realized that some of the programs could be more effectively done in other parts of Asia where the socio-economic conditions are closer to the actual situation of the middle-level health workers. Thus, in 1982 the first Sub-Regional Training Course for southern Asia was conducted in South India. After the success of this course, the Sub-Regional and National Training Courses have been held not only in India but also in Indonesia, Korea, Nepal and the Philippines. Since the development of the Sub-Regional and National Training Courses, courses held in Japan have been called the International Training Courses.
Participants of all these training courses are chosen from candidates who are recommended by their organizations. Participants must have had at least three years of experience in the field of health and development in local communities and are expected to continue their work in the same area in the immediate future. At present, there are more than forty organizations. from fifteen Asian countries closely related to AHI. Most of these organizations are BGOs actively serving their own people. Some, as in the case of the Thai Government, are government organizations. There have been five hundred and fifty workers invited by AHI for various training courses since AHI began. All expenses for the courses are covered by donations from approximately five thousand members of the AHI Supporters Association.
The content of training courses vary in accordance with the theme of the course. However, all courses are designed to use the participatory training methodology. Subject and outline for each course are decided beforehand by AHI. Details of this outline are worked out and the course is developed by the participants themselves.
Popular Theater in Health and Development
This was the theme of AHI's most recent international training course which was held for five weeks in May and June of this year. Thirteen workers from Bangladesh, India, Indonesia, Japan, the Philippines, Sri Lanka and Thailand took part in this course.
Following the sharing with each other the details of their country and giving an introduction of their own work, the participants organized and appointed committees. Everybody shared responsibility for both the logistics and content of the course, working together to make the training program a success.
The theme of "Popular Theater in Health and Development" was selected because it was an appropriate educational methodology for rural areas where the literacy rate of people is less than twenty percent. Villagers can participate in dramas as actors. In doing this, they realize that they are involved in the problems which prevent them from achieving good health. They can also understand how they can solve these problems. The progress of the training course will be explained by showing slides.
At the end of the third week of the course, a meeting entitled "Seven Hours with Asian Grass Roots Health Workers" was held at AHI. Approximately seventy Japanese young people from all over Japan attended. From the Asian participants, these young people learned about some of the problems in Asia and also about problems between Japan and other Asian countries. Those attending were divided into three groups, each group producing an "Instant Popular Theater Drama". The intended seven hours extended to an exciting nine-hour session. It was a good opportunity not only for AHI participants but also for the Japanese youth to understand socio-economic factors which prevent a healthy community in international situations.
AHI does not invite national elite. Participants are nurses, mid-wives, teachers, health educators or social workers who are dedicated in their work in rural area and who love the village people. For many of these health workers, this training is the first occasion they have had to be out of their own countries. The impact of this experience makes a strong impression on them. They all return to their own field of work with wider perspectives obtained through sharing thoughts and experiences with their fellow participants during the training course.
Recently, there has been a new development resulting from the AHI training programs. Some of the participants from Central India organized and carried out a training course for health workers in their own country in April, 1988. Telegue, a local language, was used. The development of this course is an indication of the motivation which participants received from the AHI training.
Comments and Conclusion
In September 1978, an international conference was held in Alma Ata, USSR, sponsored by WHO and UNICEF. The "Alma Ata Declaration" was an outgrowth of this conference. The concept of Primary Health Care was clearly defined at this conference and the slogan "Health for All by the year 2,000" was adopted.
During the ten years that have passed since then, many community heatlh projects were developed all over the world. However, not many of them are recognized today as successful. Only those projects which were able to obtain the paticipation of the local people were able materially to change the local health situations. It is easy to talk about community-based health care, but it is quite difficult to develop health care programs with the full participation of the community.
Today Japan is one of the most affluent countries in the world. It is ranked as one of the top nations giving economic assistance to developing countries. However, people of Japan are surprisingly unaware of the real situation of other Asian people, and have little interest in knowing about it.
AHI is taking some small steps toward contributing to human development in Asian countries in the field of health and development. In any international work, respect for the tradition, culture and way of thinking of other people is essential before any real cooperation is possible. It is important to remember that leading actors in all the dramas of development are the people in the local community. Health wokers are but some of the players. AHI is not more than a catalyst working toward a better community health.
---
PROSPECTS AND BARRIERS OF SPECIAL EDUCATION IN DEVELOPING COUNTRIES
T.JONSSON
Department of Special Education, University of Gothenburg, Molndal, Sweden
---
"Education for all" is a slogan or policy declaration one can find in many official documents all over the world. The right to education and training is regarded as a basic human right by the UN and also included in the UN Declaration of the Rights of Disabled Persons.
But policy declarations are one thing and reality another, especially when it pertains to disabled persons. It is therefore quite clear that a lot of steps must be taken to implement an "education for all"-policy. This includes changes of attitudes both amongst parents, the schools and the public at large. It also includes changes of educational planning, which I am focusing in this paper.
In many developing countries a few, independent and autonomous Special Schools have been established, partly as a result of an overall colonial model, and in sharp contrast to the indigenous extended family tradition. These schools are often situated in very remote places, where some few pupils have been taken very good care of, but with very few contacts with their parents and relatives. In fact they have been given a second handicap, a social handicap, often more difficult than the primary disability.
It is therefore important to analyze and discuss some basic aspects when planning educational programmes on a nationwide basis for disabled in the Third World.
1. The Need - Capacity Aspect
In the Third World education is seen as one of the most important keys to a nation's development and takes a big part of the national budget. Yet there is a big gap between demand and supply already of basic education. The picture is even worse when it comes to the disabled part of the population. Very few disabled children get any education at all and extremely few, special education. The existing services are in fact so limited that practically no country in e.g. Africa yet reaches 1% of its disabled children.
Let me take Ethiopia as an example. With an estimated number of 1.600.000 disabled children in the country in need of special education (at present only about 1.500 receive such education) and with an acceptable teacher-pupil ratio of 1:16 there is a need of 100.000 specially trained teachers. And with a proposed output of 25 teachers per year in a planned special teacher training programme it should take 4.000 years to implement! This shows both the magnitude of the problem, but also how unrealistic the plans are and how important it is to find new and alternative strategies to the situation. An increasing interest in the Community Based Rehabilitation model should be seen against this background and is a step in the right direction.
2. The Quality - Quantity Aspect
In developing countries there is often a tendency to emphasize quantity more than quality when it comes to education. It is important for the Governments to show the people and other countries how many children are enrolled, especially in comparison with the situation before independence. The quality aspect is often neglected or formally solved by a colonial inspired examination system which often leads to a curriculum favouring intellectual, measurable subjects only and leaving 80% of pupils who don't pass, left with a sense of failure and frustration and irrelevant skills not applicable to the mainly rural occupation which is the main task laying ahead for these school leavers. There is obviously a need to introduce a more true basic education that is life-centred rather than subject-centred, and which like the non-formal, indigenous education, consider character development and transmission of cultural values as a fundamental task of education. We don't have to accept a curriculum that is only based on measurable activities. Human life is much more complex and consists of so many valuable aspects which cannot and should not be measured but still are of vital interest for a school curriculum to develop. It contains basic human values without which no human society can survive. It accepts people as equal human beings even if they have a disability.
3. The Integration Aspect
In most developing countries Special Education has been introduced and developed by Non Governmental Organisations outside the ordinary school system. In many cases a parallel, administrative school system has been established with a Special Education Unit with Special Education Inspectors or Officers responsible for this sector. When trying to integrate more disabled pupils into the ordinary school system I have often met the opinion from headmasters and District Education Officers that "These are not our children, they belong to Special Education" This is a fundamental mistake and the unfortunate result of having built up a parallel special education school system.
These children have been excluded from the ordinary system for so long that they are not naturally seen to be members of the ordinary society any longer, and the society not being responsible for them. The education of disabled children is to be an integrated part of the general education system and should normally be the duty of all schools and teachers! That is the starting pointfor all educational planning in this area.
4. The Special Special Aspect
One contributing factor to the present slow development in educational services for the disabled, is the belief that it is so special. Mames like special education and special teachers, have made this area so special that it has been seen as a field only for highly qualified specialists, of which there have been very few, especially in the Third World.
"There is too much mystification concerning the skills required to work with disabled children. Many of these skills - not all - can be learned comparatively quickly by families, volunteers, community workers and staff without formal qualifications. Skilled professionals are, however, needed to provide leadership, staff training and support". (Mittler-Serpell,1984).
5. The Degree-of-Disability Aspect
Most educational planners and top officials in Government ministries got freightened or paralyzed when listening to figures we present to them about the enormous number of disabled not being catered for in the society. I can understand them. To present estimates of 10% of the population - a popular UN figure - can therefore be an unwise strategy. It is important to stress that disabled people form a very heterogenous group from mildly, moderately, severely to profoundly handicapped.
The more severely disabled the fewer they are in number. The vast majority could be helped by quite simple arrangements within the ordinary, existing school system by ordinary teachers having been given some shorter training and awarness of the situation of the disabled. This must be given priority in the future.
The moderately disabled need more extensive help and adjustments often in a special group or unit and need more qualified teachers. The severely disabled, who might be less than 3%, as totally blind or deaf, need teachers who have acquired specific communication skills as well as other specific techniques which require an extensive training programme to master. Thus a diversified, flexible training programme is needed for different categories of teachers.
6. The Co-ordination Aspect
The education and training of disabled persons requires very often co-operation and co-ordination amongst various persons, professionals and institutions to be successful. This is required both on ministerial as well as on grass root level. The need of the disabled child and its family embraces many aspects and a well functioning co-ordination is a prerequisite.
7. The Comprehensiveness Aspect
This aspect is very closely related to the Co-ordination Aspect and stresses the need of looking at the disabled as a whole person, not only at his disability. It also means that when planning services for the disabled one must look at the needs of the disabled during his/her entire life and during all hours of the day. Consequently special education services must start during the pre-school years and continue through primary and secondary education and include vocational training and job placement. Too often there is a tendency to only focus on the educational needs during the primary school ages. But remember: Disabled children are not born when they are 7 and they don't die when they are 17!
CONCLUSION
I have in a very condensed form tried to describe some important aspects when planning special education services for disabled children in developing countries, based on my own experience as an Adviser in Special Education in developing countries during the last 10 years and as a member of R.I. Education Commission.
Too often Special Education has been like sailing a ship with no functioning steering system. Where are we? Where are we going? What is special about special education? We have done it, but what was it?
I have here presented not only an important pyramid model for planners of special education but let us also see it as a rocket where too much of our interest so far has been concentrated on the nose cone. But remember that you will never reach the sky if you don't have a powerful launching rocket behind. Let us start that today! Are you going with me?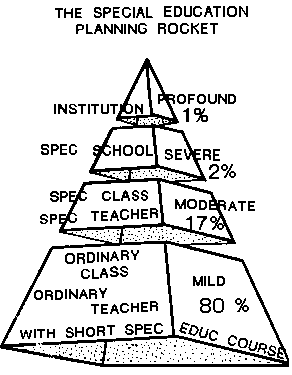 ---
Reference:
| | |
| --- | --- |
| (1) | Mittler P. and Serpell R. Services for persons with intellectual disability: An international perspective. Chapter 21 in Clarke A.,Clarke A.D.B. and Berg J. (eds) Mental Deficiency: The changing outlook. (4th edn). London: Methuen ,1984 |
---
THE TRAINING OF REHABILITATION TECHNICIANS IN MICRONESIA, PACIFIC BASIN
G.OKAMOTO, S. KELLY, M. BROWN, H. YEE
University of Hawaii and Rehabilitation Hospital of the Pacific, Honolulu, Hawaii, U.S.A.
---
Throughout the Pacific Basin, governmental hospitals vary in their capacity to provide rehabilitation services to physically disabled patients living in the Commonwealth of Northern Marianas, Republic of Palau, Federated States of Micronesia (Yap, Truk, Kosrae, Pohnpei), Republic of Marshall Islands, and American Samoa. In 1985, for example, staffing consisted of five expatriate physical therapists and occupational therapists at three modestly equipped hospitals. At two others, two part-time nurses, who had four weeks of rehabilitation training in 1978, treated patients. Four island hospitals had no rehabilitation facilities or staff. Regardless of local services, severe brain and spinal cord injured patients were usually transferred to the Rehabilitation Hospital of the Pacific (RHP), an acute comprehensive medical rehabilitation center in Hawaii, following their acute management at nearby military and civilian medical centers. Four to six Micronesians and American Samoans were admitted to RHP annually.
Medical rehabilitation has been recognized as a major gap in health services. When the John A. Burns School of Medicine, University of Hawaii, received funds from the National Institute of Disability and Rehabilitation Research (NIDRR) to establish a Rehabilitation Research and Training Center (RRTC), an advisory group recommended that the RRTC undertake an ambitious project to close this gap by training a cadre of rehabilitation technicians, who would staff minimally equipped hospital clinics under medical direction.
METHODOLOGY
The earlier RRTC training team was comprised of an experienced occupational therapist, physical therapist, and public health specialist. The team set forth five guiding principles in developing curriculum and training materials. First, the training should occur largely at the trainee's hospital and community. Second, the curriculum should emphasize physical restoration of mobility impaired by stroke, brain injury, spinal cord injury, amputation, low back pain, arthritis, fractures, cerebral palsy, and other musculoskeletal conditions. Third, the trainers should be sensitive to culturally acceptable methods of teaching and treating. Fourth, adaptive equipment and other technology should be culturally appropriate. Fifth, a trainee should enter the training only when his or her respective hospital had demonstrated a commitment to the project by securing a paid position for the trainee, assuring the provision of proper clinic facilities, and supporting the participation of other clinical personnel.
Hospital administrators selected their trainees, applying their individual standards for employment. Ten have participated in training: 7 nurses; MEDEX physician assistant; health assistant; and dental assistant who is a traditional healer. One nurse trainee resigned to enter the medical officers training program in Pohnpei. A second nurse trainee was transferred to other hospital duties.
The training has been divided into three different phases. In Phase I, the trainee learns basic skills and knowledge. An intensive six week course teaches musculoskeletal anatomy, physiology, and kinesiology, followed by instructional exercises in history taking, physical examination, and treatment. Subsequently, two weeks are spent by the trainer(s) and trainee in setting up the hospital clinic with the assistance of hospital administrators. Six trainees received further intensive exposure to musculoskeletal disabilities at the Rehabilitation Hospital of the Pacific and the Shriners Hospital for Crippled Children for five weeks.
In Phase II, the training team introduces the concept of the multidisciplinary team, which would meet regularly to discuss the management of disabled persons as patients, clients, and students, at respective local hospitals. The training program involved physicians, hospital nurses, public health nurses, vocational counselors, school teachers, and geriatric social workers, as well as the trainee. Home care and community outreach were emphasized.
Phase III consists of continuing education and specialized training. Eight trainees, for example, attended the Brodie Memorial School for the developmentally disabled infant and child in Guam for six weeks. Furthermore, the trainee, who is actually evaluating and treating patients at this stage, participates in training conducted on island, every six to nine months.
All clinics procured low mat tables, hydrocollator packs, free weights, whirlpools, walking aids, goniometers, surgical tubing, and reference library. Several clinics had more advanced equipment such as traction, wall weights, ultrasound, and exercise bicycles.
RESULTS
Currently, there are seven male and one female rehabilitation technician. Their ages fall between 25 and 40 years. All are permanent residents and none are naturalized expatriates. Yap, Truk, and Kosrae hospitals opened new clinics. Ebye (Marshall Islands), Palau, and Pohnpei increased services on a full-time basis. American Samoa and Commonwealth of Northern Marianas continue to recruit contract physical therapists and occupational therapists in part to meet requirements for reimbursement by the United States government. The former has hired a rehabilitation technician to assure continuity. After-seventeen years, the expatriate American physical therapist retired from the hospital in Majuro, Marshall Islands, but had assured the continuation of services by a rehabilitation technician and an experienced assistant.
Clinical competency was based on satisfactory performance of pre- and post-tests throughout the training and on descriptive evaluations by the training team. Direct feedback from referring physicians was sought to identify areas of strength and weakness.
The reporting of reliable patient-visit data has been problematic. For the three new clinics, monthly patient-visit averages were 35 to 84 in 1987. Following the departure of the expatriate physical therapist in Majuro, the monthly patient-visits fell from an average 517 (1986) to 370 (1986) but increased to 483 (1987). In a part-time clinic, monthly patient-visits rose from 189 (1985) to 233 (1986) and 220 (1987). These reports, however, do not account for the relative complexity of cases, group therapy, home visits, family teaching, team conferences, school contacts, and, in a few instances, cuts in hospital wide services.
DISCUSSION
Anecdotal observations, professional testimony, and continued support by hospital administrators suggest that the rehabilitation technician project has had a beneficial impact on the delivery of rehabilitation services in Micronesia and other Pacific Basin countries. The patient-visits do not accurately reflect the productivity of each rehabilitation technician who varies activities according to specific local needs. In Yap, for example, the rehabilitation technician spends relatively more time in treating patients at home. While services tend to be more centralized at the hospital clinic in Majuro, the rehabilitation technician and his clinic supervisor visit patients on remote coral atolls and have assisted visiting investigators in following up the polio survivors of the 1963 epidemic in the Marshall Islands.
Clearly, the geographic, demographic, and cultural differences pose major barriers to the delivery of any health and human service. Consider that the entire region covers three million square miles of Pacific Ocean and includes thousands of coral atolls and volcanic islands of which fewer than one hundred are populated. Except for Guam and Hawaii, the total regional population is only 165,000. Median age in Micronesia is 17 years. Nine different languages are spoken although English is generally regarded as the common second language since World War II.
External transportation is heavily dependent on commercial airliners, which fly in and out of major islands two to three times a week. Flights originate in Guam and Hawaii. Light aircraft and cargo vessels connect more remote islands or atolls once a week to several months. Intra-island transportation may involve small motor boats, motor vehicles, and hiking several kilometers from the nearest usable roadway.
Similarly, communication can be prohibitive in terms of time and expense. The postal service can necessarily have lengthy periods for delivery. Telephone, TELEX, and single band radio are utilized. Satellite communication, which had been in limited use until 1986, may become an option by 1990. The original training plan, in fact, included frequent satellite consultation and teaching, which had been demonstrated by another project at the University of Guam.
The training team has identified several important objectives for the next five years. The clinical proficiency of each rehabilitation technician needs continual improvement through on site training and education. The curricula of the Micronesian schools of nursing and the medical officers training program need to expose their students to medical rehabilitation and the role of the rehabilitation technician. The RRTC needs to take an active role in assisting hospitals to improve their facilities and services to physically disabled patients.
CONCLUSION
The rehabilitation technician can enhance rehabilitation services to physically disabled patients in Micronesia and other parts of the Pacific Basin. The more challenging goal, however, is the establishment of a comprehensive rehabilitation system that embraces the philosophy behind community based rehabilitation.
---
TRAINING OF REHABILITATION PERSONNEL
EXPERIENCES IN ASIA AND THE PACIFIC OF CUMBERLAND COLLEGE
J. O. MILLER
Cumberland College of Health Sciences, Lidcombe, Australia
---
The appropriateness of presenting an outline of the College's work in rehabilitation in the Asian/Pacific region is emphasised by the theme of this Conference. Realistic achievement and future thinking are two attributes greatly valued by our institution and both are reflected in the activity detailed in this paper. The range of work described becomes even more signfificant when it is realised that the majority of the activity described has been funded by the College itself.
The College has been operating as an institution of higher education, for some fifteen years; its overseas outreach programme for a decade. The College was established in 1973 under N.S.W. legislation and is fully funded by the federal government. In common with other higher education institutions in Australia, independence and autonomy in governance are distinguishing features of its operation.
To understand the overseas outreach of the College we need to consider the following factors: the philosophy which underpins our work; the principles under which we operate; the patterns of cooperation developed; and, the principal partners who support our programmes.
1. Our principal partners - Our major Australian partner in staff development activity has been the Cumberland College Foundation which in turn has been assisted by the AIDAB of the Australian Department of Foreign Affairs. In addition to these two groups the College has been encouraged by the confidence and support of the WHO, particularly its Western Pacific Regional Office.
Beyond these immediate contacts we have made a number of long-term associations with academic institutions throughout Asia and the Pacific and many of the NGO members of the Asian Federation for Mental Retardation (AFMR). Our involvement with AFMR dates from the IYDP. Through these contacts we have learned much, and hopefully, have contributed to the rehabilitation initiatives of many of our near neighbours.
While our contribution has been modest, it has been systematic and innovative. It has been one which explores the expectation and the capacity to respond; the immediate practicality and the future impact; the longer-term rather than the crisis situation; and the need to develop a "cadre" of local colleagues to "carry-on" the initial contacts made.
2. The philosophy of our involvement - The College has a world-view relative to its geographic location, its place in higher education and its contribution to learning. Thus, it is not surprising to note our mission statement specifically sanctions an involvement with our overseas colleagues. The view we adopt is similar to that expounded by the Director-General of WHO at our July International Health Science Education Conference. Dr. Nakajima proposed that a major shift of "power", from a military to an economic base, was inevitable, being driven by the forces of technology and science. He challenged us, as the global leaders of the health science education network, to develop strategies in curricula design, training and education, which would equip our graduates for the prime task of meeting the challenge for better health care, advice and service for our various communities.
Our educational response was to be relevant and valuing of the social structure and to be a force in human resource development which would provide the basic foundation for continuity (or stability) which in turn underpinned the predicted power base shift from military to economic purposes.
In addition to these challenges we were reminded that the application of science and technology, to human resource development, would logically focus in the area now designated on the Asian/Pacific basin. Not satisfied with such a major redistribution of geographical influence and power refocussing, Dr. Nakajima then reminded us that there were three essential elements in our strategy of human resource development: human skill, management style and staff development. He properly reminded us that manpower development and education were critical factors if the new wave of science and technology was to be properly applied to human resource development, within a health perspective.
The essential continuity he now perceived to flow from a "power" based on economic growth, and the development of human resources, with its geographic concentration in the Asian Pacific basin, is a challenge which we at Cumberland College will not ignore. His exposition fits comfortably with our present philosopy.
3. Some principles of cooperation - Five factors, at least, have been involved in forging a successful and lasting colleague relationship:
| | |
| --- | --- |
| (a) | A personal trust between the principals detailing and developing the programmes of cooperation. |
| (b) | A shared belief that the activities initiated can achieve simple but clear objectives of more than immediate or "crisis" nature. |
| (c) | A sound infrastructure in the "host" organisation to facilitate and organise local support resources. |
| (d) | An approach which accepts the local statement of "need" as the basic point of entry and the focus of subsequent evaluation. |
| (e) | An ability of the "visiting" group to accept the local situation in a judgement-free mode. |
4. The patterns of cooperation - The College is fortunate to have been able to win the confidence of many non-government organisations, academic institutions and governments in the Asian/Pacific region. Within such a supportive and colleague environment the following five patterns of cooperative association have been formed.
(a) Academic inter-institutional agreements - Agreements have been formalised between CCHS and leading institutions in the Asian/Pacific region. (A ninth agreement, with the University of Malaya, is currently being negotiated):
Chinese Academy of Medical Sciences (Beijing), Sun Yat-sen University of Medical Sciences (Guangzhou), Hong Kong Polytechnic, University of Indonesia (Jakarta),Mahidol University (Bangkok), University of the Philippines (Manila), Queens College (Glasgow) and the Southern Illinois University (Carbondale).
The essential notion supporting these agreements is that of mutual interest in specific areas of health science education. The basis of the operation is that of staff development through exchange, research and formal academic study.
The work of the College, through these agreements, is complemented by the various activities which logically flow from the College's dual role as a WHO Collaborating Cente in Rehabilitation and Primary Health Care Nursing. The opportunity to more fully utilise the options for manpower development, through these Centres and our inter-institutional agreements, is real and of great potential.
(b) Non-government organisation agreements - Our activity in this area has been made possible through the interest and support of the Cumberland College Foundation. As a registered non-government organisation it is eligible to receive support from the AIDAB to assist aid development in countries within our region.
Since 1981 we have been regularly providing multi-disciplinary teams of College faculty, acting for the Foundation, to develop rehabilitation personnel in a number of countries. While statistics alone do not reveal the full picture it is interesting to note the following facts. *
(c) Agreements with governments or agencies - The development of rehabilitation personnel has been facilitated by numerous contractual arrangements with government agencies. The pattern involves specific technical upgrading workshops and general advice on the organisation of services.
(d) Consultancies with agencies - Numerous WHO, UNICEF and IDP contracts or consultancies have been negotiated for our faculty. Additionally, the College has received many visiting fellows and scholars, sponsored by the above agencies or through Australian bilateral aid programmes.
(e) WHO Collaborating Centre for Rehabilitation - Much excellent activity has been achieved through this Centre, now in its second four year cycle of operation.
The work carried out is basically self-initiated and supported. No Australian government funding is received and WHO makes no direct funding contribution. As such the work in rehabilitation sponsored by the Centre, using the College's academic and clinical expertise, is solely a cost of the College. The development, publication and dissemination of the Western Pacific Regional Bulletin on Rehabilitation is fully funded by the College. The nature of our operation, as a WHO recognised Centre, has been one of positive support and advice to many member states of the WPR of WHO. Numerous WHO consultancies and fellowship placements have resulted from the College's designation. More recently the College has received a further WHO Collaborating Centre designation in Nursing. Again, the potential for future supportive activity for the members of the SEAR and the WPR of WHO requires little statement.
5. The Future? - Based upon past experience and our dual designation as a WHO Collaborating Centre it is clear that there is a golden opportunity to extend the work already completed. Our involvement in "new" ventures will be based on the twin pillars of our strategic mission : opportunity and responsibility. Such an approach itself assumes a world-view but properly accepts our geographic location to provide the focus of our action. I know of no other tertiary institution in Australia which has committed itself to overseas colleague activity in the manner detailed above. Hopefully, our neighbours in the Asian/Pacific region will perceive our involvement to be genuinely supportive and capable of meeting their requirements.
---
* Since 1982 the Foundation has provided programmes to the following countries:
Indonesia (7), Thailand (7), Pakistan (6), Singapore (1), Hong Kong (1) Solomon Islands (1) and Fiji (1). The seventy one faculty were involved in these twenty four programmes. The total cost to the Foundation has been $343,521.27.
---
COMPREHENSIVE SERVICES FOR SEVERELY MULTIPLY HANDICAPPED PEOPLE: CHILDREN AND ADULTS
| | | |
| --- | --- | --- |
| Chairperson: | Mrs. Anne Mellgren | President, International Cerebral Palsy Society (Sweden) |
| Co-chairperson: | Dr. Kitoku Okada | Director, Sapporo Ayumino Sono Training School and Hospital (Japan) |
---
TOWARDS A LIFE FULL OF MEANING BASED ON HUMAN RIGHTS
ANNE MELLGREN
International Cerebral Palsy Society, Uppsala, Sweden
---
First of all I would like to thank our Japanese hosts for the honour of being entrusted with the task of chairing this so important workshop on comprehensive services for severe multiply handicapped children and adults.
During the last decades we are, at last, paying attention all around the world to children and adults with severe multiple handicap and their families. They have been neglected by our societies far to long.We have of course nursed this group of handicapped as well as we knew and understood. They have been given medical care, but often we have not managed to understand how to improve the living conditions of the child and the adult with severe multiple handicap and their families.
Today , all over the five continents, we are trying to create models of care in all aspects socially, educationally, technically as well as medically.
In my country, Sweden as in other countries, we usually say that if there is a member of the family with disability then the whole family is disabled. The handicap affects the whole family. The family needs support and encouragement to achieve a life as good as possible to all the familymembers. If then the disabled boy or girl of the family has a severe multiple handicap there is needed still more strength and rather hard work from the other familymembers to attain a good quality of life. An understanding and good support from relatives, friends, neighbours as well as from the society is essential to a successful result of the care. Where in the world do we get that for granted today?
Thanks to a better prenatal care of mothers and perinatal new medical achievements and care there are saved many to early born babies to a healthy life. Children who earlier died of weakness at birth or just after delivery, pre-term or full-term, can survive today owing to new progresses in handling the difficulties. At the same time we unfortunately have an increasing amount of children with handicap and among them many are severely multiple handicapped. Even when the very very immature baby is born healthy it has a hard time in the incubator during its first week in life. The Swedish professor Bengt Hagberg is of the opinion that of all 1000 gram babies born 10% will have a severe multiple handicap! I believe this is most frequent in the industrialised part of the world. Is this sad fact due to environmental pollution, new medical techniques or what else can be the cause?!
Fortunately there are no "hopeless cases" nowadays among the severely multiply handicapped. There is always something to do which can be positively experienced by even the most severely handicapped child or adult.
Every little newborn child is unique as human being as well as within its handicap. It is up to all of us to try to find a "two-way-channel" to make it possible to communicate with him or her through speech, through eyes, through physical contact or by any other signals to establish some contact between the handicapped and ourselves. With a lot of fantasy and flexibility it usually works one way or another, it's essential but it is not always easy. Communication in this aspect is absolutely necessary to every human being It is our life-line! By lots of encouragement and every kind of support socially, educationally, medically and perhaps technically we will together achieve a better life to the severely multiply handicapped and there with to the family too. The progresses by the child or the adult are often hardly noticeable by outsiders, yet those of us who have witnessed these steps forward, even if a little one, can all, I am sure, certify the joy and the happiness felt!
In our mutual work with this group of handicapped we often are facing problems and sometimes they seems insoluble. However, let us adopt the problems as challenges. Research and development advances to our help towards a meaningful life based on human rights to even the very most severe multiple handicapped child or adult.
It can and may never be to late to start opening doors. They have been closed to long due to our lack of wisdom.
The ways of working with this group of handicapped varies around the world depending on different cultures, religions and traditions. Whether it is the Asian, the African, the American, the Australian or the European way of taking care is of less importance than the fact that we do. In a few minutes we will listen to and learn from some different models of comprehensive services for those of our fellow-beings, children or adults, with severe multiple handicap and their families.
Don Helder Camara says in his book,
A thousand reasons for living

An excellent thing it is
that your hand should assist take-off,
but may it never so bold
as to take itself for the wings.
---
COMPREHENSIVE SERVICES FOR SEVERELY MULTIPLY HANDICAPPED CHILDREN
MARY CARELLA - CANELLOPOULOS
Hellenic Society for Disabled Children, Athens, Greece
---
After 30 years of work and active involvement in a variety of social and rehabilitation services, I will attempt to present to you my philosophy concerning the establishment of comprehensive services for severely, multiply handicapped children. I cannot speak as a professional, because I am not one; but I can speak as an educated layman, and interested and informed citizen.
Dr. G. Manos, Professor of Psychiatry at the University of Salonica, gives a very apt definition, which I believe should guide us in planning rehabilitation services. He says: "Happiness is the art of dividing one's time equally between work, love and play." In this context, rehabilitation should give children and their families the means to fulfil those goals. The establishment of comprehensive services for severely, multiply handicapped children should be guided by the following four (4) principles:
a. Services are set by, rely on, and answer to the needs of people.
Consequently, since they will reflect the socio-economic, educational and cultural level of a nation, they should be flexible to accommodate evolution, development, and growth. Any successful prototypes from other countries, should be analysed, and their effectiveness studied with regards to the needs and means of the concerned population in the host country. Only after adequate adjustments, should they be carefully tested and transplanted. I believe that the crux in our modern society will be how efficiently we use and apply the science of informatics in defusing knowledge and information, so as to educate, instigate original research, and establish realistic pilot projects, avoiding duplication and useless overlap.
b. For the severely, multiply handicapped child there should be a chain of services from birth on, caring for child, parents and family through the different critical periods of life. During each stage, one will face different problems. Priorities for family and child change as he or she evolve from infanthood, to childhood, through puberty, to young adulthood.
c. In setting such services one should keep a very close ear to the demands and needs of child and family. They are the primary targets of those services, so, professionals must be guided by their needs and encouraged to devise new ways and means to attain them, and thus succeed in social integration.
d. These services should be incorporated in and supported by the country's overall health and social system. Since they involve members of society, they will interwind and be influenced by all government and private bodies which serve citizens.
In order to establish any program, service or venture, it is necessary to have the following, and they are usually the most copious to obtain and design:
1. Objective Data 2. A Master Plan 3. Strategies
1. Objective Data will define the target population, with parameters of volume, geographic distribution, and demands-needs. The determination of needs will lead into the examination of means required in juxtaposition to available means. Thus we will determine:
a. The professionals needed to carry out the services
b. The facilities and equipment required
c. The cost necessary
Only after the collection of all essential, diverse and detailed objective data, can we proceed in devising a Master Plan to attach the set problems.
2. In the design of a Master Plan, I believe it is absolutely essential for Government, private and voluntary organization to cooperate and make concerted efforts in order to provide the best possible services, over the largest population possible, without unnecessary duplication, overlap and expense. It should be flexible enough to allow for initiative and creativity. Private and volunatry organizations, often have specialized information, knowledge, experience, enthusiasm and means. All these should be communicated, combined and coordinated in the formation of a Master Plan. When private and voluntary organizations are treated as partners of goodwill, they can be encouraged, guided, and subsidized to develop and test realistic and essential pilot projects. Government and voluntary organizations should work together in setting priorities and in building flexible services and policies in harmony with the evolution and growth of its people. Less than twenty years ago, foster families for disabled children were a necessity in Greece, because all rehabilitation services were in Athens and Salonica. It was also a necessity to provide children with food, clothes, books and toys.
Last but not least, a Master Plan to be effective should have consistency and continuity. That is why it is necessary to have the consensus and cooperation of the greatest possible part of the parliamentary body. Because the Master Plan will set goals and establish priorities, over a long period of time.
3. The strategies which will be designed, are dependent on the existing infrastructure of our educational, health and social systems.
Especially in the framework of Education, to the governing body befalls the responsibility to attain two indispensable prerequisites:
a. Provide essential knowledge and modern education for doctors, nurses, educators and allied health personnel. A firm back-bone of sound high standard basic education for professionals that will be the natural receivers of handicapped children. And most of all, develop the spirit of care and rehabilitation during the basic training of those professions. The existence of postgraduate training is surely wanted and beneficial, but only if it is built on sturdy foundations. Otherwise, it helps create an ineffectual pseudo-elite.
b. Make provisions within the educational system meeting the needs of those children, thus advancing intergration.
One could compare the presence of a multiply handicapped child in a family to a severe concussion. A severe concussion is sudden, grevious and vitally threatening to life. It is I believe the same for this child and his family. So in order to face up to the problem we should plan for the following forms of services:
1. Diagnostic and primary care units with an even geographic distribution, within the country's framework of hospitals.
2. Rehabilitation units providing outpatient services. Such units will be more efficient, especially during the first three years of life, if they are part of a hospital. Thus, diagnostic problems and specialised medical treatment often required during these first years, will be dealt with quickly, efficiently, and with the minimum cost and anxiety on the part of the parent. No symptom should be considered minor and go untreated in a severely multiply handicapped child. Because or primary aim is to conserve and maximize the remaining potential. If this is not done, we only pay lip-service to rehabilitation and the goal for social integration.
3.Mobile units, attached to rehabilitation centers, in order to provide home treatment when needed.
4. Special rehabilitation and educational units required to implement programs for specific groups of children such as the blind, deaf, emotionally disturbed e.t.c.
5. Programs and services to alleviate family stress and offer opportunities for fun and relaxation. Such programs may include:
a. Supportive group therapy for parents, children, handicapped young adults.
b. Weekend hostels or emergency hostels which will admit and care for multiply handicapped children in time of family crises, or in order to provide parents with the much needed rest. In order to care for their child, they should be given the opportunity to rest, physically and emotionally, and recharge their batteries.
c. Vacation and recreational provisions for children and/or families.
6. Finally, we should constantly work to improve social substructures in order to improve the mobility of these children. We should remove architectural barriers and facilitate transportation, thus enlarging their physicalmental and social horizon.
To realize all these, the dedicated and concerted effort of all people is needed. We should be enthusiastic, ingenious, original, inventive, rational, economical and genuine; but let us not forget to retain humility, because we are fallible. If we are ready to admit this latter and start again, then we will find the way to organize services which will offer a full life to all people.
---
REGIONAL CARE THROUGH THE INSTITUTIONS FOR THE PROFOUNDLY MENTALLY AND PHYSICALLY HANDICAPPED
SHIGERU SUEMITSU
Asahigawajidoin Children's Hospital, Okayama, Japan
---
The social welfare for handicapped people in Japan started during the Meji Period (1868 - 1911) with building institutions for the handicapped on private initiatif, and it was after World War II that an adjustment of institutions was made on national level with a remarkable speed to 1.800 institutions nowadays. At the beginning, most of the institutions were residential ones, providing accommodation for mostly mildly or moderate mentally handicapped but later on, institutions for the severely handicapped and also many daycare centers became established for each kind of mentally handicapped. After revision of the Childrens' Social Welfare Law in 1967, institutions for profoundly mentally and physically handicapped became established. These kind of institutions are typically for Japan.
The institutions for mentally handicapped are established to provide education and social welfare, the medical care is done by a part-time doctor or a medical hospital in the region. This is different from the "hospitals for mentally handicapped" in Europe and America and perhaps unique for our country.
The institutions for the profoundly mentally and physically handicapped as well as those for only physically handicapped in Japan has the function of "Social Welfare Institution" and also as "Medical Hospital". We call them "Medical Social Welfare Institution".
This system of institutions upon the kind of handicap and the needs of the handicapped is unique for Japan. This system, next to its good points has also still to solve many problems.
Here I would like to make an account on the institutions for the profoundly mentally and physically handicapped, on the role they play in the region with the problems around it
(1)
Respect for the life of the profoundly mentally and physically handicapped children.
The basical principle of regional care is that not only the parents take care for their handicapped child but that the entire society has to take part in it. A society of helping each other.
Through 20 years of experiences, we know that rehabilitation, even for the most profoundly handicapped has results. This also is know by most of the citizens. More than in other institutions for handicapped people the number of volunteers is very large. They are coming not only to do volunteer activities but also to learn from the handicapped.
(2)
The number and maldistribution of institutions.
Institutions for profoundly mentally and physically handicapped are existing for profoundly mentally handicapped (IQ less than 35) having also a profound physically handicap (bedridden or only sitting position) at the same time. These profoundly multiply handicapped, hereafter called "Jushoji" are protected by a law typical for Japan.
On this moment in Japan, there are 59 institutions established especially for this kind of handicapped and another 80 governmental sanatoriums providing beds for them.
In total 14.000 beds are provided (1.2 beds for a population of 10.000 people in the country). But there is an imbalance of the number of those beds among the different regions in the country. The big city Osaka has 0.5 beds against the Kyushu are 3.8 beds, each for a population of 10.000. The number of beds in the Kyushu area is many times higher than in Osaka.
In the future we have to adjust the number of beds according to the population of each area.
(3)
The tendency to homebound handicapped.
Together with the adjustment of institutions, development of medical services and the progressing social welfare laws, many "Jushoji" would like to receive the services needed while living at home. Those services can be provided through regular homevisits, an easy system for emergent hospitalizing , training of the parents to handle their child etc. Services from a homehelper (bathing etc.) are wished. I would like to report about the results of such services done through the Asahigawa Childrens' Hospital and refer to the problems about.
(4)
Regional care done by Asahigawa Children's Hospital.
Since 1975 the homevisiting program of the profoundly mentally and physically handicapped started. These homevisits are done periodically by a team of doctor, public nurse, each kind of therapist, educator or nursery teacher. Next to this periodical homevisits, visits of such handicapped to our hospital as outpatients, joining the different events organized for the inpatients, consultation services through telephone are provided.
I would like to report about the results of our home visiting program, especially about the results of medical and educational care, possibility of emergent hospitalizing, the economic aspect and the possibility for the handicapped to stay at home.
1 Early detection, early care and follow up system.
The detection of a more light handicap of their children is becoming sometimes in delay. So the children can not receive the righft medical care, therapy at the right moment and the handicap will become fixed or more severe. To reduce such cases to a minimum, compulsary examinations of each child will be done through the health centers of each city or town, at the age of 6 months, 1 year and a half and at the age of 3 years. This is a system not common for each country. Through a screening by a pediatrist and a public nurse, the doubtful children will be picked up and the parents will be advised to consult a more specialized doctor or hospital.
Through this early detection and intervention, some handicaps can be prevented of decreased to a light handicap. One of the problems of this system is, that not all the pediatrists doing such screening are competent enough. To solve this problem in the Okayama Prefecture, the Asahigawa Jidoin Children's Hospital under contract with the local goverment will make a second screeining of the doubtfull children found at the first screening. After that screening our hospital will provide the medical care as well as the educational services needed for the child. For far away located cases the hospital will direct them to centers much more nearer their home.
2 Home visiting services.
For the profoundly handicapped who can not visit easely the hospital or centers to receive the services needed, our hospital started in 1970 with periodical visits to their homes. Here also, upon the needs of the handicapped, a doctor or nurse or therapist will do the visits alone or in team. The number of handicapped wishing to receive such services is still growing every year. Next to this services the hospital opens its doors to the homebound handicapped to take part in different events organized for our inpatients such as Summer, Autum festival, Chirstmas party, sports festival and more. They also can come to our hospital as outpatient at any time or they can consult also a doctor or therapist by phone.
3 Emergent hospitalizing
Through different reasons in the family it can become unpossible to take care for their child for a certain period. (marriage, pregnancy, funeral, illness of some other familymenber etc.) In such cases their handicapped child can use our hospital for the period needed. Our hospital started this service in 1979 but is now available all over the country. In the future we would like to do this service to give the parents the chance to make a vacance trip or we can provide them with a vacance house to stay there during some holidays. Here also we can use good trained volunteers to realise such things. After all, we have to try to do anything to make the life of the handicapped as happy as possible.
vices was training of personnel. The first post-graduate teacher training course was set up in 1977 with full financial support from Government. Consultants from U.K.,Leslie Gardner, Klaus Wedell and many others lectured and helped to make it on par with western models, but geared to Indian needs. My idea was to decentralise services and professionalise special education.
Two courses for therapists, were started by Pamela Stretch, an English Physiotherapist and Hon-Secretary,who has helped to pioneer services in India. To date, more than 300 specialists have been trained all over the country, helping considerably in the increase of awareness and expertise.
RESEARCH:
Working in a virgin territory, much of the work needs recording and disseminating. The Research Department does this and also indicates where new services are needed. For instance, a research survey of 10,000 families indicated that 63% of handicapped children come from very poor families, whose net income is less than Rs.1,000/- or $70 per month. It also showed that the largest concentration of handicap is in the slums.
OUTREACH SERVICES: SLUM REHAB:
We work in Asia's largest slum,a place called Dharavi,which is made up of a migrant population,who have come to Bombay in search of employment. They come from diverse backgrounds,religions,caste and are crammed together in subhuman conditions in dingy tenements, without hygiene or sanitation, rampant with disease and sickness. In this slum background of thieving, fighting, gambling and stark cruelty, lies our handicapped child. Its a suspicious, bitter,section of humanity which has been thoroughly exploited by politicians and slumlords or "dadas". The slum culture has to be understood before we could begin our work. We have to win over the dadas before we reach our families. An average family consists of 5 to 6 members in a space of 100 sq.ft. where they cook,sleep,breathe,live. Crutches,calipers, boots,and mats for treatment - everything must be provided by us.
RURAL REHAB:
Our studies show that services get even more complicated in the rural set up. In the rural areas,casteism still rears its ugly head. For instance, leather cannot be touched by the Brahmin or the highest caste, but only the lowest caste or the chamars and the chandals could work on it. Nevertheless, at no point of time, we have learnt either at the slum or rural level, can we change traditions and systems existing in India for centuries.Acceptance, tolerance are definite and essential keynote qualities we have to develop if we wish to serve our handicapped children in the remote corners of India. Rehab can only be considered in his own set up. His entire world cannot be changed.
SOCIAL AND EMOTIONAL DEVELOPMENT:
An important lesson I have learnt from my experiences is that it is crucial to make the handicapped feel emotionally and socially secure,as our clients will always need moral stamina to face upto the challenge of a lifelong handicap. A famous spastic who later became a doctor - Earl Carlson said, "success depends not on what you lack, but what best use you make of what you have". Religious studies, moral science form an important part of the curriculum. The children are encouraged to believe that although they may not be able to perform certain skills, they are able to succeed in many others. Creative activities form a major part of the curriculum. Children excel in painting, drama, art and crafts, sports,etc.which help to build up their self-esteem. Their motto being 'I CAN'. After school by 17, they are mainstreamed into University where they have been happy and confident.
Leo Tolstoy, once said, "the most important thing in life is to love life, to love it even if one suffers, because life is ALL, life is God, and to love life means to love God".
This element of love is what I find runs through India, rich or poor, high or low. This makes our service different. I have travelled extensively and seen some of the best centres in the world, with the specialists and hi-technology aids/equipment, but often what is lacking is emotion. Emotion, feeling, is essential in the rehab process. In face of immense suffering, a person will need a large dose of nurturing through love and affection to overcome or cope with her struggle.
Another strong element that runs through the services is a moral and spiritual one. Specialists in the field, do not receive the salaries really due to them, but feel strongly about the spirit of serving and working for a pittance. Services such as I described are now available in all major cities pioneered by leaders with feeling, compassion, combined with specialization.
Hundreds have come forward to serve and sacrifice for the cause of the handicapped and hundreds more will, I am sure.
The road ahead may be stormy, and maybe we have miles to go. but as Confucius said...a journey of a thousand miles begins with one single step."
I think we've taken that important step.
---
CHANGES IN PROSTHETICS AND ORTHOTICS WITH REGARD TO NEW TECHNOLOGY
| | | |
| --- | --- | --- |
| Chairperson: | Prof.W.H.Eisma | Chairman,International Congress Committee, VIISPO World Congress,Kobe(Netherlands) |
| Co-chairperson: | Dr.Seishi Sawamura | Director,Hyogo Rehabilitation Center (Japan) |
---
RECENT ADVANCES IN AMPUTATION SURGERY
SEISHI SAWAMURA
Hyogo Rehabilitation Center, Japan
---
(1) Incidence and causes of amputation
The incidence and cause of amputation vary among European, American and Asian societies, due to the average span of life, nutrition and other physical characteristics.
In Japan, amputation due to vascular disease was only 8.7% in 1976, according to the statistics of the Japanese Association of Rehabilitation Medicine.
This slide shows the difference in the causes of amputation between the Seattle Prosthetic Study and our Rehabilitation Center in 1975.
Recently, however, the incidence of amputation due to vascular diseases has been increasing, and this slide shows the incidence and causes of amputation in our clinic over the past 25 years.
(2) Site of amputation
Selection of site of amputation varies with age, sex, occupation, cultural considerations and disease.
Recently, the method of choosing the level of amputation for vascular diseases has been a major topic of discussion, with the introduction of the local skin perfusion pressure test, Xenon skin blood flow tests, the Doppler test and others.
This slide shows a below-knee stump which was treated by the resection of all necrotic muscles and long posterior flap. Now he is able to enjoy sports. The knee is the keystone for rehabilitation of lower extremity amputees. Whenever possible, we mustpreserve the knee joint.
Unsatisfactory results in amputation for malignant tumor in the past have lead to recent advances in chemotherapy and to a surgical challenge to preserve the limb by radical excision of the tumor, or prosthetic replacement which may obviate the need for amputation.
Before the surgical procedure, prophylactic lung radiotherapy, systematic intravenous or intraarterial chemotherapy and local radiation therapy have been applied.
This slide shows the shrinkage of the tumor and decrease in vascularization around the tumor following the intraarterial chemotherapy.
When this procedure is compared with amputation, it raises concerns such as the incidence of local recurrence, the length of the disease-free interval, the rate of long term survival, and loosening of the prosthesis.
Modern surgical techniques and currently available prostheses permit, with few exceptions, maximum conservation of limb length.
a) Level selection for amputation through the upper extremity is carried out at the most distal level consistent with wound healing. We recommend, however, partial romoval of epicondylus and styloideus processes to facilitate fitting of socket.
b) The opinion exists that hip disarticulation is preferred to very high above-knee amputation because the remaining short femoral fragment is held in fixed flexion and abduction.
In our experience, however, we believe that a high wall total contact socket which would cover the gluteal muscles is necessary to provide stability. This x-ray shows the important suspension area between great trochanter and iliac crest through abduction of the femur.
We therefore prefer to select a very short A.K. stump rather than hip disarticulation.
c) The long above-knee stump no longer presents a problem through development of the poly-centric knee joint and turntable to adjust to our activities of daily living.
d) The knee disarticulation has a great advantage due to the long lever arm and full weight-bearing potential. Development of our double-wall total contact socket, which has the possibility to obtain a rotating function between the outer and inner socket, is the most suitable for the Japanese life style.
We have developed a four-bar linkage unit with pneumatic swing place control which has been well accepted.
e) The short below-knee stump of more than 2cm, which has extension-flexion function, is well accepted by the amputees due to application of PTS or KBM Socket with thigh corset.
It is common knowledge that the selection of the lower one-fourth of the leg is avoided in western countries. In the case of trauma in Japan, however, we like to preserve a longer stump in order to have better possibility to flex the knee joint.
f) The advantages and disadvantages of Syme's stump are shown in this slide. We have attempted a modified surgical technique and prosthetic fitting techniques since 1965 to gain better acceptance by the amputee.
Removal of a thin sliver of malleoli of the tibia and fibula to reduces the bulkiness of the bulbous end still maintaining the function of self-suspension on supra-malleoli region.
Tenodesis of severed tendons under physiological tension prevents muscle atrophy.
(3) Amputation surgery techniques
The goal of amputation surgery is to provide a physiological residual limb.
The stabilizing procedure of major transected muscle groups at amputation using myodesis or myoplasty will lead to active muscle function.
Experimental studies with rabbits were performed, evaluating angiography, microangiography and histology. The advantages of muscle stabilization techniques of myoplasty and myodesis are presented in our results.
Synostosis between tibia and fibula have been performed on special occasions such as for the need for end bearing, unstable painful stump, etc.
(4) Postoperative management
Following amputation, any significant time without prosthesis increases rehabilitation difficulty.
The conventional delayed prosthetic fitting method is not routinely used any more.
Various dressing techniques such as soft, rigid or CET for postoperative management following amputation have been investigated.
This slide shows the different postoperative management techniques after amputation with 475 cases in our clinic.
Selection of postoperative management technique depends on blood circulation status of the stump, psychological condition, infection, other physical complications and multidisciplinary team work.
Our principles for postoperative management, immediate prosthetic fitting and controlled environment treatment are shown in this slide.
Rigid dressing allows much greater environment control and can be used as a provisional socket for temporary prosthesis. Only one or two rolls of elastic plaster cast are applied to the stump.
The Physical and psychological advantages of the Immediate Prosthetic Fitting technique are dramatically evident with upper extremity amputations.
The usefulness of the upper extremity prosthesis has become apparent from this approach.
The physical and psychological benefits of early prosthetic fitting are well known and the rountinely recommended method when properly applied.
---
RECENT ADVANCES IN PROSTHETICS
EIJI TAZAWA
National Rehabilitation Center for the Disabled, Saitama, Japan
---
The main goal of prosthetic application is to provide amputees with comfortable, functional and lighter prostheses, so that they may lead lives as normal as possible, with as little disability as possible. Recent advances in Prosthetics have been quite dramatic, due to the development of new lighter, thinner materials, new philosophy in designing and configuration of sockets, plus active dynamic prosthetic components, especially the energy-storing feet.
It is obvious that socket configuration is not the only factor contributing to the comfort of a prosthesis, other factors such as alignment, socket material and components are involved in determining comfort. However, the real comfort of a prosthesis is principally determined by the socket fit, which has to bear the amputee's weight and counter force from the floor reaction through the prosthetic components. A new concept in above knee prosthetic socket design takes the weight-bearing over the entire stump rather than the ischial tuberosity. This weight distribution gives an amputee more comfort due to the larger weight-bearing area of soft tissue and muscle.
Currently, the materials mainly used in making prostheses are plastics, carbon fiber, titanium and aluminum, rather than metals (steel, iron), wood, leather. These new materials are lighter in weight, stronger and more durable.
Until recently the function of a prosthesis, in many cases, was limited to allowing an amputee to walk without any other aid. However, amputees now desire the ability to be more active. One of the major reasons for the former limitation was due to lack of PUSH OFF during cadence. The loss of a foot meant lack of push off. In recent years, there have been several energystoring foot prostheses produced by different companies. These energy-storing feet give patients not only a more natural gait, but also the ability to be more active, e.g. to run.
With these new advances in Prosthetics, amputees are afforded comfort, functionability, light weight and cosmetic results in their prostheses. Needless to say, however, new developments are always in the making to give amputees the chance to regain their loss through prosthetic wear.
In order to continue making progress, it is not only obvious that the development of new materials, new components and new socket design configuration is essential, but also innovations in the method of making prostheses are necessary.
Two dimensional or three dimensional measurement of a patient is required'to make a prosthesis. The present methods of taking a patient's measurements are done mainly by measuring tape, paper tracings and casting, which does not allow for true accuracy. Experienced Prosthetists and Orthotists have utilized their skills and experience to make up for this lack of accuracy in manual measuring methods as compared with what might be achieved by mechanical measuring.
In recent years, CAD-CAM (Computer Aided Design - Computer Aided Manufacturing) systems, which are used widely in other industries, have been introduced into the Prosthetics and Orthotics field. This system measures a patient by mechanical means (silhouette, laser beam, micro-wave sensor and compression value measuring) without any palpation or physical contact and feeds the data into a computer which computes the information and then commands the machines to manufacture. It has not yet reached the stage where it can be used commercially, but this is a promising development for our field.
I am pleased to have this opportunity to report on the many new advancements in the Prosthetics and Orthotics field, which are progressing towards eventually allowing patients the benefit of being able to lead normal lives.
---
SPINAL ORTHOSIS FOR SCOLIOSIS
M. K. GOEL and A. K. AGRAWAL
Rehabilitation & Artificial Limb Centre, Lucknow, India
---
With the increasing consciousness of Spinal Deformities and their early detection, a large number of patients of scoliosis come for its management at an early age. If not treated early it leads to a very ugly rigid deformity of the spine. In such cases Spinal Orthosis play a very important role. Dr. Blount and Dr. Schmidt 1948 gave the medical profession "Milwaukee Brace", Spinal Orthosis for treatment of early cases of Scoliosis
Though Milwaukee Brace even today remains an effective method of conservative treatment of Scoliosis in mild mobile curve in skeletally immature patients, but it has the disadvantage of being uncomfortable, and unacceptable by the patient and need time to fabrication. Yet in cervico dosral Scoliosis it is the best type of Spinal Orthosis. In an effort to overcome the above mentioned disadvantage with Milwaukee Brace, a number of underarm plastic Spinal Orthosis have been developed. An ideal Orthosis should be light, have good cosmesis, acceptable to the patient. It should permit good air circulation, simple and quick fabrication and should permit easy alteration with the growth. It should adequately correct and hold the deformity. Patient should easily take off and put on the orthosis.
A number of under arm orthosis are now available like Lexan Jacket from Pasadena, PVC Orthosis, Orthoplast Jacket and Boston Brace which is fabricated plastic mould is supplied in different sizes. These orthosis provide a very rigid support and is very efficient in treating Lumbar and Thoraco Lumbar curves and also helps in correcting Thoracic curves with appex at about T 7. They stop the progression of the Scoliolic curves in growing children. They extend anteriously from the sternoun to the pubic symphesis,laterally from axilla to the trochangenteal and posteriorly from the upper thoracic region to the gluteal folds. This Under Arm Orthosis T.L.S.O has the disadvantage that it is not suitable for the cervico
thoracic curves and prolonged use may alter the Thoracic cage and even may restrict pulmonery functions in a child whose functions are already low.
Low Temperature Thermoplastic Spinal Orthosis
Recently we are using Low temperature thermoplastic for Spinal Orthosis This is a pink coloured perforabed sheet in different thickness of 2 to 5 mm. This becomes transparent, soft and elastic at 60 when kept in a tray containing hot water. Then it is easily moulded directly on the spine in maximum correction which hardens on cooling thus maintaining the corrected position. If any modifications are needed afterwards they may be done after reheating it. It has the property of elasticity and can be stretched to a great length as desired for moulding. It has the advantage of Memory so that it returns to its original shape when heated. This has the advantage that alteration can be made in a growing child. It has also selg adhesive properties and velero and Tapes sticks to it when heated. It has got very good cosmosis, light and comfortable. The main advantage is that it is very quick and simple to fabricate as it is directly moulded over the Spine and no negative or positive moulds are made. Another great advantage is that it can be used for immobilizing the spine after surgery with internal instrumentational and bony fusion this replacing Risser's plaster jacket.
OBSERVTIONS: We have carefully studied 30 cases of Scoliosis in whom under arm orthosis was used. There were 16 female, 14 males below the age group of 2 to 16 years. There were 12 cases of congenital, 9 of Idiopathic and 9 paralytic Scoliosis. The degree of curve ranged from 18 to 95 with an average of 49 .Range of best correction was 68% to 37% while mean best correction was 52.9%. The treatment time was 2.5 years. Spinal majour curve with apex between T 7 and L2 gave best results. Patients should wear orthosis for about 23 hours a day. They may take out during swimming, dancing and other atheletic activities. After maturity patients may use the orthosis during sleep for some time. The weaning is gradual after skeletal maturity and carefully observed with frequent radiograph partial application of orthosis appeared as effective as full time wear. Orthosis has practically no significant effect on correction of rotation. A coordinated physical therapy programme is necessary to develop trunk muscles and for encouraging active correction
What Brace to be used? In single lumbar, thoraco Lumbar and Thoracic curve with an apex below T7 under arm Orthosis is advised. For cervico thoracic and upper thoracic curve the Milwaukee brace is better and more effective pulmonary functions are also not restricted
Whom to Brace:?
Curve under 20 must be kept under observation. In curves over 20 and especially over 30 orthosis should be prescribed. Curves over 50 in adolescense usually do not respond much to orthosis
Does Orthosis cause permanent correction? No long term results of underarm orthosis are available since they have not been used for a long period. Some retention of the curve about 30 was noted when the brace was discontinued. It was thought that Milwaukee brace gave permanent improvement but recent study from Milwaukee indicate most of the permanent correction is lost.
In future we have to find and orthosis for scoliosis which may give permanent improvement in scoliosis with good cosmesis, and is acceptable to the patient. Low temperature thermoplast orthosis is light,has good cosmesis helps in the correction of the curve and is directly moulded on the spine This is a great step forward in Orthosis for spinal Scoliosis provided they live upto their promise.
---
OCCUPATIONAL THERAPY IN PROSTHETICS AND ORTHOTICS
V.ANGLISS
Veterans' Affairs, Central Development Unit, Melbourne, Australia
---
A prosthesis is not a complete solution to an amputee's problems. Patients with an amputation or a limb deficiency require occupational therapy (O.T.) training to help them to use the prosthesis and to learn alternative means of independence to ensure that they attain an optimal life style. To achieve this the therapist must have a detailed knowledge of new materials, prostheses and other appliances and a full understanding of human relationships.
Early referral to a specialist team is essential and crucial for a limb deficient child and his family. Debbie, was born with limb deficiencies, bilateral amelia of the upper extremities (U-E) and bi-lateral Proximal Femoral Focal Deficiencies (P.F.F.D.). From infancy she and her parents attended O.T., initially to provide emotional support for Debbie and her parents and for Debbie to be encouraged to use her feet in a variety of play situations. Aged two, she was prescribed a Right body powered prosthesis and attended O.T. for training in its use, e.g., to pick up toys, to bang musical instruments, to use as a prop when sitting or to pull herself up to stand. At age 5, a Left body powered prosthesis was fitted and the Right was externally powered. Debbie used her prostheses throughout her schooling but removed them at home substituting her feet for hands. In school holidays she attended O.T. to master independence in all activities of daily living (A.D.L.) both with and without her prostheses, e.g. doing her hair; managing menstruation; applying make-up; touch-typing with her toes. She and her parents have freely contacted me the Therapist for help when difficulties arose. Debbie is now a typistreceptionist. She lives in an apartment on her own and has a car adapted for foot and shoulder control.
The best appliance, prosthesis, naterial or design for the patient's ideal outcome must be supported by a personalised training programme from a empathetic occupational therapist. The programme for the child is long term and includes the parents. The parents are helped to work through their grief, the loss of a "perfect child that did not come". They are helped to accept their child with a deficiency, the prosthesis and the fact that this child is to be treated as normal.
Adults who have had an (U-E) amputation or brachial plexus injury must be seen by a specialist team without delay. Training the adult requires that the prosthesis is properly presctibed and properly checked out by each team member. The patient must be personally trained by an experienced O.T. Prosthetic training for the adult has been clearly defined and the controls which can be quickly mastered must be followed by use and habit training. This is imperative if the prosthesis is to be useful and effective and must be continued all day every day for at least 2 weeks. Adults often get too much rehabilitation. The emphasis must be on early return to leading as satisfactory a life as possible in the shortest possible time. Occupational therapy for the lower extremity (L-E) includes transfers from bed to wheelchair to toilet, shower seat or chair, sitting down and standing up, manipulating a wheel chair, managing unaided in personal hygiene, dressing and standing activities that require balance and which will increase work tolerance. In addition adjustments may be required to the home or work place.
A mechanical device cannot replace an arm but it can be a useful substitute for some functions. Its main disadvantage is that it lacks proprioception. Occupational therapy for the patient with a U-E prosthesis or a brachial plexus orthosis with a split hook requires:-
1. Making a temporary prosthesis as soon as possible after the amputation which will permit two handed activities to continue - additional advantages include improved stump healing, assisting psychological well being and permitting earlier fitting of a definitive prosthesis;
2. teaching the patient to don and doff the appliance;
3. "controls training" and "use training" to establish habit patterns which for a child includes meeting each developmental stage and continues into adult life and to the work place;
4. instructions in A.D.L. with and without prostheses or orthoses;
5. designing suitable clothes;
6. involving the family, relatives, employers or relevant community services in the programme;
7. ergonomic adjustment to the patient's home and also assessment of the site for work settlement;
8. assisting the patient to cope with psycho-social needs;
9. encouragement in leisure and recreational activities.
The aim is to ensure that the patient can manage all their essential areas of daily. living such as eating, toiletry, dressing opening the front door, changing baby's nappies, cookery, managing transport, sport and leisure activities or working on the job site. Procedures must be taught which will permit independence including when an appliance is not worn. The meeting of patients with others of similar disabilities is to be encouraged. In the group situation patients and families can be of mutual assistance to each other.
The training can only be considered to be complete with the patients fulfill their own social, sexual and personal developmental activities. For Debbie this involved driving her car 6000 kilometres across the Australian outback followed by a 12 months overseas journey.
---
RECENT DEVELOPMENT IN ORTHOTICS
HIDEO WATANABE
Saga Medical School, Saga, Japan
---
Several kinds of orthoses which we developed recently will be presented.
1. Under arm brace for scoliosis (Saga type)
The orthosis which we developed recently for scoliosis has cable traction mechanism for promote the correction effect of the scoliotic curve. If the patient tract the cable wire, the thoracic pad would move such a way to compress the rib hump.
Intermittent corrective pressure can be given during wear the orthosis. Therefore more effective correction can be expected than the other under arm brace for scoloisis.
2. Rapidly applicable therapeutic orthoses
Usually it takes one week to two weeks from taking negtive cast model or measurement to complete the orthosis by the orthotic manufacturer. It may loose appropriate timing for orthotic treatment. In order to solve the problem, we developed quick-made orthosis and rapidly constructable orthosis.
Materials of the quick-made orthosis are low-temperature thermoplastics and plastic joints. And the doctor-in-charge or the therapist can make the orthosis with desired function in a short period of times when needed.
We developed rapidly constructable type orthoses (so called assembling orthoses) such as knee orthosis, ankle foot orthosis, spinal orthosis and wrist hand orthosis. We have the unit type component materials for these assembling orthoses in the hospital, and can be completed the orthosis in a short period of time when needed.
3. Saga plastic ankle foot orthosis
The polypropylene made posterior leaf spring type orthosis which we developed has flexible plastic bars at the ankle bilaterally. And both dorsi-flexion and plantal flexion of the ankle joint during gait with the orthosis are possible smoothly. The position of the plastic ankle joint coincides with that of the anatomical ankle joint. The orthosis has good medio-lateral stability, and T-strap is also attachable.
We prescribed the orthosis for the patients with CVA hemiplegia, peroneal nerve palsy, tibial nerve palsy and etc.
References
(1) Morinaga H. and Watanabe H.: Active compressive and corrective orthosis for scoliosis. Nihon Gishi Sogu Gakkaishi. 1986, 2, 159-165.
(2) Watanabe H.: Recent developement of lower extremity orthoses. Orthop.Surg.Traumatol., 1987, 30, 1305-1315.
(3) Watanabe H.: Present status and problems in upper extremity orthoses. Nihon Gishi Sogu Gakkaishi.1987, 3, 145-152.
(4) Watanabe H.: Plastic made ankle-foot orthosis with bilateral flexible ankle joints (Saga Plastic AFO). Nihon Gishi Sogu Gakkaishi.1986, 2,27-33.
---
ORIENTAL MEDICINE IN REHABILITATION
| | | |
| --- | --- | --- |
| Chairperson: | Dr. Shouhachi Tanzawa | Director, Rehabilitation Division, Nanasawa Rehabilitation Hospital (Japan) |
| Co-chairperson: | Prof. Yang Wei Yi | Department of Medical Administration, Ministry of Public Health (China) |
---
ORIENTAL MEDICINE HAS A DEFINITE SIGNIFICANCE IN REHABILITATION MEDICINE
SHOUHACHI TANZAWA
Nanasawa Rehabilitation Hospital, Kanagawa, Japan
---
Oriental Medicine and Rehabilitation Medicine belong to clinical medicine, but were originally developed independently. The history of the development of both medicines is that the former originated in ancient China as combination of medicine and the latter in modern Europe as the foundation of western Medicine and then developed into what it is now, overtaking present American Medicine. Each medicine has its own medical outlook on the world. However, we can find many similarities between these two medicines which originated from different sources.
Firstly, the philosophy of the medical responsibility of both medicines is quite similar. Rehabilitation Medicine is for the disabled and it pays attention to each impairment of the disabled and at the same time assesses the disability the handicapped have at present, and much attention is paid to what possibilities the disabled have in their future life. In the same way, Oriental Medicine attaches much importance to syndromes combined each symptoms rather than treating each symptom the disabled have. Concretely, it pays great attention to the general profile of a patient as a human being, observing thoroughly the patien't environment, his life customs, and his constitution. That is, it is pointed out that both medicines always take into account the whole body and resemble a great deal the fundamental medical philosophy that the disabled will be able to recover and go back to normal social life as much as possible. We can say both medicines are, so to speak, the medicines oriented to the holistic revival of human beings.
Secondly, the idea of the approach to disorders in both medicines is similar. The basic notion of approach for disorders in Rehabilitation Medicine is at first to decrease the impairment as much as possible and then in case the impairment has unfortunately not been taken care of, we should admit as much as we can the ability of the disabled to perform as an individual and take effective measures for them so that they can use their ability fully in social life, placing them on an equal footing with healthy people.
While the way of basic thinking toward disorders in Oriental Medicine is emphasized in fundamental approach by all means- to increase human resistance and activity. That is, the resemblance in both medicines lies in the basic idea toward disorder and both medicines attach importance to the improvement of the body functions of the whole individual. And the final goal of the measurement is to activate the essential healing power all human beings have.
Thirdly, the resemblance between both medicines lies in the methology of treatment. The method of treatment in Rehabilitation Medicine consists of physical therapy (kinetic exercise and physiotherapy) and occupational therapy. That of Oriental Medicine consists of outer treatment and pharmacotherapy (medicine for internal use). Outer treatment is the one given physical stimulation mainly from outside the body. Especially outer treatment is equivalent to physical therapy of Rehabilitation Medicine and includes kinetic exercise and physiotherapy. Kinetic exercise consists of WUQINXI which is the exercise imitating the actions of birds and animals, TAIJIQUAN, QIGONG, TUINA (techniques combining passive exercise and massage). In physical therapy, acupuncture therapy is typical.
There is a difference in contents between physical therapy in Rehabilitation Medicine and outer treatment in Oriental Medicine; however, there is a similarity in methology for treatment; that is, peripheral sensory receptors existing in the skin and muscles is stimulated and the effects of facilitation are detected in motor nerve system, sensory nerve system, and automatic nerve system.
In the above, several similarities of both medicines are pointed out, and since both medicines have these similarities, the full possibility of creating a new medical treatment combining these medicines in the clinical field would be possible.
We can expect from now on a new medical approach effective against disorders having a lot of opportunities of contact with each other and influencing each other.
The theme of Oriental Medicine in Rehabilitation is picked for the first time in the World Congress of Rehabilitation International, and it is greatly meaningful that the sectoral session for discussing this theme was taken up in the Congress held in Japan. We expect very inciteful talks from speakers of each professional point of view on.the present and future possibility of the contribution to Oriental Medicine which will accomplish for Rehabilitation.
---
APPLICATION OF ACUPUNCTURE FOR REHABILITATION
KAZUSHI NISHIJO
Department of Acupuncture, Tsukuba College of Technology, Ibaragi, Japan
---
I. Classification and feature of acupuncture as physiotherapy.
Physiotherapy is classified into the following based on extent of area to apply physical energy.
1.
General therapy : Appling physical energy to whole body.
2.
Local therapy : Appling physical energy to complained part.
3.
Point therapy(Acupuncture and moxibution etc.): It is expected to raise some physical responses to enhance our natural resilience appling slight physical energy based on various physiological mechanism including empirical wisdom.
Not only stimulating complained part but also non complained part is the difference from local therapy.
II. Effectiveness and limit of acupuncture
1. For organic diseases
Making circumstances advantageous, inducing blood circulation to be better and easing muscle tence, to regenerate for cell in the problemed part acupuncture can stir up our natural resilience. Unfortunately it is beyond power of it when aggravating potentiality of disease overcomes regenerate power of cell.
2. For functional diseases
Acupuncture and moxibution is the stimulus bringing about changes of our physiological function. This changes of physiological functions can be modulated by power of homeostasis in many cases. In the case of one's homeostatic power is weak high technique to be required to apply the stimulus.
III. Examples for which acupuncture is effective
1. Muscle, bone and joint diseases
Majority, 90%, of the patients who had acupuncture and moxibution therapy chiefly complained pain in the motor organs in Japan. Lumber pain occupy large number of these patients. 24% of these patients who had lumber pain had acupuncture, moxibution therapy and massage therapy according to the national healthy survey in 1985. According to the 20 reports concerning lumber pain in the journals from 1970 to 1979, acupuncture was very effective including completely cured for 46.8% of the cases and it was effective for 81.6% of them.
2. Visceral diseases
* Prevention for pyrexia caused by chronic tonsilitis with electroacupuncture
We chose Hoku and Kungtsui points in upper extremities for treatment. (Fig.)
Patients were stimulated at a frequency of 1Hz for 20 or 30 minutes. Patients were administered a course of therapy per week in consecutive 3 weeks. This cource of therapy was effective for 80% of the patients for prevention of pyrexia. Also pain in the pharynx of the patients were disappeared immediately after a cource of therapy and some of them became possible to drink milk, juice and so on.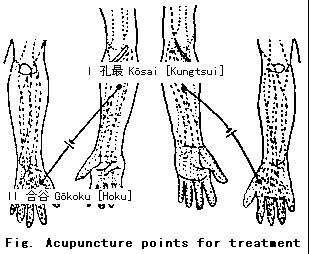 3. Ajusting physical condition
Basic object of acupuncture is ajusting physical condition. We found significance of acupuncture and moxibution in keeping and increasing health, in conditioning of sports medicine and in basic therapy of rehabilitation. So we studied influence of acupuncture for autonomic function.
* Acupuncture on Autonomic function
About 10% of normal heart rates decreased with acupuncturing at any part of the body. There sees differences among individuals and seasons. To determine mechanism of this decrease of heart rates we studied influences of acupuncture on autonomic function injecting Propranolol and Atropine for blokcer of autono mic nervous system. First we blocked sympathetic function of subjects and then we blocked parasympathetic function, both of them at this time, of them to determine it. There still found dcreasing of heart rates with the adrenolytics only. But decreasing of heart rates was disappeared with the adrenolytics with the anti-muscarinic agent. These result said decreasing of this heart rates with the adrenolytics can be brought about by accentuation of parasympathetic function. Also we found decreasing heart rates with the anti-muscarinic agent only had been bring about suppression of sympathetic function precedently.
We concluded decreasing of heart rates with acupuncture to human body bring about suppression of sympathetic function and accentuation of parasympathetic function. We believe these influences of acupuncture to the autonomic function can be the essence to adjusting physical condition.
IV. Summation
Acupuncture assumed to be valuable as basic therapy, priventing and treating various muscle, bone and joint diseases also keeping good visceral condition, to multiply effectiveness of rehabilitation.
---
APPLICATION OF ORIENTAL MEDICINE APPROACH TO REHABILITATION OF CEREBROVASCULAR ACCIDENTS PATIENTS
- MAINLY ACUPUNCTURE IN JAPAN -
M. FUKUDA, S. MATSUMOTO, I. KONDO, H. ARAI, H. YASUDA a)
S. TANZAWA b), H. MEDOKI c), R. NAGAYAMA d) a) Hirosaki University, School of Medicine, Aomori, Japan
b) Nanasawa Rehabilitation Hospital, Kanagawa, Japan
c) Reimeikyo Rehabilitation Hospital, Aomori, Japan
d) Tokiwakai Hospital, Aomori, Japan
---
The CVA patients have many impairments, disabilities and handicaps on motor, sensory and mental function. So they need the intervention of rehabilitation more than other patients. The CVA patients desire the perfect recovery and hope earnestly to recieve the most useful medical treatment. There are many kinds of techniques and methods for rehabilitation of CVA patients.
I will present on application of oriental medicine approach to rehabilitation of CVA patients - mainly acupuncture in Japan.
I. Clinical results of the acupucnture treatment on CVA patients
As the primary impairments, the CVA patients have various kinds of impairments such as motor, sensory, mental, urinary and speech problems. As the secondary impairments, they have the pain, joint contracture and deformity followed by over use or disuse of the body. We use the physical therapy and exercise therapy and sometimes acupuncture and
treatment.
The role of acupucnture treatment in CVA rehabilitation is following:
1) for recovery of motor paralysis
2) for use one of treatment methods as like physical therapy and manipulation
3) for getting effective physical therapy followed by remission of pain
4) for facilitation of spasticity.
I will present the clinical results of acupuncture for CVA patients in Reimeikyo rehabilitation hospital ( A ) and Nanasawa Rehabilitation Hospital ( B )
1. The methode of acupucnture treatment
| | |
| --- | --- |
| A | B |
| body acupucnture | body acupucnture |
| cephalic acupucnture | cephalic acupucnture |
| | Moxa needle |
| | TENS |
| | others |
2. The hemiplegic subjects with complication
| | | |
| --- | --- | --- |
| complication | A (118) | B (639) |
| hemiplegia | 46 | 122 |
| shoulder pain | 27 | 193 |
| disturbance of urination | 14 | 5 |
| aphsia | 13 | |
| paresthesia | 10 | 75 |
| headache | 4 | 10 |
| trigeminal neuralgia | 3 | 1 |
| stiffness of extremity | 1 | |
| low back pain | | 55 |
| knee pain | | 19 |
| neck pain | | 12 |
| others | | 147 |
3. The results of acupucnture treatment
complication
excellent
effect
no effect
aggravations
A
B
A
B
A
B
A
B
spasticity
4.9%
13.0%
56.4%
80.4%
58.4%
6.5%
1.0%
shoulder pain
2.4
55.6
77.2
37.0
20.7
7.4
disturbance of urination
23.1
29.6
aphasia
30.0
69.2
paresthesia
38.7
10.0
58.7
90.0
2.7
headache
2.5%
50.0
25.0
trigeminal neuralgia
66.7
33.3
pain of extremity
2.5
74.1
10.0
23.5
low back pain
7.2
78.2
14.5
knee pain
5.3
68.4
4. From the above results of acupuncture therapy, Tanzawa reported that the effets of the pain-connected syndrome was 78.3% and the hemiplegia-connected syndrome was 46.2%. Tanzawa pointed the difficulty in curing the focal and accompanying symptoms of hemiplegia and the limitation of acupucnture treatment.
5. Discussion of the clinical application of acupuncture on CVA patients As the role of acupuncture in CVA rehabilitation, it was already mentioned. For getting the accurate evaluation of impairment of CVA, the sign and symptoms should be classified as certain definition. For instance the classification of sign and symptoms is as following:
| | | |
| --- | --- | --- |
| impairments | positive sign | negative sign |
| motor disturbance of extremity | spasticity, rigidity, ataxia athetoid movement | flaccid |
| sensory disturbance | paresthesia | total loss, hypesthesia |
| urinary disturbance | pollakisuria, incontinentia | urinary disturbance |
| aphasia | jargon etc. | motor aphasia |
| arousal | hyper-arousal | hypo-arousal |
The positive sign needs the inhibition and the negative sign needs the stimulation. We also have to make another attempt for getting the certain evaluation.
| | |
| --- | --- |
| 1. | the time of starting and finishing the acupucnture treatment |
| 2. | ther methode of acupucnture treatment |
| 3. | the parts of body for acupucnture:affected side or non affected side or both |
| 4. | the time of evaluation ( soon after or some interval after finishing acupuncture ) |
| 5. | standarization of evaluation on effectiviness of acupucncture |
II. The researches of the acupuncture treatment on CVA patients in Japan
There are many researches of EMG, SEP ( Somatosensory Evoked Potential), CNV ( Contingent Negative Variation ), thermography, SPECT ( Single photon Emission CT ) SSR ( Sympathitic Skin Response ), arthropraphy and Catecholamine on acupuncture treatment of CVA patients in Japan.
I will present reseults of the researches on CNV, SSR, arthrography of shoulder joint in acupuncture treatment.
---
PHARMACOLOGICAL BASIS OF KAMPO-HERBAL MEDICINE
- GENERAL CONDITION OF ELDERLY PATIENTS -
J.C. CYONG
Oriental Medicine Research Centre of the Kitasato Institute, Tokyo, Japan
---
Introduction
Since the decline of infectious diseases with the development of antibiotics after the 2nd World War, vatious systemic and chronic diseases habe surfaced. These diseases often involve regularitory disorders such as the immunological and metabokic systems, which can be effectively treated with therapy that restores the body to its homeostasis. Western medicine, in maintaining its analytical approach, overlooked the importance of the regularitory system and has been mainly developing strongly-acting drugs. The onset of improvement and the efficacy of Kampo medicine are slow and mild, but because it frequently brings about a positive improvement in such patients, it has attracted the attention of scientists.
Kampo medicine have tended to be regarded as an alternative to modern drugs, but scientific research into these was carried out within a Western framework. Now there is more recognition of the limitations of the conventional methods for studying Kampo medicine. Various animal models have thus been introduced into the testing, and more attention is being paid to monitering the mild, slow-acting drugs that lead to improvement in the body's restorative system.
Subjects
With the aim of throwing some light on the mode of action of Kampo medicine, three formulations commonly used for the treatment of geriatric disorders were selected, and their effects on the nonspecific immunity of elderly subjects were investigated.
Two hundred and thirty-four volunteers, all at least 64 years of age and residents of institutions such as homes for the aged, were selected for this study. They were divided randomly into four groups, with no bias as to institution, age or sex.
One of the following Kampo extracts was administered orally to each group of subjects, Hachi-mi-jio-gan (Tsumura), Sho-saiko-to( Tsaumura), Yok-kan-san(Tsumura), and as an inactive placebo, containing 1/10 of the normal amount of Hachi-mi-jio-gan.
These Kampo extracts have been shown to have only weak action on immunological parameters, therefore, we attempted to stimulate the immune function of the subjects by injecting each with single a dose of 0.5ml of influenza vaccine.
Testing of the following items was performed before administration of the extracts began, and for one and two months after :routine peripheral blood test, influenza antibody titers, and psychological and neurological symptoms and signs.
Total serum immunoglobulin
The total serum immunoglobulin level(IgA+IgG+IgM) fell significantly during both the first and second months in the Yok-kan-san and control groups(p<0.01), but although the Hachimi-jio-gan and Sho-saiko-to groups, showed a reduction in month 1, the value returned to closer to the preadministration level in month 2.
Serum complement levels
The total hemolytic(TCH50) complement level was determined by comparing it's hemolytic activity against that of sensitized sheep erythrocytes. In the Yok-kan-san and control groups, a significant drop was seen after two months(p<0.01), however, in the Hachi-mi-jio-gan and Sho-saiko-to groups, the total hemolytic(TCH50) level began to rise after month 1 and by month 2, it was significantly higher in the Hachi-mi-jio-gan and Sho-saiko-to groups than in the control group. The complement system is intimately related to the body's defense machanisms ; for example, with specific and non-specific immunity, with immune-complex breakdown, and with inflammation. Consequently, it is thought that both of these prestarations probably have some effect on the body's immunological surveillance system.
Psychological and behavior test
According to assessment with Activity in Daily Life, ADL, elderly volunteers in the Hachimijio-gan group demonstrated marked improvement. The mean ADL sore in the Hachimijio-gan group, is stable where as that of control group, gradually and continuously decrease every month.

Total evaluation of Activity in Daily Life in elderly volunteers was based on the following observations by the medical staff ; evacuation behavior, urinary behavior, bathing activity, conversational activity, activity in changing clothes and appetite. These assessment were scored according to the level of assistance necessary for completion of each activity. Among these activities, marked improvement in evacuation behavior and conversational activity were observed in the Hachimi-jio-gan group.
The involvement of immunological reaction in the progression of dementia has been hypothesized and Hachimi-jio-gan, which also modulates the immune system of elderly subject was shown to have the activity which helps to restore the dementia patient.
This formulation is useful to the improve the general condition of elderly people.
Discussion
Despite heavy clinical reliance on antibiotics, in the last two decades there has been little improvement in Japan in the mortality rate for pneumonia patients of 70 years of age and over, indicating that treatment with antibiotics alone may have limitations. The establishment of alternative methods of treatment is assuming greater and greater importance.
One characteristic of infection in the aged is the appearance of the so-called opportunistic infections that accompany the lowering of immunity. Although Kampo medicines have little direct antibiotic effect, they often show outstanding efficacy against infections, suggesting that their effectiveness is derived from some action that they exert on the immune system of host.
The immunopharmacologic actions of Kampo medicines discussed in this paper may account for some of their therapeutic actions. It is also worth noting that one of the unique characteristics of Kampo medicines is that they act only on pathologic conditions. This contrasts with western medicine, where the drugs have strong actions that operate under both normal and pathologic conditions.
Western drugs are very powerful, acting as "props" or providing "strong momentum" for the physiologic functions of the body ; however, they may damage the homeostasis of the body and induce adverse effects. In contrast, the actions of Kampo medicines are mild and they act by restoring the homeostasis of the body and facilitating the natural healing process.
The future holds hope that a new form of meidicne will evolve out of the integration of Kampo and orthodox medical practises, and that effective cures will thereby be forthcoming for diseases that do not respond well to the kinds of treatment available at present.
---
CZECHOSLOVAK EXPERIENCE WITH APPLICATION OF YOGA IN REHABILITATION
J.VOTAVA
Clinic for Rehabilitation Medicine, Praha, Czechoslovakia
---
Interest in yoga has been steadily growing during the past several decades in developed countries. Most people are brought to yoga for health reasons. In Czechoslovakia persons from medical circles interested in yoga joined forces in 1977 and founded the Comission for Yoga Application in Rehabilitation as a part of the Czech and Slovak Society for Medical Rehabilitation. There were roughly three reasons why we thought it expedient to establish this comission:
1)
Our own positive experience with the practice of yogic exercises.
2)
The striking similarity between certain principles and aims of yoga and modern medical rehabilitation,that is:
a) Both yoga and rehabilitation strive for active involvement of the patient (adept). The patient has to be at least partially responsible for his health.
b) Both yoga and rehabilitation try to influence the patient (adept) as a whole (not only a single organ or system of the body).
c) Both prefer prevention to treatment.
3)
The third reason we established our commission was the high percentage of patients that we cannot either fully cure or compensate into a state of
active, satisfied life by conventional medical treatment.
350 members of our commissions include mainly medical doctors and physiotherapists, but also selected experienced yoga teachers, who are interested in collaboration with us. Medical doctors include not only specialists in medical rehabilitation, but also physiologists doing research work on the mechanisms of yogic exercises, psychiatrists and other specialists. During last 11 years our commission organized 4 national conferences and many courses and scientific meetings. We established contacts with persons, who are interested in similar questions abroad, from India, surrounding countries of central Europe, Scandinavia and others. Our members apply yogic exercises or elements of yoga in the treatment of their patients.
For us yoga is an empirical method for better control of both the physical and psychical functions of the organism. It is therefore not directly connected with mysticism and religion. We use yogic tradition, described in ancient scripts, and we learn experience of famous yogic teachers (mainly from India), but our system of yogic exercises is otherwise adapted to materialistic medical approach and for practical use in medical rehabilitation. The main difference between these two systems is, that the medicine starts with anatomical findings and the yogic system derives everything from subjective feelings.
To analyse objectively mechanisms of separate yogic (more exactly hatha-yogic) exercises is therefore very important task. Obtained results enables consequent application of different techniques in the therapy. Most active research group in this field is C. Dostalek et al. (Lepicovska, Roldan) in Czechoslovak Academy of Sciences (1982, 1984, 1987). They use advanced adepts of yoga for their studies. Changes of EKG, EEG and breathing movements are recorded during abdominal and breathing exercises. The decrease of heart rate during exercise "nauli" is interpreted as the relative parasympatikotony and the higher stability of regulatory processes as a result of training. New phenomenon in EEG, called Xi-rhythm was described in EEG during practicing hatha-yoga, which probably corresponds with the changed state of consciousness.
We, in the Clinic of Rehabilitation Medicine, use electromyography (EMG) for analysis of selected yogic techniques. Yogic poses (asanas) be divided with the help of EMG recording into three groups: a)with full relaxation b) with partial muscle contraction c) with maximal muscle contraction. Better muscle control is learned during yoga practice and we can find similar mechanisms in yogic practice as are known for EMG biofeedback. Biomechanical analysis of separate exercises shows balance of different forces during a pose, effect of muscle stretching and changes of gravity forces according detailed changes of postures. We also measured changes of body gravity centre and evaluated the stability of separate poses by this way. Muscle relaxation is typical for yogic exercises, but it is more difficult to record it.
Traditional classification of yogic exercises unites techniques of different nature in one group. Our new classification of yogic techniques is based on their physiological mechanisms:
| | |
| --- | --- |
| 1) | Preparatory exercises -are characterized by slow controlled movements without stopping. |
| 2) | Poses (asanas): include always stopping (static phase). They are furter divided: relaxing a., meditative a., corrective a. |
| 3) | Simple breathing exercises:do not include breath stopping. |
| 4) | Pranayama: traditional exercises , alway include breath stopping. |
| 5) | Local exercises:are newly proposed group. Includes exercises, that are called traditionally mudras and bandhas, but also certain kriyas. Are further divided according engaged part of the body: a) mouth and throat, b) abdomen, c) perineum, d) eyes, e) hands. |
| 6) | Cleansing procedures: include kriyas, but only when external material (water, cloth,cateter) is used. |
| 7) | Mental exercises: are divided into relaxations, concentrations and meditations. |
Ethical approaches and the diet are also important parts of yogic tradition, but they are usually not stressed to much.
Adapted yogic exercises are used for therapy in selected rehabilitation departments, spa sanatoriums and other medical institutions in Czechoslovakia, where are physicians and/or physiotherapists, who know this system practically. Usually small groups of patients are arranged. Other physicians recommend separate techniques individually to the patient according to their health problems.
The rapeutic effects of separate exercises is not easy to prove objectively. Their effect is complex, in other words they influence several systems of body. Yogic practice consist of many exercise and the effect of single exercise complement each other. The practicing person must have a positive approach to the yogic exercises, which may influence the objectivity of his evaluation.
Without doubt , exercises have certain specific effects on separate organs and systems and also unspecific effect of the whole body and mind. Typical pleasantness of yoga practice is caused by its unspecific effects: muscle and mental relaxation, change of afferentation, change of vegetative tone. There fore it can be reccommended, in appropriate modifications, in most chronic patients and disabled persons. It is useful tool of behabioral therapy by its complexness, positive internal motivation and possibility to practice nearly everywhere.
We use yogic exercises for patients with chronic back pain, for groups of neurotic, as a secondary prevention for cardiacs. It is complementary methods for alcoholics and other addicts. It is generally used in self-help groups of multiple sclerosis patients. It was also applied for asthmatics, cancer patients and even for the group of wheelchair-bound disabled.
Persons in high age can either continue their yoga practice or even start with easy yogic techniques. We have also many years of experience and good results with modified yogic exercises in children with minimal brain damage.
| | |
| --- | --- |
| | References |
| 1) | M.V.Bhole: Abstracts and bibliography of articles on yoga from Kayvalyadhama. 192 pp, 1985, Kaivalyadhama, Lonavla, India. |
| 2) | Dostalek C.,Lepicovska V.: Hathayoga - a method for prevention of cardiovascular diseases. Activ. nerv. sup. (Praha). 1982, 24, Suppl. 3 pp 444-452 |
| 3) | Dostalek C.,Roldan E., Lepicovska V.: Agnisara and Xirhythm in the EEG. Yoga Mimamsa, 22, 1983-4, pp 42-50 |
| 4) | Lepicovska V., Dostalek C.: Effects of nauli upon cardiovascular system. Yoga Mimamsa, 26, 1987-8, pp 25-42. |
| 5) | Votava J.: Evaluation of muscle relaxation in EMG recording of some yoga exercises, EEG Clin Neurophysiol. 66, 1987 p. S 110. |
| 6) | Votava J. et al: Yoga seen by physician. (in Czech) 140 pp 1988 Avicenum , Praha. |
---
Title:
16th World Congress of Rehabilitation International No.6 P.231-P.280
Publisher:
Month,Year of Publication:
To access/retrieve this document:
Japanese Society for Rehabilitation of Persons with Disabilities
1-22-1, Toyama, Shinjuku-ku, Tokyo 162-0052, Japan
Phone:03-5273-0601 Fax:03-5273-1523