Nothing About Us Without Us
Developing Innovative Technologies
For , By and With Disabled Persons
Part One
THE PURPOSE OF SPECIAL SEATING:
Freedom and Development, Not Confinement
CHAPTER 1
A Seat for Carina to Dress Herself
CARINA is an alert young girl with cerebral palsy. She was 10 years old when she first visited PROJIMO. She and her mother had come to take part in a short training course on designing and making rehabilitation aids. The course - really an informal hands-on workshop where everyone learns from each other - was attended by a small group of participants, most of whom are disabled. They came from community rehabilitation programs in Mexico and Central America. A guest facilitator was Kennett Westmacott, an English furniture builder with long experience working with disabled persons and their families in developing simple, low-cost aids.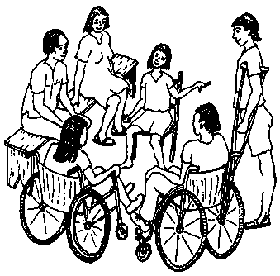 When it was Carina's turn to be seen, she was asked to join a small group of rehabilitation workers, some more experienced than others. In the shade of a mango tree, the session began with a friendly conversation. This was informal and relaxed, so that Carina would gain confidence with her peers and realize that they really wanted to get to know and understand her.
Understanding her speech was not easy for the group because Carina has difficulty with talking. When she is nervous, her body movements are less controlled and she finds it even harder to form words. But when Carina was surrounded by other disabled persons who showed real interest in her, she began to relax and her speech became easier to decipher. When she realized that she was the center of attention, and that people were doing their best to understand her in a non-judgmental way, she began to open up and enjoy the process.
Carina clearly had a mind of her own and wanted to become more independent. But her body simply would not do many of the things she wanted it to. For some time now, she explained, she had been able to feed herself. But it wasn't easy. Because much of the food she ate missed her mouth as it went in, sometimes she would let her mother help her. Now she wanted to manage on her own.
Carina had a walker (walking frame) that was made for her by disabled graduates from PROJIMO who had started a community-based program in the city where she lives. But she was still learning to use it. It was frustrating. The harder she tried, the more difficult it seemed to become. Her mother explained that Carina sometimes went through periods of fairly rapid improvement, but then seemed to go through times when little noticeable improvement took place. That was when Carina and she got discouraged. Carina's twisted smile and the gestures she made while her mother talked showed that she agreed. When one of the senior rehabilitation workers explained that this was how most disabled children develop - in apparent spurts and plateaus - both Carina and her mother seemed relieved.
Someone asked, "Carina, of things you like to do, what would you most like to do better?"
Carina tensed with excitement and chewed out the words, "Put ... on .... my ... clothes."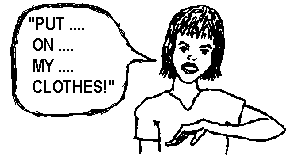 "And what else would you like to do?" someone else asked her.
She repeated more forcefully: "PUT ... ON ... MY ... CLOTHES!"
Her mother explained that for months Carina had been trying to dress herself. Sometimes she would struggle to do so for a long time before finally, sometimes tearfully, accepting assistance.
One thing was clear. Carina had told the group what was, at present, her most urgent felt need. It was her bid for budding independence and self-reliance. Her body, for all its unruliness, was her own.
"Is there anything we can do for her or make for her that can help her to dress by herself?" asked Kennett. It was anybody's guess. People said they needed to know more about precisely what Carina could and could not do, and where the problems were.
"Sometimes I can take off my clothes all by myself!" said Carina proudly.
It was time for Carina to demonstrate what she could and could not do. She was asked to start with what she could do successfully: get undressed. Carina was eager to show off her skill. She managed, with considerable difficulty, to remove her blouse. Then she did her best - unsuccessfully - to put it back on. Finally, and against her protest, her mother helped her.
Observation and identifying problems. By watching Carina, and with explanations from her mother, the group tried to evaluate Carina's skills and problems with dressing. They saw that her cerebral palsy was of mixed types. She had some spasticity (involuntary tightening of certain muscles), some athetosis (repeated forceful uncontrolled movements) and occasional low muscle tone (moments when her body became floppy and would sag forward). Unable to stand without support, Carina tried to undress and dress while sitting.
Even when seated, Carina had trouble staying upright and controlling her arm movements.
When trying to pull on her blouse, her body would suddenly sag or stiffen, throwing her off balance, usually backward.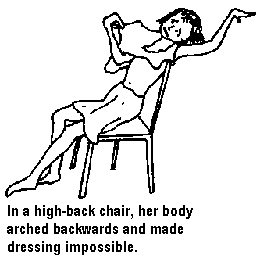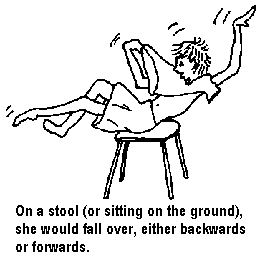 Ideas for possible solutions. After observing what Carina was able to do, what she was unable to do, and the nature of her difficulties, the group - including Carina and her mother - conducted a brain-storming session. All ideas were welcome, including constructive criticism.
Someone suggested that Carina wear loose-fitting clothes which she could pull on easily over her head, and that she avoid tight-fitting garments with difficult buttons or zippers. Carina's mother said she already did this - except, of course, when Carina wanted to look more elegant. Carina grinned her emphatic agreement.
Someone else had the idea that Carina sit near a firm post or pole that she could hold onto with one hand, while pulling on her clothes with the other.
Another idea was some kind of a seat that would give the support or protection she needed to keep from falling over, but which would allow the space and freedom she needed to pull a blouse or dress down around her body.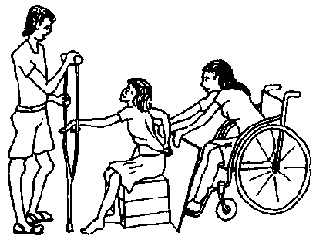 Experimentation. The best way to find out if these ideas worked was by experimenting. Carina sat on boxes of different heights, while participants firmly held a pole for her to hold onto. They tried holding the pole upright, sideways, and at different heights to find out what she felt worked best. Also, they tried using a wide board for a back-rest, holding it at different heights, angles, and positions. Carina loved all the attention and tried her best to put on her blouse in all the suggested ways.
Why does Carina fall over backwards? Carina had somewhat more control with the combination of a tilting backrest and a pole to hold on to. But still, she had to work hard to sit upright. "Her body keeps trying to fall over backwards!" observed her mother.
On analyzing the difficulty, the group realized that Carina had trouble sitting upright partly because of the stiffness of her hips. (The combination of spasticity and contractures prevented her hips from bending enough for her to sit upright.)
NORMAL SITTING POSITION

To sit upright, the hips bend at a right angle. The back-bone and the thigh-bone are at 90 degrees.

HIPS TILT CAUSES INSTABILITY

The difficulty with sitting causes more tension and spasticity, thrusting the child backwards.

STIFF HIPS - BACKWARD HIP TILT

Because the hipbone (pelvis) tips back, the child sits with the back bent. She must work hard to keep from falling backward.

TILTING THE SEAT FORWARD FOR MORE STABILIY

The seat tilt lets the thigh-bones slope down toward her knees. Now the back-bone can go straight up. The child can sit straighter and is more stable.
Tilting Carina's seat forward. The workshop participants experimented to see if Carina could sit straighter and more securely when sitting with the seat tilted forward. To everyone's delight - especially Carina's - it made a big difference. Her back rose straight from her hips, and she found it was easier to sit without having to use her hands to keep her balance.
Carina tried sitting on the seat at several different angles of tilt. In each position she tried twisting her body, moving her arms and hands about, and trying to take off or put on a piece of clothing. A small amount of tilt appeared to help most. A lot of tilt seemed to make her spasticity worse, and again she had trouble with falling over backwards. At last she and her helpers decided that she sat straightest and had most control when the seat was only sloping a little.
Again they tried having Carina try to dress, using a post to hold onto and a sloping back-rest, but this time with the seat tilting forward. Finally, Carina and the group agreed on a combination of features that worked best.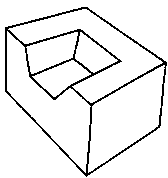 Designing and building a seat. Next came the design for a trial seat. Everyone had ideas. In the end, a plan was drawn for a sunken seat built within a large plywood cube. The top of the cube formed a narrow U-shaped shelf on which Carina could place her clothes within easy reach. The shelf also provided an area where Carina could reach out when she began to fall.
The sides and back of the seat tilted outward, to allow Carina room to pull down her dress. They gave support only when she began to fall. The seat itself tilted forward a little, allowing her to sit straighter.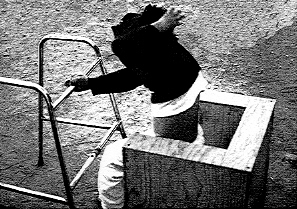 There was a long debate as to what to use as a hand-grip while dressing. Carina's mother wanted something movable - and removable. Suddenly Carina gave an eager cry and pointed at her walker. Why not? The walker was about the right height. They tried it and it worked.
With a little practice, Carina learned to shift from the walker to her seat, and then to position the walker in front of her for hand support.
Testing and evaluation. From the first, Carina was able to dress with more control. A couple of times she even managed to put on her blouse without her mother's help. As Carina practiced with her new seat, her confidence grew. With less fear of falling, she was less tense. This reduced her spasticity, so she was able to work at getting her blouse over her head without suddenly stiffening and falling backward. When she first succeeded in putting on her blouse alone, Carina was in seventh heaven.
In a few months, Carina's new cube seat proved so successful, she no longer needed it.
"Positive seating." It was very clear that Carina sat straighter, with more control, when the seat tilted forward. The remarkable benefits of forward tilting seats - or "positive seating" - for certain children are further explored in Chapter 4.
---
Nothing About Us Without Us
Developing Innovative Technologies
For, By and With Disabled Persons
by David Werner
Published by
HealthWrights
Workgroup for People's Health and Rights
Post Office Box 1344
Palo Alto, CA 94302, USA