New Law Introduces Use of Assistance Dogs in Japan (September.2001)
A student using an assistance dog entered Doshisha University, which is the first such case in Japan.
Assistance or service dogs are specially trained dogs, which help disabled people to lead independent lives. The student is Chikako Tatebayashi. She damaged her cervical vertebrae in a car accident when she was a second-year student in high school, and she cannot move her legs and arms very well. She had been staying at home most of the time since the accident. However, she got to know about assistance dogs through the Internet, met a dog called "Atom" and started her university life with Atom in April this year.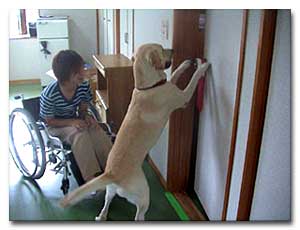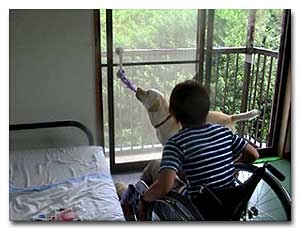 In order to carry on daily activities independently, excellent self-help devices and daily living appliances are indispensable for people with disabilities. An assistance dog is "a living self-help device and daily living appliance". Examples of what these dogs can actually be trained to do are:
Substitute for a user's arms and hands by bringing things that a user cannot reach, picking up and giving back dropped items, opening and closing doors.
Supplement physical tasks in accordance with a user's conditions, such as pulling a wheelchair, turning on light switches or pushing elevator buttons, supporting a user to walk or stand.
Secure means of communication by bringing telephone receivers or going for someone in case of emergency.
With such assistance by service dogs, people with disabilities are empowered to live independently and to participate in society, which improves the quality of their lives. On the other hand there is a current contradiction that using assistance dogs restricts the lives of people with disabilities, because often they are not allowed to take assistance dogs to restaurants, or they have to negotiate with railroad companies and other facilities about their dogs every time. For example, one user said, "I am always worried that I will be told not to bring my assistance dog. I would be very encouraged if there were legislation to guarantee our social participation with assistant dogs."

In Japan assistance dogs are still treated as ordinary pets. In 1995 the first service or assistance dog was trained and as of April 2001, there are 15 organizations that train assistance dogs, and 19 dogs are actually working.

In order to be accepted by society, users of assistance dogs must have sufficient ability to control the behavior of their dogs. When using public transportation, assistance dogs
Should not interfere with the safe operation of public transportation.
Should not cause trouble for other passengers and staff.
Public education needed
When using hotels, restaurants, supermarkets and department stores, in addition to the behavior management as above, users are requested to take full responsibility for their dog's behavior and hygiene. Additionally, to obtain social recognition, consciousness-raising activities are necessary. The first task is to hold a more concrete discussion by training organizations, actual users and men of learning and experience, on the criteria of the training since all the assistant dogs have to be trained to meet common standards. Therefore, it is expected that training organizations will establish a system of communication and cooperation with each other by holding conferences.
New law proposed in Diet
In the Diet there is a movement to enact legislation entitled the "Bill for Promoting Assistance Dogs" and many proposals have been presented. For example, to make a new law to guarantee the social access of assistance dogs, such as accompanying their users on public transportation; to add a clause on assistance dogs in the present laws such as the Social Welfare Assistants Law and the Law for the Welfare of the Physically Disabled Persons; or to make a new comprehensive law on welfare like Americans with Disabilities Act (ADA) in the USA, which includes assistance dogs and guide dogs for the blind and deaf.
In future, discussions will be held with the Ministry of Health, Labor and Welfare, and local governments that have already been supporting assistant dogs and researchers. The "Bill for Promoting Assistance Dogs" is going to be submitted to the Diet. As the new law is scheduled to come into effect in October 2002, the government aims to settle actual policies by that time. We hope that the day will come very soon when assistance dogs and their users will be fully accepted by society.
Compiled and translated by the Japanese Society for Rehabilitation of Persons with Disabilities (JSRPD)