Community Support for Adults with Autism in Japan: The Example of Keyaki-no-Sato (April 2004)
By Yoshiko Abe, Executive Director, Welfare Corporation Keyaki-no-Sato
Inception
In 1985, the Welfare Corporation Keyaki-no-Sato was established at Kawagoe City in Saitama Prefecture 35 kilometers northwest of Tokyo. It was only the second such facility in Japan to specialize in caring for adults with autism. Founders of the corporation included Mrs. Hatsue Suda and 21 other parents of children with autism. Mrs. Suda is the current President of Keyaki-no-Sato and Vice President of the Autism Society of Japan. The first "Hatsukari-no-ie" (Hatsukari Home) was opened in 1985 to serve 50 persons with autism . Today, the organization has grown to include 8 facilities ranging from a "welfare" factory, a sheltered workshop , 4 group homes and the Saitama Support Centre for Persons with Autism and Developmental Disabilities. At present 90% of the 95 adults who are supported in these facilities have been diagnosed with autism.
Despite the great need for support services for adults with autism who face challenges in daily living, it took 7 years to incorporate Keyaki-no-Sato. The founders faced strong opposition from the local community. People were concerned that the proposed activities of Keyaki-no-Sato would jeopardize the area and decrease land values. The opposition movement received extensive coverage from the mass media. As a result, the local community and Japanese society at large had the opportunity to confront attitudes about disability and come to terms with the rights of people with disabilities.
Principles, Activities and Development of Keyaki-no-Sato
The following principles guide the service providers in their aim to support adults with autism in the community:
Ensure that persons with autism live with human dignity, a sense of responsibility and with the opportunity to experience a range of life experiences.
Explore ways to support independent living in the local community, regardless of the severity of the disability.
View work as a core activity to promote participation in the community.
Promote the value of "independence as a group" in a way that persons with milder impairments help those with more severe impairments to work, cooperate and attain a measure of independence.
Support workers at Keyaki-no-Sato have been applying the principles successfully since Hatsukari-no-ie was opened in 1985. The original group of 6 or 7 adults with autism and 2 to 3 support staff found work cleaning markets, loading soft drinks in machines at factories, separating empty cans from other scrap metal at recycling companies, making miniature trains and making wooden carriers at a pallet manufacturing company.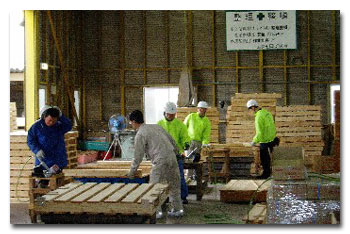 Keyaki-no-Sato's innovative model of job coaching was in operation one year prior to the similar system established in the United States. The model enabled members of the community to understand autism while adults with autism learned the social rules of the workplace and pride in their activities. Encouraged by improved relations between the community and adults with autism in the workplace, Keyaki-no-Sato expanded in 1990 to include a "welfare" factory (a Japanese term for securing minimum wage for the work of persons with disabilities) and a group-home. The organization has continued to grow with the opening of a sheltered workshop, three group homes and a support center.
Taro's Development: A Mother's Retrospective
My son, Taro, is a 41 year old man with a severe form of autism. With the support of Keyaki-no-Sato he has lived "independent as a group" in his association with a welfare factory/group home. Being part of this group has meant sharing work and living arrangements with others who have varying levels of intellectual impairment. Typically, persons with autism experience great difficulty developing partnerships with others, but Taro and his group have made strides far beyond our expectations.
Taro was born in 1962. There was no compulsory education for children with disabilities in Japan until 1979, so Taro received only 2 years of formal schooling from ages 8 to 10. As a young child, Taro had difficulty controlling his behaviour. Whenever he became frustrated, he would jump up and down and slap his own cheeks or bite other people. He had sleep problems, an unbalanced diet as he could eat only certain foods (e.g., one type of bread from a particular bakery), and a strong interest in only certain things like putting his hand under running water in the house. He liked to wander around and he had great difficulty joining groups or following instruction. By the age of 10 the serious behavioural problems all but disappeared. As a result of our persistent efforts as a family, Taro was able to do simple household chores such as washing dishes, helping with simple cooking and wiping the floor. However, he could not take any simple action without instruction outside our home.
Taro began visiting Hatsukari-no-ie when he was 20 years old. The staff in charge understood his disability and so they were eager and very capable of teaching him. Gradually, Taro began to make his own decisions and become active in his daily life and in a workplace. At the same time, his communication skills and his relationships with others improved dramatically. In addition, the principle of "independence as a group" influenced his development a great deal. In the context of the small group at the group-home, with the stimulation and support of colleagues, Taro began to understand more and more and he progressed more rapidly than we expected.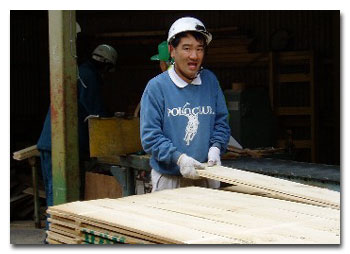 Taro works at a factory where pallets are manufactured. Taro and others work in pairs, though the pairs change each day. Taro used to find change very difficult to cope with, but the rotational system has fostered good human relationships and mutual cooperation. For safety reasons and given my son's cognitive disability, Taro does not actually make pallets at the factory. What he is able to do is to pull out nails from lumber, carry the lumber with his partner to a cutting machine, carry the cut lumber from the machine, and help print the company's name on the finished products. In keeping with Keyaki-no-Sato's principle of independence as a group, all the staff and colleagues know that "the President's son, Hiroshi, can make pallets because Taro carries lumber." In this way, Taro feels that his job is important. He says, "This is my job" and he works proudly and in harmony with his partners.
My son has also shown a remarkable improvement in his daily life. He no longer wanders around aimlessly. He now listens to his favorite music CDs of Mozart, Schubert and the Vienna Boys' Choir and he finds pleasure in swimming, putting golf balls and getting along with his colleagues. He participates in an annual trip organized by the residential facilities at Keyaki-no-Sato, which involves an overnight stay at a resort or hot spring spa and sightseeing. Taro regularly takes an active part in a Karaoke group when he is off work and he likes singing and dancing.
Professor Masataka Ohta of Tokyo Gakugei University is an authority on autism and the doctor in charge of Keyaki-no-Sato. He is surprised by Taro's marked improvement. Dr. Ohta describes the growth of people in Keyaki-no-Sato--especially those who work at the welfare factory--as an example of the successful "structuring of minds." According to the professor, "the staff of Keyaki-no-Sato do their best to understand the particular condition of each person with autism, highlight the working progress of each, and patiently continue supporting each one" and this has lead to a structuring of minds.
The President of Keyaki-no-Sata told us:
I believe that above all the parents' love for Taro has helped him develop and grow so much. Some say that people with autism cannot build human relationships at all, but I disagree, as I see them working in harmony and getting along with each other at the welfare factory. I suppose that they just didn't know how to do it before, because people around them had not taught them or had not supported them. Although people with autism are said to have communication disabilities, even if they cannot talk, they have their own ways of communicating their minds to one another. I believe they will continue to develop as long as they are supported properly and provided with an appropriate environment. Therefore, we should never give up.
Prospects and Activities for the Future
The well-documented behavioural characteristics of persons with autism make this condition one of the most challenging to serve with educational and in social supports. As few supports for adults with autism are available, many individuals continue to suffer in conditions that have not been tailored to optimize functioning and enjoyment of life. The activities of Keyaki-no-Sato provide an example of how to create an environment where a person's disability is properly understood and supported. Even the most severely affected persons with autism in the Keyaki-no-Sato program are able to develop and live independently in the local community.
The Corporation also has consulting and support projects that are expanding. Both are provided mainly by an Information and Communications Technology (ICT) group that provides information or advice to families and professionals who care for or work with a person with autism. Communications are electronic using email. Some people with autism are very good at operating machines and many enjoy the activities suggested by ICT during leisure time. To expand the skill set of adults with autism, ICT has been providing training with a variety of pieces of equipment and developing teaching materials to enhance communication. As a way of acknowledging ICT's important role in promoting use of new technologies to support the quality of life of persons with autism, a joint research project with the Kentucky Autism Training Center at the University of Louisville in the United States is also under consideration.
Lastly, we are now working on the "Keyaki system," which provides comprehensive lifelong support for persons with autism. Above all, we strongly hope that we can help people with autism live a happy life by delivering and sharing information about this system through ICT.