Japan: Myriad of Developments for Mobile Phone Users (October.2002)
There are currently more than 70 million subscribers to the mobile phone in Japan. It has become an indispensable item for young people thanks to its services, which include e-mail and ubiquitous access to the Internet. The mobile phone is also bringing about a major change in the lives of the elderly and persons with disabilities.
As a new means of communication
The e-mail function of the mobile phone has enhanced communications for persons with hearing impairments. One person with a hearing impairment commented that, "It's nice to be able to exchange e-mail in real-time so easily. It helps a lot when something happens, and I can quickly get hold of others." One of the leading mobile phone providers, J-Phone, has opened the "J-Phone Hands Sign Center" through an agent in Shibuya, Tokyo, exclusively for the hearing-impaired. This is the first experiment of its kind in Japan where a corporation provides services for persons with disabilities. The mobile phone has thus enhanced the means of communicating for disabled people, broadening their world in the process.
At the center, seven staff members can use sign language, three of whom are always stationed and provide support and services including explanations of model usage, an after-sales service and new purchase and change of model advice, using sign language or writing. There are as many as 40 customers on busy days, and this service has been warmly welcomed by many customers with hearing impairments.
Moreover, representatives from the J-Phone Hands Sign Center visit hearing impairment related organizations and schools to explain how to use the mobile phone using sign language. They also offer after-sales services by fax and e-mail.
Mobile phone as an "eye"
For blind users, the advent of the mobile phone or the TV phone that reads incoming e-mail aloud will probably have a great impact on their lives. Sadao Hasegawa, representative of TeleSupport NET, has introduced a new support system that utilizes the 3G TV mobile phone "FOMA" system launched in October 2001 by NTT DoCoMo, the largest company in the mobile phone industry in Japan.
With this system, a person with visual impairments communicates with a supporter who is in a different location through the use of a TV and mobile phone. The blind person directs the camera toward whatever needs explanation while he/she is out or at home, and sends the image to the supporter. Acting as the eyes of the user, the supporter explains the received image, and the user hears the explanation through an earphone which is connected to the mobile phone. Using this device the user can walk safely and avoid obstacles.
Furthermore, in July 2002, NTT DoCoMo introduced the PHS visual phone called "Lookwalk P751v". This model is less expensive and has a lower communication cost than "FOMA".
In an experiment, with the help of navigation from a tele-supporter, a user was able to have some tea at a restaurant and to reach the cashier and make payment without bumping into tables or chairs. The communication cost was only forty yen for about four minutes.
The user commented: "This is probably nothing for a person who can see but it is difficult for a totally blind person to walk through a restaurant without bumping into people or objects. Telesupport made it possible - and that's amazing!
It is also possible to direct the camera to a newspaper or TV and have a supporter read or explain information for them. Registration is necessary for both blind people and volunteer supporters. "Telesupport", is epoch-making technology for blind people, which could be disseminated from Japan to the rest of the world.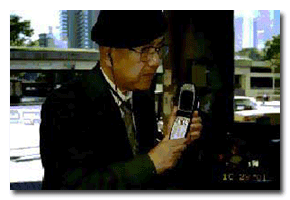 However, since this TV phone service was not originally developed for blind users, there seem to be a number of obstacles to overcome in implementing the system for the visually impaired. First is the price issue, since users bear all the costs. In terms of technical issues, the image projection lacks depth and sense of perspective, and it may be difficult to identify objects in the dark. Moreover, in a dangerous situation, the supporter cannot give a helping hand immediately because they are in a separate location.
A factor in the continued development of the service is the need to secure a sufficient number of supporters, as the service currently depends on the help of volunteers. "A service which relies solely on volunteers will not last long. It is important for the Government to establish a system to support such services for persons with disabilities, so that supporters can play active roles as professionals," said Junya Suzuki who is blind.
Further possibilities
"The mobile phone is an absolutely essential tool for me because I can rarely use a regular pay phone due to its height or location," comments Mieko Hayashi, a person with severe disabilities who runs her own business. Due to disabilities with her hands, she uses a mobile phone with a freehand device or an earphone and microphone.
Hayashi, who provides the elderly and disabled with daily life information, expects further possibilities from the mobile phone. "The location identification service for wandering elderly people can be developed into a current-location indicator for blind people. I am looking forward to its future development because not only is it compact and easy to carry, but it can be easily attached to the body; it could be utilized for sending medical data such as heart rate and blood pressure," she says.
For the world of business, developing products that people can use easily will win new customers, and lead to further expansion. The mobile phone market, which has grown extensively since its birth, is entering a new phase with the wave of universal designs. Therefore, it is crucial for people with disabilities, supporting organizations and businesses, to discuss how to improve the provision of public services in the telecommunications field for the disabled and the elderly.
Compiled and translated by the Japanese Society for Rehabilitation of People with Disabilities (JSRPD)