The World of Toshizo Ohta(Jan.2003)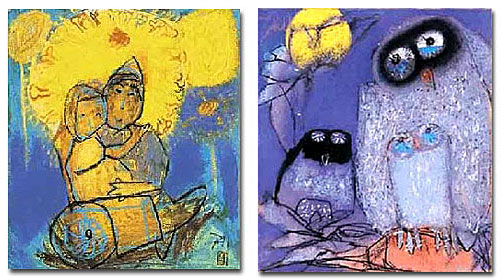 Born in Shizuoka, Japan in 1939, Toshizo Ohta disabled by polio at the age of 7 months.Without benefit of regular schooling, Ohta began his painting career, which has now sppanned exhibitions, 29 prizes and a book, Star child featuring a collection of comic-strips depicting his daily communications with children. He also runs the Ohta Toshizo Painting Class for local children.
Awards include: 1st DPAB grand prize, 1992 International Art & Clutural prize, the Japan-America Friendship Art Exhibition Seatle prize & featured artist for 1989 Ginza grand prize exhibition.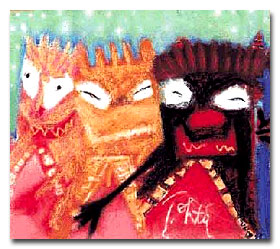 Toshizo described his artistic goals: "To me, teaching children how to draw pictures is my calling. I am pursuing genuine art through children's works which are pure, yet have high quality. That is the art which I am seeking relentlessly,the world of art which no genius artists has yet managed to accomoplish."
The works of Ohta and other disabled artist may be viewed online;
The works are not for sale but can be reproduced for fees which then support disabled artists. Please note that any reproduction of these paintings must be negotiated with the gallery.