Trip by Trike to 20 Cities in Japan and Korea (May.2002)
In June 2002, the FIFA World Cup is taking place in Korea and Japan. Many people in the world are very much interested in and waiting for this big event. Taking this opportunity, Kazuhiro Hattori will travel alone by tricycle to 20 cities in Japan and Korea. He wishes to appeal to people to overcome various barriers such as ethnic differences and whether they have disabilities or not, and to go out more and participate more fully in society.

Hattori was involved in a traffic accident in Canada, while he was touring by motorcycle around North America in 1986 and became paralyzed from the chest down. However, in summer 2000, he started the trip again by tricycle, 14 years after the accident, and successfully completed the rest of his North American tour.

In 2001, when he went to Korea to observe first hand the degree of barrier free design and implementation in that country, he was encouraged to do something to cheer up people with disabilities who tend to stay home, and he decided to make another trip by tricycle touring in Japan and Korea. Yokohama YMCA and a number of companies joined together to organize an executive committee to help Kazuhiro Hattori to realize his ambitious plans.

Hattori will visit welfare facilities for people with disabilities in Korea, give several lectures, and hold a number of networking events to exchange information. He will also regularly update the diary of his trip on his website and introduce the physical accessibility in Japan and Korea.
http://www.ubusuna.com/musubu/

Interview with Hattori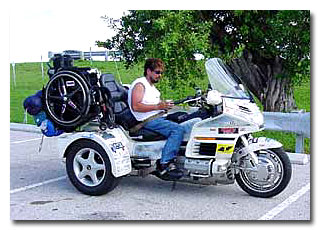 Following is what Hattori said about this trip, including with his expectations and wishes.
"I was sitting still and looking down while listening very carefully to a person from a welfare facility for the disabled in Seoul, who was speaking in Korean with Japanese interpretation. When I finally looked up, he was staring straight at me and he said something that I could not understand. He spoke very clearly with a strong voice. He was smiling, but his eyes looked very serious, so I could not shift my eyes from his gaze. The Japanese interpretation immediately followed his passionate words: 'I heard that you traveled alone in America by tricycle. I am sure that American people with disabilities have been very much encouraged by what you did. Please, next time, travel around Korea and encourage Korean people with disabilities, too.'

"Actually I did not travel around North America with such an ambitious objective. I just cannot stand when someone says that I am a disabled person--it makes me feel as though I am losing my individuality as a human being. I have to appeal that I am an individual, I am just myself, my identity is disregarded. The trip to America was the result of my challenge to such a reality.

"However, I was delighted that so many people, both with and without disabilities, cooperated to help me realize my dream by considering it as their own dream. Their combined power was morethan enough to encourage me to start another new challenge. It did not take a moment for me to answer, "Yes, I will." Under the clear, blue skies of Korea, where I had just visited to check barrier free situations, something in my heart was beginning to change. It was the end of February 2001, only four months after I had returned from the United States.

No people out in their wheelchairs...
When I went out of the airport, it was slightly cool and there was a strong breeze blowing. The leaves of the trees were dark green and very beautiful. When everyone had arrived, we got into a microbus that was waiting to pick us up. Somebody carried me on his back into the bus. We headed into the city from the suburban airport. After driving through rural areas for a while, the scenery gradually changed. Looking at the scenery from the window, I never saw a single person in a wheelchair on the sidewalks.

I visited a great many places in a very short period of time investigating barrier free situations in Korea. At the Korean Folk Village, I had to move around on the unpaved brown soil, which was very hard for a person in a wheelchair like me. At the Korean Folk Village, I felt very much at home or as if I was seeing something very familiar.

When I visited the War Memorial, I was greatly shocked by the exhibitions of World War II and the Korean War, which were both terrible deeds by human beings attacking one another.

At night in Dongdaemun Market
I also rode on the subway. At the long stairs, I had to be carried on a cart with caterpillars, sitting in my wheelchair. Dongdaemun Market was very lively and busy all night. The roads were congested and filled with people. I felt that many people were looking at me with great curiosity, I moved around in my wheel chair checking the obstacles of buildings and roads.

Since it was so crowded even at 2 o'clock in the morning and there were still so many people in the market, I became really exhausted because I was trying to use all of my five senses to the full. I used all my strength, but I could not move around easily, because there were so many steps at the entrance of shops or on sidewalks. I felt that the people around me were not staring at me or ignoring me. I felt they were behaving quite naturally. People were very cooperative although the facilities were not yet well developed for disabled people to use. When I tried to go upstairs in an area where there were many small clothes shops, I asked people who were watching us at a distance for help, and they soon came and carried me up the stairs. I observed that people in Korea, just like Japanese people, were not used to dealing with people with disabilities.

We all have differences such as our race, nationality, family background, gender, height, weight, abilities and disabilities and so on. However, we only recognize such differences when we compare ourselves with other people.

I hope everyone will come out...
It is certainly true that we are all greatly influenced by other people and the things that surround us and we cannot live completely independently without someone's help. Still, each person is a hero or a heroine in his or her own life and I sincerely hope that everyone will come out to participate in society proudly with a strong feeling of self-confidence. Especially people who do not have many opportunities to go out into society should drive themselves to become more active and to become more involved in society.

I hope that my trip will provide a good opportunity to promote this change. I will leave Yokohama on April 14th by my tricycle and first travel around Japan. Then I will sail to Korea from Kyushu by ferry. I am planning to meet and have exchange meetings with people in many cities I visit. I hope that a small light in each area I visit will then grow bigger and brighter in the future.
Compiled and translated by the Japanese Society for Rehabilitation of People with Disabilities (JSRPD)