You're not alone! Rely on one another.
Support Center Fukushima News "UNITE(Tsunagari)" No.3
Issued by JDF Support Center Fukushima for Persons with Disabilities in Devastated Area on May 4, 2011
Our address has been changed! We would like to ask your continuous assistance for Support Center Fukushima!
Address: B-101 Fukaya Bldg., 5-17,1-Chome, Kuwano, Koriyama City,
Fukushima JAPAN 963-8025
TEL: +81-24-925-2428 / FAX: +81-24-925-2429
Cumulative totals of surveillance as of April 27
Numbers of centers/facilities for persons with disablilities: 85
Numbers of shelters (includes secondary shelters): 312
Numbers of counseling & action: 108
Numbers of hotline call: 56
Message from Shiraishi, head of Support Center Fukushima
We had the greatest earthquake such as magnitude 9.0 at Tohoku and Kanto area on March 11, 2011. More than 27,000 lives have been lost or disappeared due to massive tsunami derived from the earthquake washed out all coast areas of Iwate, Miyagi and Fukushima. Besides, the tsumani accompanied with accidents at Fukushima Daiichi nuclear plant. Here in Fukushima, not only people but also crops, farm animals and nature are contaminated by the radio active. It will take more time to start toward recovery as no one can predict when the accidents of nuclear plant are concluded.
We, Support Center Fukushima, have visited most of the shelters to confirm safety, offer counsel and explore needs for persons with disabilities with the help of a lot of volunteers. Then, entire pictures of hard lives of persons with disabilities at shelters have stood out. Some kept sitting in wheelchairs for two weeks because floors of shelters were too hard to lie down; some did not take a bath for one month; some slept in their cars at parking areas; some moved a shelter to a shelter because of difficulty of group living with autism disorder; even some persons with psychiatric disabilities were frightened as if the world ends soon. All of them lived their hard lives at the shelters. We have looked around nearly two hundred shelters, however, the number of persons with disabilities were about one hundred, which was smaller than thought. Especially, we rarely saw severely disabled persons there. This might be because, we suppose, they were either going to houses of their acquaintances or relatives or bearing with inconvenience at their homes.
At a community workshop in Minami-Souma City, the workshop takes in 20 users because both of them and their families were impatient of living at shelters and came back while staffs almost gave up hope to keep opening the workshop as users had evacuated due to fear of tsunami and nuclear accidents. Although several staffs quit jobs due to nuclear accidents unfortunately, Support Center Fukushima is assisting the community workshop in Minami-Souma City to send relief supplies and volunteers in response to appeals from a head director and staffs of the workshop. Besides, we have started to call on persons with disabilities dotting in Minami-Souma City to confirm their safety and intentions in terms of evacuation in advance. This is because the local government asked the head director of the community workshop, mentioned earlier, for help so that we sent our volunteers to assist their activities.
From now on, we are going to establish a shelter-salon that takes in persons with disabilities from various devastated sites including Minami-Souma, Kawamata, Kawauchi and Katsurao. Also, we have a plan to build two barrier-free temporary housing in Aizuwakamatsu if possible because radiation level is rather high in Koriyama. Moreover, we are trying to prepare shelters across Japan working together with various organizations for the disabled persons.
We are still on our way to sort out a mass of data because of no good provision for members of the secretariat and volunteers. However, we have just begun to organize information on list of graduates at Koriyama special support school. Then we will call on each graduate who lives in Hamadori (Coast side) and Nakadori (Central) as soon as we finish organizing the data and verifying together with board members of alumni of the school.
May I emphasize again that both government and private organizations run about in confusion due to nuclear accidents in Fukushima. We are also worrying ourself if we are better off staying here. Some advise that youth and children had better leave though radiation have less impact on me because of my age. We might say that youth are better off leaving Koriyama further away if it takes quite long time until nuclear plants stop releasing radiation. This is a situation surrounding Fukushima, however, we will do our best to continue our activities with full of smiles until we accomplish our recovery.
Most sincerely,
Kiyoharu Shiraishi
Mr. Hirotada Ototake visited us on May 4
On May 4 (Wed), Support Center Fukushima received a visit from Mr.Hirotada Ototake. He listened to current status of persons with disabilities in devastated sites and activities of Support Center Fukushima attentively as well as had a talk with staffs actively.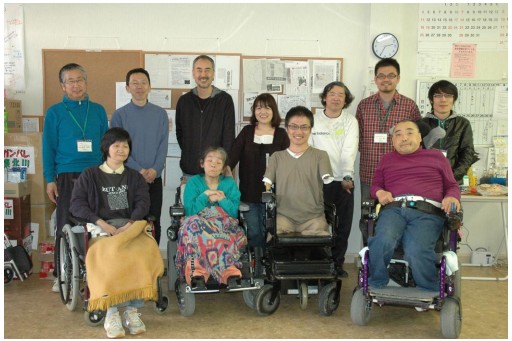 Photo: Hirotada Ototake visited us
Surveillance report of primary shelters
Objective: This surveillance shows current conditions of persons with disabilities who live in shelters. It also clarifies their and their families' needs. Therefore, they are introduced to consultation service offices in case urgent action and high degree of professionalism are necessary; the Support Center takes care of relief goods when they are needed, or conveys their needs to government in case they are under the control of public administration.
Coverage: Public facilities as primary shelters including schools and community centers.
Period: April 5 - April 18
Method: Teams visited each shelters and interview with responsible officials, administrative officers, persons with disabilities and their families. One team consists of two or three members.
Content: Presence or absence of person with disabilities; their living conditions; their problems; their needs.
Where did people with disabilities go for safety?
We found the numbers of persons with disabilities were small at shelters. The reason could be as follows: severe living conditions at shelters; difficulty of large group living; unprotected privacy; being nervous about surroundings; hard-to-use equipment. On the other hand, there were various problems even though they left shelters for their relatives' houses or rented accommodations including difficulty of group living since many asked for evacuation, economic hardships, lack of relief goods, lack of information, lack of public service especially medical and welfare service. Some people were severely exhausted because they moved from a shelter to a shelter frequently for avoiding troubles or poor living conditions.
Needs from this one month experience as evacuees
Unprotected privacy; partitions are necessary
Physical support for assistance
Toilets need to be improved; difference in level on the floor, Japanese-style only
Individual care is necessary; bed, bath
Consideration for special meals; dietary for diabetes
Mental care; insomnia, stress from group living
Allaying anxiety about health: protect against infection
Need to feel connected to a community
Need to be provided medical and welfare service continuously
Easy-to-understand information
Rectify the discrepancies of support among shelters
Concern for future
We heard various voices concerning for prospect of recovery mentioned below. On the other hand, they are facing an uncertain future due to nuclear accidents, radioactive contamination, added and/or altered evacuation orders and harmful rumors at the same time. Their concern for future seemed to grow even bigger. We don't have no prospects after secondary evacuation. We want to know how long we need to stay at shelters. We are afraid if we need to leave the shelter again. We can't help but feel anxious about our houses.
Note after visiting primary shelters
We are still on our way to revealing current status and needs of persons with disabilities at primary shelters through this surveillance. Hereafter, we keep working hard to shed light upon their status and needs as the core of our support activity.
Information for supporting with evacuation of children with disabilities and their families
From Association of Ube united to children in Fukushima
We are afraid whether children with autism and their families might be not able to take shelter even though they are suffering from earthquake, tsunami and nuclear accidents. We have established this association for supporting those families to provide a restful time. Various members belong to the association including families who have children with autism, supporters for those children and supporters for victims of the accident at Chernobyl 25 years ago. Local government also offers support including residences collaborating with us. Should you have any inquiries, please don't hesitate to contact us.
Overview
We bear your transportation expenses to come to Ube.
We welcome children and their families who can come to Ube.
We offer your residences; free of charge for house rent and water bill.
Ube City offers one hundred thousand yen per family as lump-sum payment.
Two families are taken in.
20 to 30 supporters assist the families on the economic front so that they will stay here up to one year.
Other supporters will be available as well.
Contact
Association of Ube united to children in Fukushima
Head of director: Fumio Kinoshita Tel: 090-6838-2881
Secretariat: Yoshiko Takenaga Tel & Fax: 0836-33-3982
Mobile: 090-8359-2863
From Comeback Project Committee
We support children with disabilities and their families.It is necessary for the families to renew energy before taking a big step toward recovery. We would like to offer a restful time and space in Osaka or Kobe from a week up to six months. Professional guidance will be available for physical and mental relaxation. Hope you feel at ease and "reset" yourself.
Program Details
Assist mobility
Ensuring residence; public housing is available
Assist learning opportunities for children
Assist empowerment for parents
Coordinate in After School Care Program
Object person
children with disabilities and their families
Period
one week to six months
We will set up a helpdesk to provide services with reflecting the will of families.
Staffs and partners
Dedicated volunteer team of friendship meeting, professional support staffs of child-support, professional support staffs of psychology, association of children with disabilities, special support schools, community workshops, healthcare facility, other supporting teams, administrative agency
Contact
Universal Plans LLC Secretariat: Kouji Tabuse
Address: 5-3-5-201 Uozakikitamachi, Higashinada-Ku, Kobe City, Hyogo, JAPAN
Tel: 078-413-5111
Translated by the Japanese Society for Rehabilitation of Persons with Disabilities
Volunteer translator : Mr. Eitaro Ono