You're not alone! Rely on one another. Support Center Fukushima News "UNITE (Tsunagari)" No.5, September 6, 2011
Issued by JDF Support Center Fukushima for Persons with Disabilities in Devastated Area
Addres: B-101 Fukaya Bldg. 5-17, 1-chome, Kuwano, Koriyama-shi, Fukushima-ken, 963-8025, Japan
Phone: 024-925-2428, Fax: 024-925-2429
Let's rebuild Minami-Soma-City to a city where persons with disabilities can live and work without anxiety.
On August 29 at Minami-Soma-City office, JDF Support Center Fukushima for Persons with Disabilities in Devastated Area reported to Mr. Sakurai, Mayor of Minami-Soma-City, on the survey result of people in need. At the meeting, having appreciated for their rapid sharing the name list of "disabled person's booklet" holders (under 65 years old), we reported the fact that 30% of them could not evacuate, and discussed what assistances have to be provided to meet the needs of persons with disabilities. The city side answered that they recognized that this was just a starting point. At the news conference after the meeting, our staff members on the front line told that they had kept supporting in the situation where no medical, transportation, business or consulting service were available. They also reported that they could get answers only from 1,139 persons among more than 4,000 "disability person's booklet" holders.
(Note: The survey was conducted from April 30 to August 10 with 1,139 "disability person's booklet" holders by door-to-door visits.)
We started service again after moving from Namie-town to Nihonmatsu-city!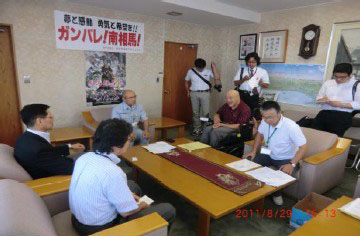 Photo: Meeting with Mr. Sakurai, Mayor
We interviewed Ms. Sachie Watanabe, director of "Access Home Sakura" which started service again after moving out from Namie-town to Nihonmatsu-city.
Question: How did you get the service started on August 1?
Answer: When I visited our clients in shelters, many of them told me that they wanted to meet their fellows and work again. Everybody shared the wish of getting back, and I started to think how I can arrange the place where the fellows of Sakura get together. I was constantly afraid that they might not be able to get together because many people have not settled yet. However, I felt it's possible if even only one of them wants to get back to Sakura. After realizing that more than 10 persons wanted to use Sakura's service, I decided to reopen and began the preparation from June.
Question: Can I ask your thoughts after 1 month has passed since the reopening?
Answer: From August, the service started for 12 clients by 4 staff members. We needed transportation services because their homes are in far places such as Koriyama, Nihonmatsu, Fukushima and Miharu. Our new place was not so familiar to us too, so, JDF kindly dispatched a supporter for us. Even in our new place Nihonmatsu, radiation level is not low enough to do outdoor activities. We want decontamination work as soon as possible. We feel very uncertain due to the lack of information as we felt at the time of evacuation. However, we now seeking necessary information by ourselves because we cannot know anything if we just wait. Our current activity is trial production of new sweets for future sale. We also expect a new order coming from Iwaki. But, the amount of work is not enough to pay salaries yet. I would like deal with the current situation without being impatience so that my fellow clients can utilize our services even in refuge life. The most encouraging thing to me is their cheerful smile.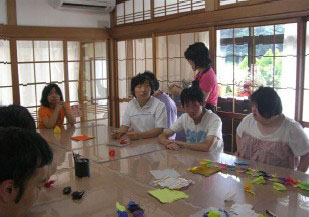 Photo: Recent photo of clients of Sakura
Unite Fukushima
Starting from Minami-Soma! Work development of workshops in Fukushima.
Since the earthquake, the amount of work has dramatically dropped down. Minami-Soma is not the exception. Therefore, welfare workshops started "work development" together, aiming to rebuild places where fellows with disabilities work enthusiastically. The first production is "Tsunagari ∞ Fukushima Can-Badge". The earnings from the sales of the product will be distributed to clients (workers) in the workshops as their wage.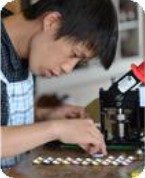 Photo: A staff of a welfare workshop is making the Can-Badges.
Support workshops in Fukushima! "Tsunagari Fukushima Can-Badge" is on sale. The price is 150 yen including tax.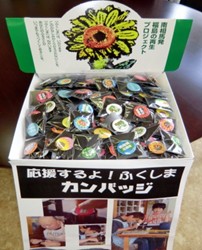 Photo: Tsunagari Fukushima Can Badges
Wholesale is available too. 100 badges are packed in a special box, which can be displayed at the shop front or events. Please contact the address below.
There are 2 sizes; 2.5cm or 3.2cm.
Various illustrations created by fellows with disabilities and staff members are shown on badges.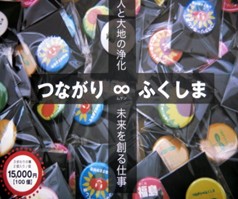 Photo: Tsunagari Fukushima Can Badges
Please contact Mr. Sadahiro Sato in Minami-Soma Factory (c/o Endo-Mame), 430-2 Aza-Nakazato, Kamikitatakahira, Haramachi-ku, Minami-Soma-shi, Fukushima-ken
Phone: 0244-23-4177
■Information of consultation desk■
We provide necessary information and various consultation services for persons with disabilities in Fukushima Prefecture affected by the Great East Japan Earthquake.
The office hours are from 8:30 to 17:30 (including Saturday, Sunday and holidays).
We accept telephone, e-mail and visit. Home visit service is available too.
You can consult on; life in shelter, future life, welfare services, medical issues, education and job.
Phone: 024-983-7646, Fax: 024-925-2429
Please consult us if you are thinking about voluntary evacuation!
More than 50,000 persons already moved out of Fukushima Prefecture, many of whom worry about the effects of radiation. Please contact us if you are worrying that you might not be able to move out due to disability. We will provide consultation services by utilizing our networks with organizations in many areas.
Phone: 024-925-2428, Fax: 024-925-2429
Translated by Japanese Society for Rehabilitation of Persons with Disabilities Volunteer translator: Mr. Shintaro Nakamura