Miyagi Support Center News "Link (Yui)" No. 21, June 18, 2011
Let's Support our Fellows in Tohoku Region with our Bonds and Collective Power!
JDF Headquarters for the Comprehensive Support for Persons with Disabilities Miyagi Support Center
c/o Hagi-no-Sato Daini Fukujuen Taihaku-Ku, Sendai City (New address from May 1)
TEL/FAX: +81-22-244-6965
http://www.dinf.ne.jp/doc/english/resource/tohoku_earthquake.html
---
Three months have past since the Great Earthquake and Tsunami occurred and it gets hot and close toward summer. JDF Miyagi Support Center has been gradually reaching out to the communities and would like to do the best to meet their needs.
Total number of the persons with disabilities at home/shelter who had dialogue with JDF: 1,386
The total of visits (as of June 17, 2011)
Population of Miyagi Prefecture
Disability Handbook Holder
Intellectual Disability Handbook Holder
Mental Health and Welfare handbook Holder
Total Number of Persons with Disabilities in the affected Areas
The Persons with Disabilities who had Dialogue with JDF
The whole Miyagi Prefecture
The Local Units at the Coastal Areas
As of April 16
As of June 17
Total
2,346,290
79,262
14,925
9,705
103,892
53,511
116
1,386
Visit of Komei Party Assembly Persons' Group, Saitama Prefectural Assembly
On June 16, morning 7 Komei Party Assembly Persons of Saitama Prefectural Assembly visited JDF Miyagi Support Center and Mr. Abe, President and Mr. Yamamoto, General Secretary of the Center welcome them together with the two from Sendai Municipal Disability Welfare Association. The present situation of the welfare shelters, role of the facilities were reported by the Association, which disclosed the difficulty in their action taking without having no proper risk management plan which presumes such a big tsunami. The Center made Activity Report and shared typical case studies. It also raised a problem that the privacy protection hindered reaching out to the affected people who were under suffering, and appealed that the issue of rebuilding the affected facilities for disabilities was urgent. We would like to show our gratitude for their donation of masks which are necessary in the affected areas.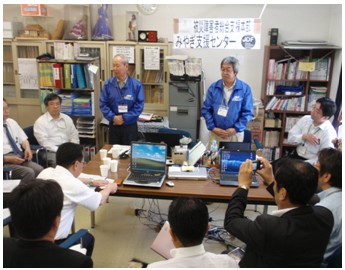 Photo 1: Visit of Komei Party Assembly Persons' Group, Saitama Prefectural Assembly
Visit of the Kirin Foundation
On June 16, afternoon, Mr. Shinji Yamagata, Managing Director of the Kirin Foundation. Though the time was very limited, we think the JDF activities were well understood. Mitsuo Tochinai, Vice General Secretary of the Kirin Foundation would make a visit on June 27.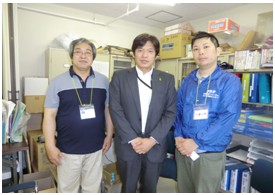 Photo 2: Visit of the Kirin Foundation
Donation to the Nozomi Welfare Workshop
JDF Miyagi Support Center got a FAX from Ms. Sayoko Miyamoto living in Nagoya. Reading "Yui", JDF Newsletter, she wanted to do what she could do and decided to offer 100,000 yen-valued things to the Nozomi Welfare Workshop. The Workshop had a need to get a stainless cookery sink and stand. Ms. Miyamoto was willing to present it to Nozomi. We were so happy and thankful to identify such supporters all over Japan who are back us up.
Secretariat Now
June 13(Mon): -Had a visit from Workshop "Global Village"
June 14(Tue):-Had a visit from General Secretary, the Shimizu Foundation
June 15(Wed):-Had a visit to Yumeminosato, Social Welfare Cooperation
June 16(Thu):-Had a visit from Komei Party Assembly Persons' Group, Saitama Prefectural Assembly
-Had a visit from Managing Director, the Kirin Foundation
Voice from supporters at site
It was just a short period to do some volunteer work as a member of JDF Miyagi Support Center. Before coming here I got some information from TV and newspaper, but after coming here I witnessed with my eyes and realized how terrible the Great Earthquake and Tsunami was. I also witnessed through my involvement a process of creating a relationship between those who are affected and supporters, or affected organizations and supporting organizations, which would be a powerful drive for activities to meet their needs. (Yamaguchi Pref.)
My activity was from June 11, 3 months after the Great Earthquake and Tsunami. I was in charge of Onagawa Town, Ishinomaki City and had an overview from the hill which was used to be reported by media. Everything was washed away and there was nothing there. I could not believe it was a residential area before. Many of the affected persons with disabilities are still under the inconvenient life conditions without having wheel chair or bed. We made visits to shelters and temporary houses to identify the needs of the affected persons with disabilities and give support to bring the necessary things to them. I pray that their lives would be improved and their smiling faces be restored as early as possible. One person can do little thing, and so it is needed to get collective power. Hoping that our support would be sustainable and each one's needs would be met. Next time I get a chance to come back here, I wish to see many of workshops and centers rebuilt and the persons with disabilities leading their lives in safe and peace. (Fukuoka Pref.)
A lot more support is needed for the persons with disabilities to rebuild their better community lives.
Supporters are lacking. The needed support activities are as follows:
Supporters for JDF Miyagi Support Center:
Needs identification by making visits to the shelters and Welfare offices, and taking measures to meet the identified needs
Staff of JDF Miyagi Support Center:
Phone consultation, Coordination and action taking to meet the emerging needs, Accounting, General affairs, Logistics, Supporter coordination, Public relations, Report and documentation management
Supporters for Northern Extension Support Center:
Identification of the needs and the living conditions of the affected persons with disabilities by making visits to the shelters in Kesennuma and Minami-Sanriku areas
Translated by Japanese Society for Rehabilitation of Persons with Disabilities
Volunteer translator: Ms. Mayumi Yamazaki