Miyagi Support Center News "Link (Yui)"No. 23, June 25, 2011
Let's support our fellows in Tohoku with our bonds of friendship and strengths.
Issued by the Miyagi Support Center and the Miyagi Northern Area Support Center of the Japan Disability Forum (JDF) Headquarters for the Comprehensive Support for Persons with Disabilities
Miyagi Support Center
Office: c/o Hagi-no-sato Fukushi-kojo, Taihaku-Ku, Sendai City
Phone: +81-80-4373-6077
Fax: +81-22-244-6965
Miyagi Northern Area Support Center
c/o Wakaba-en, Touwa-Machi, Tome City
Phone: +81-90-8349-9403
Fax: +81-220-45-2223
http://www.dinf.ne.jp/doc/english/resource/tohoku_earthquake.html
---
JDF Headquarters for the Comprehensive Support for Persons with Disabilities meeting held on June 22: continuation of support through Miyagi Support Center agreed
An exchange meeting of members from the JDF Headquarters for Comprehensive Support for Persons with Disabilities and the Support Centers was held at a meeting room of Japan National Council of Social Welfare on Wednesday, June 22, 2011. The Miyagi Support Center, led by Kabuki, the Center Chief, and strengthened by support volunteers from all over the country, has implemented its activities during the past three months after the earthquake disaster. Still more whereabouts and actual circumstances of persons with disabilities, mainly those living at home, are left unidentifiable. Further needs assessment and support activities are necessary.
It was agreed at the meeting to continue the implementation of the Miyagi Support Center's activities after July so that we can be more active to involve local organizations in facilitating a sustainable support system based on the activities we have done so far. We set the next turning point of our activities after three months, i.e. at the end of September.
Let's concentrate our strengths together.
We are recruiting more volunteers for the continuation of the center after July.
Purpose
We are requesting our member organizations for the recruitment of volunteers for the period from July through September. The purpose of this time volunteers will be; to conduct needs assessment, support and monitoring for disaster victims and disaster-affected centers/facilities, and to involve local organizations in the activities.
Activities
(1) Volunteers at Miyagi Support Center (Sendai City) Visits to shelters and centers/facilities in disaster affected areas for discovering needs and supporting.
(2) Volunteers at Miyagi Northern Area Support Center (Tome City)
Visits to shelters, living condition survey and needs assessment in the northern area including Kesen-numa, Minami-sanriku and Ishinomaki.
(3) Secretariats
Telephone consultation, coordination for supporting the needs, accounting, management of equipments and accommodations, general affairs, management of volunteers and vehicles, public affairs, reporting of activities and record management.
We will maintain our support activities for helping persons with disabilities reconstruct their peaceful days in the community.
We request your support!
JDF visited 1,400 persons with disabilities: number of visits from Miyagi Support Center up to June 23
Name of municipal authority
Population of Miyagi Prefecture
Registered persons with physical disabilities
Registered persons with developmental disabilities
Registered persons with mental disabilities
Number of persons with disabilities in the area
Support Center consultations
Persons with disabilities in Miyagi Prefecture
Persons with disabilities in the coastal regions
Up to April 16
Up to June 23
Total
2,346,290
79,262
14,925
9,705
103,892
53,511
116
1,400
Donations received from "SKi―Seifuku Kojo Iinkai."
We received 200,000 Yen and goods (T-shirts, etc.) donations from the "SKi―Seifuku Kojo Iinkai." Actually they were planning to visit Miyagi Support Center on June 19; however, they had to postpone their visit for scheduling matters.
We hope they come here in near future.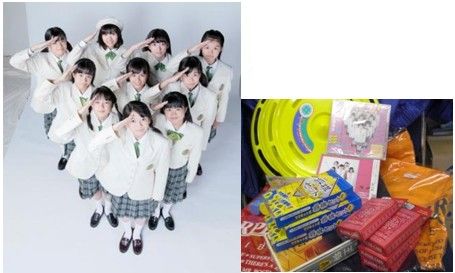 Photograph 1: "SKi―Seifuku Kojo Iinkai" (Left) and their donations in kind (Right)
From the office
June 24

Kabuki, the Chief of Miyagi Support Center, and Ono, the Director of the JDF Headquarters, attended the meeting hosted by International Academic Research Commission held at Sendai Welfare Plaza.
Kabuki and Ono were interviewed by Mr. Tsuji from "Gekkan-shakai-kyouiku (monthly publication of social education)" at the office.

June 24 & 25

Mr. Matsumoto from the Fukuoka RKB broadcasting visited us for an interview. The interview was focused on the JDF Miyagi Support Center and the situation of disaster-affected persons with disabilities.

June 25

Headquarters office moved from Hagi-no-sato Dai-ni Fukuju-en to Hagi-no-sato Fukushi-kojo (in the same site).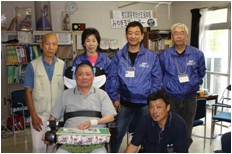 Photograph 2: The Yamagata Branch of Spinal Injuries Japan personnel visited Miyagi Support Center
A word from volunteers
I have been supporting myself just for one year and a little. So, I felt worthless when I came here for the first time. With such a depression in my mind, I was overwhelmed in terrible situations, such as a bus on the top of a building, a big ship stranded on the land, etc. at our visit to Ishinomaki and Onagawa. After that, I have changed my mind to a positive way through a couple of days of working experiences; we helped people move to their temporary housings, and I felt their hard decision to leave, expectation and joy. Of course, if I were more experienced, I could make a different kind of approach. But, I have been happy with and encouraged by the smile of the people and the word of thanks given by the people. (A volunteer from Aichi)
Translated by Japanese Society for Rehabilitation of Persons with Disabilities
Volunteer translator: Mr. Isamu Konishi