Miyagi Support Center News "Link (Yui)" No.28, June 29, 2011
"Let's support our fellows in Tohoku with our bonds of friendship and strengths!"
Issued by Miyagi Support Center and Miyagi Northern Area Support Center of Japan Disability Forum (JDF) Headquarters for Support of Persons with Disabilities affected by the East Japan Great Earthquake
Offices:
Miyagi Support Center: c/o Hagi-no-sato, Fukushi-kojo, Taihaku-ku, Sendai-shi
Phone: +81-80-4373-6077 Fax: +81-22-244-6965
Miyagi Northern Area Support Center: c/o Wakaba-en, Towa-cho, Tome-shi
Phone: +81-90-8349-9403 Fax: +81-220-45-2223
Website:http://www.dinf.ne.jp/doc/english/resource/tohoku_earthquake.html
---
"Four months have passed since that day…"
By Takahisa Kabuki, Representative of JDF Miyagi Support Center,


Photo 1: Mr. Kabuki, Representative of JDF Miyagi Support Center
On March 11, many lives were lost due to the East Japan Great Earthquake. According to the National Police Agency, the death toll as of July 8 is 9,295 and 2,815 people are still missing in Miyagi Prefecture only. Its Disaster Headquarters reports that 13,900 people still remain at shelters. Among other areas, the coast areas' dismal state is beyond all description. Not all of more than 50,000 persons with disabilities in the coast areas of Miyagi Prefecture have been reached and their needs have not been detected yet.
Under such a circumstance, JDF wasted no time to call on organizations in Miyagi Prefecture to organize "Miyagi Association for Affected Persons with Disabilities", and it decided to establish "JDF Miyagi Support Center". On March 30, it opened the office in "Sendai Work Campus", and instantly started outreach and needs survey activities. Mr. Ichikawa, Chairman of Miyagi Prefecture Social Employment Center Council, has been kindly supporting for many things including arrangement of office site. JDF members with many different expertize kindly came to the center from all over the country including the northernmost prefecture of Hokkaido and the southernmost prefecture of Okinawa, and have been participating in the activities of our support center continuously. In 2 centers (Miyagi Support Center in Sendai city and Northern Area Support Center in Tome City) together, the total number of such supporters is no less than 600 up until now.
There is an alpine plant Crowberry, which comes first to rocky and rubble stretch and flourish there. After that, other plants such as burnet start to live in the bush, more other different plants gradually flourish, which eventually make the woods in the difficult living environment of high mountains. Supporters who kindly came to our centers to provide continuous support in difficult situation of affected areas are, in a sense, doing the work of crowberry. JDF Support Center's work, I believe, will eventually overcome the challenges to bring a big change in the society.
Number of dialogues with persons with disabilities (up to July 12): 1,412 persons
Information from the field
A staff member in an employment support organization for persons with disabilities in Sendai city told that more than 100 workers with disabilities had to stay at home just after the earthquake, most of whom have already returned to work now. Among the workers who have not returned to work yet, 3 of them cannot do so because the public transportation has not been recovered. It is difficult for them to walk for 40 minutes or an hour to commute. According to 'Hello Work' (public job placement office), 34 workers with disabilities became out of job. Only 15 among the workers who are staying at home have submitted the notification of temporary leave. Leave compensation does not seem to be paid to many workers who are at home.
Total number of supporters (up to July 12): 514


Photo 2: Mr. Hatakeyama, Director of the facility
What Mr. Hatakeyama, Director of Nozomi-fukushi-sagyosyo, told us
'Nozomi-fukushi-sagyosyo' (a sheltered workplace) of Social Welfare Coorporation 'Senshinkai' was located on higher ground of 18 meters above sea level in Minami-Sanriku-cho. Despite the initial warning was that tsunami of 6 meters high would come, the actual height of tsunami was as high as the facility's ceiling. The clients, the staff and the facility were altogether swept away immediately. Mr. Hatakeyama said, "The client who managed to survive said to me 'Thank you for having saved me'. However, the truth is that I could not do anything. And I said 'Thank you for having survived.'"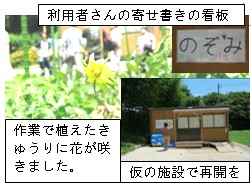 Photo 3: Sign board written by clients, flowers of cucumber planted by clients and temporary facility
Mr. Hayakeyama told that he would like all the people know that we have to assume disasters, not only tsunami but also other disasters, of two times or three times as big as the conventional assumption. However, this Nozomi-sagyosyo has made a solid step. A temporary prefab facility was built, and farming activities have started. The planted vegetable in waste land bore flowers and started to yield a harvest. When JDF members visited there on July 10, many nice cucumbers were produced.
The situation of affected Minami-Sanriku-cho is as serious as it was just after the earthquake. The roof of 3 story apartment building is still occupied by rubbles. However, the local people there are making best efforts. 4 months already have passed. But there seem long way to go.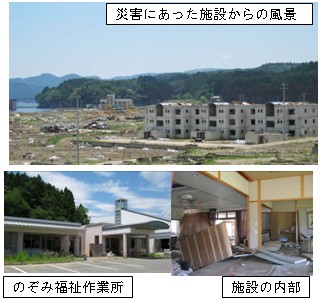 Photo 4: View from affected facility, Nozomi-fukushi-sagyosyo and inside the facility
When I visited Minami-Sanriku-cho, the sheer magnitude of devastation did not seem a reality to me. However, on the next day, as I heard Mr. Hatakeyama talking about the details of what happened on the day of the earthquake, I felt the damage as reality. It encouraged me to work more toward the recovery although I do not know how much our activities can make a difference.
(by JDF supporter from Tochigi)


Photo 5: His photo
Mr. Hatakeyama told about the situation of the day of the earthquake. I was impressed by him saying "The client who managed to survive said to me 'Thank you for having saved me'. And I said 'Thank you for having survived.'" I heard that the staff had stayed beside the clients at the shelter until clients' family came even though staff's families also were affected. I heard that clients and their families who had returned home continued to bring food and water to shelters. It made me realize a strong relationship nurtured by everyday practices. Each one's actions contribute to recovery. I will make actions too. I will move forward while calling on more involvement from others. (by JDF supporter from Saitama)


Photo 6: His photo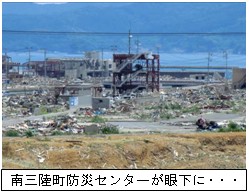 Photo 7: Looking down to Minami-Sanriku-cho Disaster Prevention Center
We need more supporters for the following activities.
① Visits to detect and respond to needs
② Office work including telephone consultation, needs coordination, response to needs, accounting, clerical work, public relations and others Place: Miyagi Support Center (in Sendai-shi), Miyagi Northern Area Support Center (in Tome-shi) We are waiting for your call.
Translated by Japanese Society for Rehabilitation of Persons with Disabilities
Volunteer translator: Mr. Shintaro Nakamura