Miyagi Support Center News "Link (Yui)" No.31, July 29, 2011
"Let's support our fellows in Tohoku with our bonds of friendship and strengths!"
Issued by Miyagi Support Center and Miyagi Northern Area Support Center of Japan Disability Forum (JDF) Headquarters for Support of Persons with Disabilities affected by the East Japan Great Earthquake
Offices:
Miyagi Support Center: c/o Hagi-no-sato, Fukushi-kojo, Taihaku-ku, Sendai-shi
Phone: +81-80-4373-6077 Fax: +81-22-244-6965
Miyagi Northern Area Support Center: c/o Wakaba-en, Towa-cho, Tome-shi
Phone: +81-90-8349-9403 Fax: +81-220-45-2223
Website: http://www.dinf.ne.jp/doc/english/resource/tohoku_earthquake.html
---
Life and Emerging Needs in Temporary House
Challenging Faced in the Life of Temporary House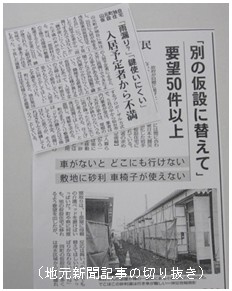 Photo1; From Local Newspapers
In Miyagi prefecture, 16,495 of temporary houses in 15 cities and towns have been built until now. There will be totally 22,516 houses in 15 cities and towns including newly building. It is likely to finish construction of enough number of temporary houses as of now. This construction includes group home type temporary houses for PWDs and Aged. We can say that those are appreciating efforts through meeting the needs flexibly.
However, some problems have been found after starting the life of temporary house, as the followings;
There is worry about discontinuation of supports like shelter, because persons will be treated as independent, after moving to temporary house.
Many persons in temporary houses want to move to their own houses 2 years later. That's why they don't want to pay for additional arrangement of temporary house.
In case to live in temporary house out of registered city/town/village, inconvenient may be happened on existing social system. For example, it will be difficult to use social services under the Public Nursing Care Insurance Act and the Service and Supports for PWDs Act, because services under those acts are applicable only in city/town/village where the person is registered.
In some of "Welfare temporary houses", 4 care workers manage services for 50 houses for 24 hours, and they can provide necessary supports whenever needed through emergency call system. However, these "Welfare temporary houses" have problem on living condition, because they have quite small space of about 30m² and very poor construction just like a prefab house.
Most of areas affected by Tsunami are not allowed to carry out construction. It is difficult to re-construct housings and shops in such areas.
Towards reconstruction of life
After moving to the life of temporary houses, some of needs have been newly found.
As the above mentioned, those needs are for continuing life without inconvenience like difficulty to get necessary goods for care.
With finishing the life of shelters and starting the life of temporary houses, it makes clear that we are facing other needs.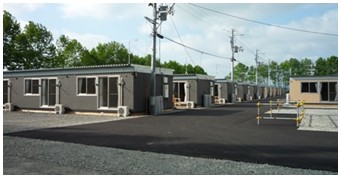 Photo2; Some of temporary houses
---
Good News from Survivors with disabilities!
It is also our supports to work for someone's empowerment.
A supporter from Tokyo
On July 16, I have received good news from Mr. A, a survivor with disabilities whom I visited to support in May in Miyagi.
He said, "I did what you said for me. I visited repeatedly to local government office without giving up, and then 3 hopes of mine have been realized. As the first one, I could have a room in apartment house run by local government. As the second, I received relief funds for survivors, and, as the third, I received six goods needed like television, refrigerator and washing machine. Thank you for your supports!"
When I visited to the local government office before, an officer said that there were no needs for PWDs like group home in this area.
However, this area had damaged by earthquake severely, although not damaged by Tsunami. The apartment house Mr. A lived before was totally destroyed, and the landlord demanded move of him to other place. On the other hand, many people from area affected by Tsunami moved to this area, and then rent for houses get much more expensive than before. Mr. A has difficulty of his heart and lives by welfare. That's why it was not easy for him to change house in this situation. I think that he worried so much about his house whenever big aftershocks happened.
It is necessary supports to help transportation and to provide goods for care. At the same time, it is also important support to empower person by provision of necessary information to reconstruct their life by themselves.
I was very happy when I received such phone call from Mr. A.
Numbers of dialogue with PWDs; 1424 
Numbers of supporters; 531
(By July 22)
---
We need more supporters for the following activities.
①Visits to detect and respond to needs
②Office work including telephone consultation, needs coordination, response to needs, accounting, clerical work, public relations and others Place: Miyagi Support Center (in Sendai-shi), Miyagi Northern Area Support Center (in Tome-shi) We are waiting for your call.
Translated by Japanese Society for Rehabilitation of Persons with Disabilities
Volunteer translator: Mr. Makoto Kono