Miyagi Support Center News "Link (Yui)"No. 33, July 30, 2011
Support our Tohoku fellows with bonds of friendship and strength
Issued by the Miyagi Support Center and the Miyagi Northern Area Support Center of the Japan Disability Forum (JDF) Headquarters for the Comprehensive Support for Persons with Disabilities
Miyagi Support Center
Office: c/o Hagi-no-sato Fukushi-kojo, Taihaku-Ku, Sendai City
Phone: +81-80-4373-6077
Fax: +81-22-244-6965
Miyagi Northern Area Support Center
c/o Wakaba-en, Touwa-Machi, Tome City
Phone: +81-90-8349-9403
Fax: +81-220-45-2223
Website: http://www.dinf.ne.jp/doc/english/resource/tohoku_earthquake.html
---
Taro Murasaki and his partner Jiro performed at three JDF workshops in Yamamoto-town, Ishinomaki-city and Minamisanriku-town as part of his continuous activities across the Tohoku region to comfort disaster survivors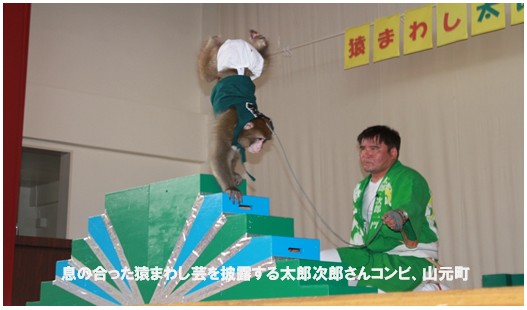 Photo:Performance of the Taro/Jiro comic duo
The Taro/Jiro comic duo gave a show on July 28 (Thu) in Yamamoto-town and one more on July 29 (Fri) in Minamisanriku-town. Laughter and happy faces from workshop users, staff and the schoolchildren who had offered places in their schools were their reward.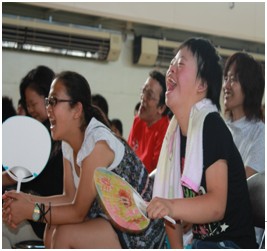 Photo:Laughter and happy faces of the audience
Ishinomaki-city: Taro/Jiro's performance at "the Lounge & Café Sakura-Sakura"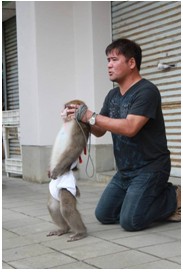 Photo:Performance of the Taro/Jiro comic duo
They also called on "the Lounge & Café Sakura-Sakura" (day-service and support for work and employment) and witnessed the daily activities going on there and had an exchange with users and staff. Taro and Jiro then used an open space in front of an empty shop to impromptu performance and exchange which attracted also people from the local community who were drawn by the sounds of laughter and people making merry.


Photo:Performance of the Taro/Jiro comic duo and the audience
Up to July 29:
1435 consultations and other support activities for persons with disabilities, executed by 547 support staff
◆Recruitment of volunteers continuous!◆
Activities

Support・・・Needs assessment (visiting), support services, etc
Administrative・・・Telephone consultation, administration of needs, accounting, general affairs, public relations, etc

Where

Miyagi center (Sendai-city) and Miyagi Northern Area Center(Tome-city)
Translated by Japanese Society for Rehabilitation of Persons with Disabilities
Volunteer translator: Mr. Peter Bontje