Miyagi Support Center News "Link (Yui)" No. 36, August 12, 2011
Let's support our fellows in Tohoku with our bonds of friendship and strengths.
Issued by the Japan Disability Forum (JDF) Headquarters for the Comprehensive Support for Persons with Disabilities
Miyagi Support Center
Office: c/o Hagi-no-sato Fukushi-kojo, Taihaku-Ku, Sendai City
Phone: +81-80-4373-6077
Fax: +81-22-244-6965
Miyagi Northern Area Support Center
Office: c/o Wakaba-en, Touwa-cho, Tome City
Phone: +81-90-8349-9403
Fax: +81-220-45-2223
http://www.dinf.ne.jp/doc/english/resource/tohoku_earthquake.html
Person-in-charge: Yoichi Morii
---
Miyagi Eastern Area Support Center will be launched on 15 August in Wakuya-cho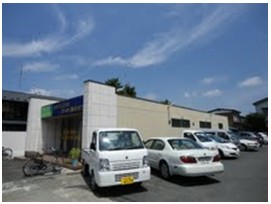 Photo: Miyagi Eastern Area Support Center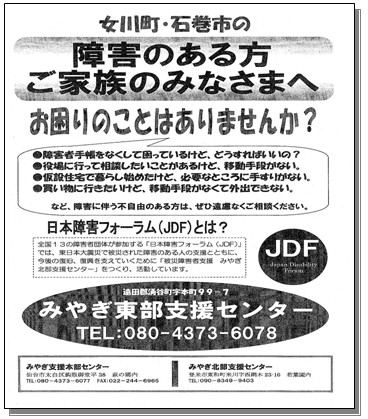 Photo: A leaflet
It becomes hot in Miyagi prefecture suddenly, and an extremely hot day more than 30 degrees centigrade continues day after day since this week begins. Intense heat continues in the stricken areas of the disaster as well, and persons living in shelters are still in great numbers. We hope that they pay more attention to their physical condition management and spend with good health.
The place of "the Eastern Area Support Center" of which we informed at the last issue has been decided formally. And the place of stay for the staff has been decided as well, therefore, we will be able to prepare enough to open the Center on 15th, Monday after a short period preparation at this weekend. The Center's main target area includes Ishi-no-maki City and Ona-gawa-cho. We will be more active in home visit for hearing, consultation and needs assessment. We are planning to issue the leaflet (see the photo) and distribute its copies through relevant organizations to persons with disabilities as many as possible.
---
New organization system of the JDF Miyagi Support Centers
Miyagi Eastern Area Support Center

99-7, Moto-machi, Wakuya-cho, Toda-gun, Miyagi prefecture
Phone: +81-80-4373-6078

Miyagi Northern Area Support Center

c/o Wakaba-en, 23-16 Aza Nishi-tsunagi, Yone-kawa, Towa-cho, Tome City, Miyagi Prefecture
Phone: +81-90-8349-9403

Miyagi Support Center (Headquarters Support Center)

c/o Sendai-city Welfare Association for the Disabled, 2-12-2 Itsutsu-bashi, Aoba-ku, Sendai City, Miyagi Prefecture
Phone: +81-80-4373-6077
---
Footprints of the support activities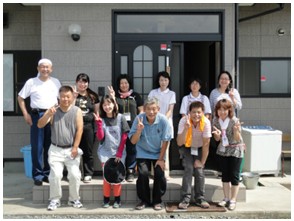 Photo: Volunteers and the office staff at "Kibou-ga-oka group home"
We visited one of the centers/facilities stricken by the disaster, namely "Kibou-ga-oka group home" for the support of rearrangement of living rooms.
They requested to us for cleaning up the living rooms as there had been an application of moving in. Eight persons, led by the office chief, including volunteers gathering at the Miyagi Northern Area Support Center and the office staff made struggle for the request.
We could complete the cleaning-up in about 20 minutes earlier than we expected partly because of our teamwork to carry futons, chests, PC, etc. out in a relay form.
After the support, all but one left for their next duty places. He, who had a spare time, remained there for a while and was asked by the manager if he might ask a favor. The manager asked him to rearrange the rooms with residents. He spent time for the request and went back to the Center.
(A supporter from the Northern Area Support Center)
---
A word from volunteers
"We want you to feel."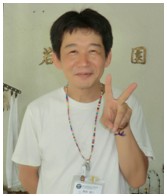 Photo: A male volunteer from Mie Prefecture worked from 5 to 14 August at the Northern Area Support Center.
Five months have passed since the Great East Japan Earthquake hit eastern Japan. At Nozomi Welfare Workshop in Iriya, Minami-sanriku-cho service users and the facility staff started the making of field in solidarity.
The workshop was completely destroyed by the earthquake-triggered tsunami. They built a prefab workshop on the land of one of their users and could start newly the making of field. JDF members had the opportunities to contribute to the start from zero through weeding at the land where weeds grew thick, plowing the ground and planting seedlings.
Nowadays, they came to harvest vegetables such as potatoes, eggplants, tomatoes, paprika, etc.
We appreciate heartily for the opportunities we were given to be involved in such activity. And also the efforts of the persons suffered from the disaster towards reconstruction touched us deeply. Still more, we have things to do. We believe that they proceed themselves forward with strong feeling that they do not give up.
---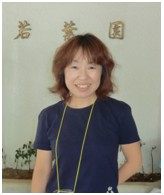 Photo: A female volunteer from Saitama Prefecture worked from 8 to 12 August at the Northern Support Center.
As the period of my commitment was short, I felt that it would be the limit of my volunteer activities to work according to the instructions given by persons in charge.
However, I had very good opportunities to experience the process of decision-making on the policy of support activities through earnest discussions and the exchange of opinions. In the meeting held at night for referring support activities to next volunteers, we discussed on what we could do and how we should respond to the needs to change every day.
---
We are recruiting volunteers at the disaster areas as the number of volunteers registered so far will not be sufficient for the months from September.
Please call: +81-80-4373-6077
Activity description:

(1) Volunteers at Support Centers Visits to shelters and centers/facilities in disaster areas to find and respond to their needs.
(2) Secretariats Telephone consultation, office works for general affairs, public information and accounting, etc.

Place for activity:

Miyagi Support Center (Sendai City), Miyagi Northern Area Support Center (Tome City) and Miyagi Eastern Area Support Center (Wakuya-cho).
---
Translated by Japanese Society for Rehabilitation of Persons with Disabilities
Volunteer translator: Mr. Isamu Konishi