Miyagi Support Center News "Link (Yui)" No.37, August 17, 2011
"Let's support our fellows in Tohoku with our bonds of friendship and strengths!"
Issued by Miyagi Support Center and Miyagi Northern Area Support Center of Japan Disability Forum (JDF) Headquarters for Support of Persons with Disabilities affected by the East Japan Great Earthquake
Miyagi Support Center: c/o 2-12-2 Itsutsubashi, Aoba-ku, Sendai-shi
Phone: +81-80-4373-6077 Fax: +81-22-266-0292
Miyagi Eastern Area Support Center: c/o 99-7 Motomachi, Wakuya-cho
Phone: +81-229-43-6639 Fax: +81-229-43-6685
Miyagi Northern Area Support Center: c/o Wakaba-en, Towa-cho, Tome-shi
Phone: +81-90-8349-9403 Fax: +81-220-45-2293
Website: http://www.dinf.ne.jp/doc/english/resource/tohoku_earthquake.html
---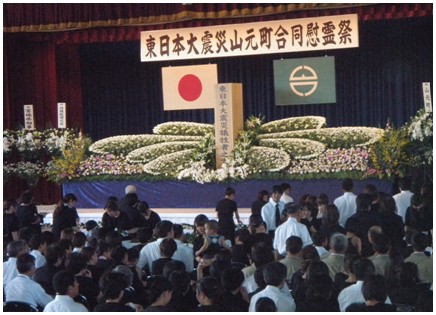 Photo 1: The joint memorial service
 On August 11, the joint memorial service was organized for victims of Japan Quake. Two staffs of Miyagi Support Center attended to the service.
It made us remind of the horrible day, and it was quite painful for us to think of survivors.
After starting the service, the brass band of the Self-Defense Force played the music of "Sen-no-Kaze-ni-natte (To be thousands winds)". The music moved all of participants to compassion, because all imagined that victims became thousands winds.
Everyone said that Yamamoto-town was a quite comfortable place to live. However, the town was destroyed by the disaster. We don't know where we should vent our anger on. With listening to the story by survivors, we regretted deeply. We prayed that souls of all of victims may rest in peace, and swore to build disaster-proof community.
 At the closing of the service, we offered flowers to the spirits, and left for further support activities.
---
A trace of support activity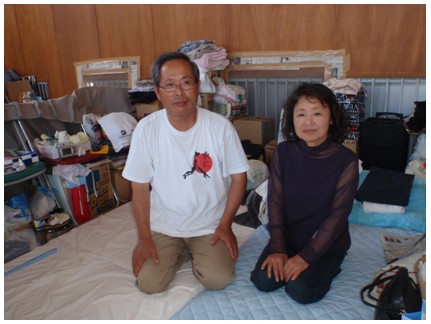 A tsunami warning was issued right after the quake. We evacuated to the Kazuma primary school. Because it was still in winter, the husband went back home to bring coats and blankets against cold.
 At his going out from their house, he saw the tsunami on a fuel station which was just in front of their house. He thought that it would be impossible to run away to the school, and then ran up to the upstairs. As soon as he got to the upstairs, huge tide of the tsunami reached and filled up to knee-level. He was about to lose his life.  In the next morning, after water went back to sea, he walked to the school for shelter. Although it was only 500m distance, it took about 1 hour because there was water above knee and danger of hole of road and hidden manholes. After the walk, finally he met his wife again.
On March 12, the wife needed to have artificial dialysis at hospital. They left for Ishi-no-maki clinic in spite of everyone's persuasion to stop it.
They went through Makiyama west and east tunnels, and crossed the bridge of Ishi-no-maki Ohashi. In the town, they walked on an embankment, because all of town area was submerged. After 3hours walk from the school, they met members of Japanese Self-Defense Force. According to the members, it was impossible to go furthermore. To talk about artificial dialysis, they gave the wife a lift to a Japanese Red Cross hospital. And then the husband went to a relative in Wakuya.
The wife stayed at the hospital for a week and had artificial dialysis, and then moved to Ishi-no-maki clinic. However, they could not have artificial dialysis at the clinic. So she visited to Kimachi hospital in Sendai by bus for having artificial dialysis during her staying at the clinic.
 At the hospital in Sendai, she talked with her husband by public phone, and then moved to another shelter of a high school in Ish-no-maki.
After moving, she still has artificial dialysis 3 times per week continuously. In this summer, they came back from the hospital by taxi, because of the wife's condition.
Some of taxies were provided to them by Ishi-no-maki city. But it was not enough to cover all of artificial dialysis. That's why we, the support center, are now assisting their transportation.
The wife said, "I am not a wheel chair user, nor necessary to be cared, and so I thought that it would be difficult to have assistance of the support center. I think many of survivors need such assistance. Please report about our story on your news letter to inform such useful assistance to survivors like us."
We are happy to see such a couple.
---
Miyagi Eastern Area Support Center
c/o 99-7 Motomachi, Wakuya-cho, Toda-gun, Miyagi-prefecture
Phone: +81-229-43-6639 Fax: +81-229-43-6685
Number of survivors with disabilities whom we met; 1438
Total number of supporters; 609
(As of August 15)
We need more supporters for the following activities.
Visits to detect and respond to needs
Office work including telephone consultation, needs coordination, response to needs, accounting, clerical work, public relations and others
Place: Miyagi Eastern Area Support Center (in Wakuya-cho, Toda-gun), Miyagi Northern Area Support Center (in Tome-shi)
We are waiting for your call.
Translated by Japanese Society for Rehabilitation of Persons with Disabilities
Volunteer translator: Mr. Makoto Kono