Miyagi Support Center News "LINK (Yui)" No. 43, September 10, 2011
Let's Support our Fellows in Tohoku with our Bonds of friendship and strengths
Issued by the Miyagi Support Center and the Miyagi Northern Area Support Center of the Japan Disability Forum (JDF) Headquarters for the Comprehensive Support for Persons with Disabilities
Miyagi Central Support Center
Office: 2-12-2, Itsutsubashi, Aoba-Ku, Sendai City
Phone: +81-80-4373-6077
FAX: +81-22-266-0292
Miyagi Northern Area Support Center
c/o Wakabaen, Towa-machi, Tome City, Miyagi Prefecture
Phone: +81-90-8349-9403
Fax: +81-220-45-2293
Miyagi Eastern Area Support Center (New)
99-7, Motomachi, Wakuya-cho, Tooda-Gun, Miyagi Prefecture
Phone: +81-229-43-6639
Fax: +81-229-43-6685
URL:http://www.dinf.ne.jp/doc/english/resource/tohoku_earthquake.html
---
Getting together to plant white radish, green vegetables and grow flowers is our dream
-Bringing soil in a temporary house community as the first step for farming -
Mr. K, an acupuncturist with sight disability, had run a clinic together with his daughter, an acupressurist in Onagawa Town. The great Tsunami washed away all of his house and clinic. He is now living in a temporary house in Konori Area and filled with stress from being jobless and a drastic change of living environment. Gradually he managed to adjust himself to the new environment, going outside of his house to find anything to work. Such positive attitudes brought him joy little by little, which led him to have a dream that his neighbors would get together to plant vegetables and grow flowers. But temporary house community was constructed by a makeshift arrangement and the ground is covered by gravel and pebbles. How to get farming soil became an issue for him. Miyagi Support Center tried to meet his request through coordination. Association for Aid and Relief, Japan (AAR) responded positively. On September 8 Mr. K and Miyagi Support Center staff welcomed AAR, bringing in mountain soil by truck, together with fertilizer and farming tools. Some community people welcomed and looked the event out of their windows. His dream became a reality. They will plow the soil to make their community farm in time.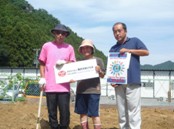 Photo: Mr. K (left)
Survey record (as of September 8, 2011)
Total number of the persons with disabilities who had dialogue with JDF: 1,524
Total number of the supporters: 688
---
Setting a handrail
JDF visiting survey on the temporary houses in Onagawa Town identified the demand of setting a handrail in the unit bath from the elders and the persons with disabilities living in the temporary houses. But it was found that the strength of the bath wall is not strong enough to set a handrail. This issue was taken to a biweekly meeting in Onagawa Town, where the concerned organizations gather there. The physiotherapists and the operation therapists of Onagawa Town Hospital contributed a good idea to use a prop bar and a slip-proof mat as a set. We accompanied them to be taught how to set them in a unit bath in a temporary house.
Since then JDF staff set them up for 2 houses (as of September 9). Absolutely check by specialist is essential, since the setting place or height is different according to the users. We would like to meet their needs more and more for their better life in the temporary houses.


Photo: the unit bath equipped with a handrail
---
Footmarks of Support activities
I joined JDF support activities from Sep.3 through Sep.9. Facing to the reality of 3.11, Great disaster, I lost my words. I pondered to myself, what I could do for the affected people.
Activities I joined are visiting temporary houses, identifying the needs, coordinating them with the concerned organizations and key persons, and sitting together to think together to meet the needs. Relationship and link among various people's continuous supports generate the power towards the reconstruction and the new hope, I felt.
It was one week, just a short period to work here. But JDF activities gave me the meaningful experience in my life and I would like to make the most of it in my future. Thank you so much. (A supporter from Aichi pref.)


Photo: A supporter from Aichi pref.
---
This is the second time for me to be dispatched to JFD Support Activities.
The first time was to Minami-sanriku Town, and this time to Ishinomaki City. My volunteer work in Minami-sanriku Town meant a struggle for me. I tried my best to make the visit survey to the shelters. But I could not get the expected effect by my period was over and I had to take it over to the next team.
Going back home I was gloomy, facing to my helplessness. Since the second chance came to me, I had felt heavy in my heart until the second support activity in Ishinomaki began. But on the last day, now I feel I did it. I made the survey with preparation of having images of life stories of the concerned affected people so as to catch the real voice and respond properly. As a result I could feel a sense of satisfaction, which wiped away the first time agony. I have to say that the way to reconstruction is still far. I wish to get another chance to come back again to serve. (A supporter from Aichi pref.)


Photo: A supporter from Aichi pre. and another supporter
---
Voice of Editor
The 24th Team activity will be over tomorrow. The previous team consisted of many women and their support work seemed flowery, whereas ours consisted of all men except the only one woman staff in the office. Japanese Autumn night is very tasteful with insects ringing, but inside of Miyagi Support Center was so noisy with snoring chorus and was so hot. We slept so badly, but we can say that we maximized what we had.
---
Call for dispatch supporters to the affected areas
waiting for your call to 080-4373-6077, who can serve for 7~10 days at least
Contents:

At site: Visiting the affected for needs identification/action-taking, etc.
At office: Phone consultation, general affairs, public relations, accounting, etc.

Places:

Miyagi Eastern Support Center (Tooda Gun)
Miyagi Northern Area Support Center (Tome City)
---
Translated by Japanese Society for Rehabilitation of Persons with Disabilities
Volunteer translator: Ms. Mayumi Yamazaki