Miyagi Support Center News "Link (Yui)" No.46, September 21, 2011
"Let's support our fellows in Tohoku with our bonds of friendship and strengths!"
Issued by Japan Disability Forum (JDF) Headquarters for Support of Persons with Disabilities affected by the East Japan Great Earthquake
Miyagi Support Center: Itsutsubashi 2-12-2, Aoba-ku, Sendai-shi
Phone: +81-80-4373-6077 Fax: +81-22-266-0292
Miyagi Eastern Area Support Center: 99-7 Motomachi, Wakuya-cho
Phone: +81-229-43-6639 Fax: +81-229-43-6685
Miyagi Northern Area Support Center: c/o Wakaba-en, Towa-cho, Tome-shi
Phone: +81-90-8349-9403 Fax: +81-220-45-2293
Website:http://www.dinf.ne.jp/doc/english/resource/tohoku_earthquake.html
---
Number of interview with persons with disabilities; 1,537
Total number of supporters; 731
As of September 17
I participated in the activity conducted by the Miyagi Support Center because I would like to make sure the real situation occurred in Japan through my eyes. I realized the might of the nature and six months have gone since the March 11th disaster through watching grasses coming out strongly from debris. Someone said that it was re-birth, not re-building. I suppose that it might be our mission to inform anyone around us of what we have seen, heard of, and touched in this region. Many sunflowers, the symbol of the re-birth, were going to be in the last blossom around the area. I hope that it will be covered by full of sunflowers in Tohoku region next year as well. (A supporter from Hiroshima prefecture)
Footprints of the support
I came to the Miyagi Northern Area Support Center on 9th of September, and received the task description on "Yui", the supporting center for jobs and livings from the former supporter. I heard that the number and the contents of the consultations have been changing day after day compared with the previous periods. And things which evacuees themselves and their communities have solved have been increasing. I was convinced that the fact was exactly one of the results by what JDF had been doing so far, although I came here along with big missions to do some things for re-birth in this region. I would like to keep my motivation highly to act promptly for their needs. (A supporter from Fukuoka prefecture)
Attracted by Onagawa Town
I came to Onagawa town to do volunteer as a supporter under the JDF activity. I have been attracted by the town and the native people living in while I had spent 10 days fully covered by the nature, the people, and the atmosphere. The support activities in the town have been done not only by utilizing the existing services actively such as nursing insurance and social welfare for PWDs, but also by creating need-oriented services for individuals flexibly. I was highly impressed to see positive and step-forward activities with smile and honest attitude by the health care coordinators such as public health nurses, physiotherapists, and occupational therapists. I am also proud of myself who can be a part of those supports with these experts. Still numerous tasks to be solved are remained in this region whereas six months have gone since March 11th disaster. However, a big hope is exactly in Onagawa town for re-built. The government and the people there think and step together with respecting each other. Their thoughts and wishes create a town which people link together. I would like to keep supporting for re-birth of the town. (A supporter from Saitama prefecture)
Report on the 5th meeting with the government of Onagawa Town.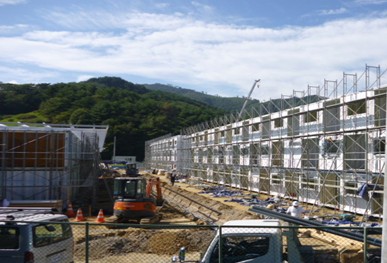 Photo 1: The temporary houses for the evacuees with three stories constructed on multi-usage ground in the field park
The 5th periodic meeting with the government of Onagawa Town and the Miyagi Support Center was held on 14th of September. Our center reported the activities which we have implemented in Onagawa town, and confirmed to keep activities collaborated with the government particularly to support transferring services from/to the shelters for the evacuees and to set up hand-rail bars in the temporary houses. Our center received enquiries from the government about until when our activity would keep conducting in the town, and about the places which supporting goods would be offered and the number of people who could receive the goods. Our center informed them that the center would keep supporting on and after next November, and keep offering people the necessary goods under the cooperation with the relevant organizations. In addition, we talked about posting the brochure of the JDF to all of the citizens in the town, and also supporting for the citizens staying at the temporary houses in Ishinomaki city.
Disaster experienced in Minami-Sanriku Town and the current condition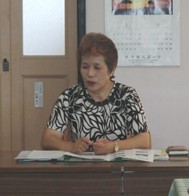 Photo 2: Ms. Kaoru Miura, the manager of "Kazenosato", a social welfare organization of Senshinkai
The manager of the organization "Kazenosato", Ms. Kaoru Miura, addressed her own experience in the disaster region and the current condition at "Wakaba-en" on 18th of September. She was absolutely exhausted to had responded to each enquiry about the situation after the disaster from a lot of other social welfare organizations in chaos condition. The stakeholders in Minami-Sanriku region had a meeting on 13th of May to solve the situation. After that, the current supporting activities got started and still have been implemented at her organization. She expected us to see the real situation occurred in this region by our hearts, and to feel by our minds. She realized that she had received enough power from the supporters, and she would keep receiving the supports from now on as well. She concluded that she would like to keep conducting her own tasks based on her favorite word "Sympathy to others first, without despising them".
We need more supporters for the following activities.
1.Visits to detect and respond to needs
2.Office work including telephone consultation, needs coordination, response to needs, accounting, clerical work, public relations and others
Place: Miyagi Eastern Area Support Center (in Wakuya-cho, Tooda-gun), Miyagi Northern Area Support Center (in Tome-shi)
Condition: Basically to work at least for 7~10 days
We are waiting for your call.
Translated by Japanese Society for Rehabilitation of Persons with Disabilities