Miyagi Support Center News "Link (Yui)" No.49, October 8th, 2011
"Let's support our fellows in Tohoku with our bonds of friendship and strengths!"
Issued by Japan Disability Forum (JDF) Headquarters for Support of Persons with Disabilities affected by the East Japan Great Earthquake
Offices:
Miyagi Support Center: 2-12-2 Itsutsubashi, Aoba-ku, Sendai-shi
Phone: +81-80-4373-6077 Fax: +81-22-266-0292
Miyagi Eastern Area Support Center: 99-7 Motomachi, Wakuya-cho
Phone: +81-229-43-6639 Fax: +81-229-43-6685
Website:http://www.dinf.ne.jp/doc/english/resource/tohoku_earthquake.html
---
Number of interview with survivors with disabilities; 1,561
Total number of supporters; 743
As of September 30th
Closing Miyagi Northern Area Support Center on the end of September, the function of the center was integrated into Miyagi Eastern Area Support Center.
The Northern Area Support Center was opened on April 28th, and now it was closing and integrating its function into the Eastern Area Support Center on October 2nd.Miyagi Eastern Area Support Center will continue providing supports for survivors, although it is reducing supporters up to 12 at most.
On September 30th when it is the last day for activities, we visited all of offices where we supported before, such as welfare workshop Nozomi, Kaze-no-sato, Yui, and Workshop Himawari, for expressing our gratitude, and gave them message cards.At each place, we received heart-warming appreciation, all of our staffs were moved so much.
When we are cleaning up our office on October 1st, the chairperson of welfare workshop Nozomi visited us from Kesen-numa city and presented us cakes they made.When we moved away from the office on October 2nd, the chairperson of Wakaba-en came to say good bye although he was on leave. It was impossible for us to continue our support activities without assistance by Wakaba-en.
Miyagi Eastern Support Center is taking over the some of support activities that was provided by the Northern Area Support Center at Kaze-no-sato of Minami-Sanriku town, and keeping support activities until the end of November. Though the Northern Area Support Center is closed, all of staffs will bring their experience back to their place, and keep support activities at their own places for revival of affected areas.
Thanks to assistances of a lot of people, we could continue support activities at the center. We appreciate very much all of people who assisted us.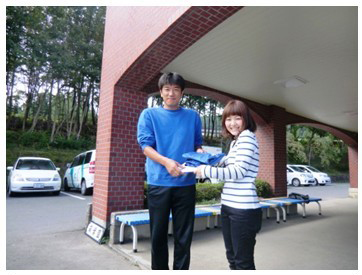 Photo:Giving message cards to the chair of Wakabaen
Role of JDF, reflecting support activities at Onagawa town
In the last December, "Kirara Onagawa" was estabilshed for provision of opportunity for persons with disabilities to work. Many of persons with disabilities used to work there actively, and it was changing community's viewpoint about disability. However, tsunami destroyed everything completely, including 2 members' lives.
Only what I could do as the chair was safety confirmation of my colleagues. I came to Onagawa for establishing the program of "Kirara". Many people in Onagawa were so kind to let me go back to my hometown, and so I went back home 1 month later from the disaster. However, even after going back to hometown, I visited Onagawa repeatedly in anxious mood, and realized it was worth we were living together with my colleagues.
After 6 months passed away, now I have started to have positive mind, applying to be a JDF volunteer to support survivors with disabilities. Because many of volunteers from all parts of Japan have supported survivors with disabilities and also me, during confusion right after the disaster and while I could not do anything at all for survivors. It seemed that they said to me, "Take it easy. We are always together with you. Surrounding such voices, I could revive for addressing various problems which the disaster had brought about.
I think this is the time to start closing activities by JDF when we will see a sign that survivors take an action to stand up again. JDF has been building up a network of a lot of people. Moreover, JDF has taken a role to make the foundation to overcome the difficulties all together by building up a relationship much better than before.
Now Onagawa town has started stepping forward for building an inclusive society for everyone under new viewpoint about disability. I assure Onagawa town has a brilliant future.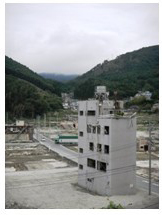 Photo:Progress of road repairment in Onagawa town
Footmark of support
Though it was the first support activities to me, it was the last phase of activities by the Northern Area Support Center. I was so anxious due to such situation.
I lost any words to express my feeling when I saw the scenes of Kesen-numa city and Minami- Sanriku town. The disaster destroyed all of places where had rich nature and human activities. I imagined how deep sadness and serious suffering the people faced.
The workshop where I worked as a supporter was opened 24 hours right after the disaster to support the affected people. It was so tough for survivors with disabilities and their families to live in shelters, due to conflict with other survivors without disabilities. I heard that many of survivors with disabilities and their family members came to workshop for consultations. I respect all of staffs who supported survivors with disabilities and their families. However, I feel that most of staff is getting tired because they are also victims.
It was a short but deep week for me. I felt resilience and warm heart of people in Tohoku, and thought what is important for human life.I appreciate that I had lots of encounter with others and they gave me lots of power. After going back to my hometown, Osaka, I will be back to my own job with this precious experience. Thank you so much.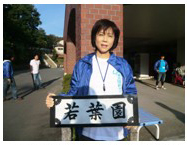 Photo:A supporter from Osaka
---
Translated by Japanese Society for Rehabilitation of Persons with Disabilities
Volunteer translator: Mr. Makoto Kono