Miyagi Support Center News "Link (Yui)" No.50, October 15, 2011
"Let's support our fellows in Tohoku with our bonds of friendship and strengths!"
Miyagi Support Center: Itsutsubashi 2-12-2, Aoba-ku, Sendai-shi
Phone: +81-80-4373-6077 Fax: +81-22-266-0292
Miyagi Eastern Area Support Center: 99-7 Motomachi, Wakuya-cho
Phone: +81-229-43-6639 Fax: +81-229-43-6685
Website:http://www.dinf.ne.jp/doc/english/resource/tohoku_earthquake.html
---
Number of interview with persons with disabilities; 1,561
Total number of supporters; 743
As of October 14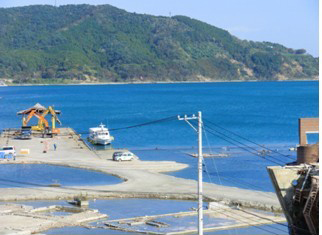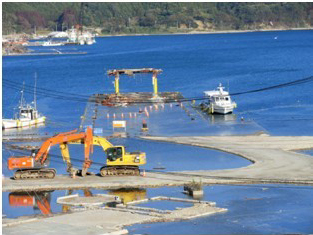 Photo: Flooded roads along the coast whenever high tide comes, viewed from the Community Medical Center of Onagawa Town
The periodic meeting with the government of Onagawa Town.
The 7th meeting with the government of Onagawa Town was held. Both of the government and Miyagi Support Center reported the support activities done so far and discussed future tasks to be collaborated. Although all of the temporary houses planned to be built in Onagawa Town will be completed at the end of October, we confirmed to continue the support activities. The center received the feedback that the support activity to provide some facilities with bath rooms at the temporary houses has been worked effectively particularly for the persons with disabilities and the elderly.
The support activities related to delivering the necessities in Onagawa Town, not included the support for transferring and moving as of October 14
The detail of the support activity
Setting up a bar utilized as a hand-rail
on bath tub
Non-slipped mat
Others
The number of necessities we delivered
19
22
Bath tub stands, Shoes for rehabilitation, Canes, Telephones for persons with hearing impairment and the elderly, Concrete blocks, Soil for gardening at temporary houses area
The organizations for persons with disabilities affected the March 11th disaster in Onagawa town were introduced. We heard of that a center for day care and a group home have been closed without any plan to be opened. Some of those who received their support are also used to utilize our support activities. They have been waiting for opening of them. However, a lot of buildings were destroyed by the disaster and a lot of grounds are no available because of land subsidence. There are few lots they can build the facilities.
*Regarding the bar utilized as a hand-rail on bath room, it is basically NOT preferable. Thus, we use them as hand-rails under the monthly inspection by professionals of rehabilitation. If they find any deterioration of the bar, they(we) change into a new one.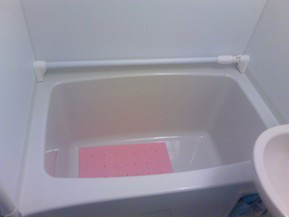 Photo: The bath tub attached a bar utilized as a hand-rail for a first-aid
Thank you for the donation
Miyagi Support Center received a donation, 100,000 yen from Mr. Mamoru Takada, the chairperson of the NPO "Kokusyoren Café". He visited our center on October 12. He collected the donation as the representative of the Members for Recycling Movements at Liaison Council of the Associations for Persons with Disabilities of Kokubunji City, which has run since 40 years ago.
The Nozomi welfare work shop is going to move
The workshop, which has opened at a temporary office in Iriya community between mountains since the March 11th disaster, is going to move to the new place near the Bayside Arena which they rent from Minamisanriku Town. The Nozomi welfare will reopen at the new place on 27th of October.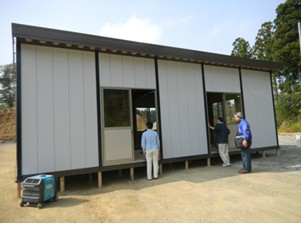 Photo: The temporal Nozomi welfare work shop under construction
Footprints of the support
A mountain of debris as well as ruined scenery, though six months have been gone since the March 11th disaster, pained my heart when I visited Kesennuma City, Minamisanriku, Onagawa Town, and Ishinomaki City on the first day of my support activities. The sea level which had sense of intimidation scared me. It was a series of the scenes which I saw at first time in my life. The JDF closed the Miyagi Northern Area Support Center, and integrated it into the Miyagi Eastern Area Support center on 1st of October. The movement started the preparation for the close of the support. At that time, I felt anxiety because only two supporters, including me, had to cope with the task.
I took in charge of the support activity in Minamisanriku Town, but the administration staff of the center had to help me. I could visit only limited persons with disabilities because it took a lot of time to transfer to a next house. I do hope that enough supporters will gather in next rotation. More supporters are necessary to close the support activities. I myself am very sorry to finish my task although I became familiar with the region.
I strongly felt that I needed to transfer what I saw and felt in the affected region toward the others in my community as natural disasters might happen in our community anytime. I would like to make my experiences in the affected region use effectively to my own life and future support activities. Thank you for everyone who I met and everything which I experienced in the region. (A supporter from Tokyo)
Translated by Japanese Society for Rehabilitation of Persons with Disabilities