Miyagi Support Center News "Link (Yui)" No.54, November 12, 2011
"Let's support our fellows in Tohoku with our bonds of friendship and strengths!"
Miyagi Support Center: Itsutsubashi 2-12-2, Aoba-ku, Sendai-shi
Phone: +81-80-4373-6077 Fax: +81-22-266-0292
Miyagi Eastern Area Support Center: 99-7 Motomachi, Wakuya-cho
Phone: +81-229-43-6639 Fax: +81-229-43-6685
Website:http://www.dinf.ne.jp/doc/english/resource/tohoku_earthquake.html
---
Number of interview with persons with disabilities; 1,577
Total number of supporters; 789
As of November 11
---
Festival for Thanksgiving held by Nozomi Welfare Workshop!
We were invited the Thanksgiving festival held by Nozomi Welfare Work Shop on 10th of November 2011. Mr. Hatakeyama, the director of the work shop, expressed the damage by March 11th disaster, everything of the workshop swept away, and the details of the moving the temporary workshop to the current place. We could not keep listening to his statement without tears; all done by the previous Nozomi welfare work shop were in the first chapter, and the next will be made from now on. I could learn the strength and value of the community bond through our supporting activities. (A supporter from Okinawa)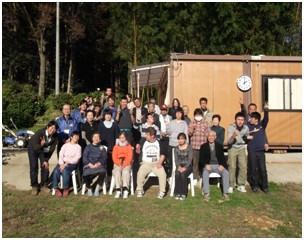 Photo: the participants of the Thanksgiving festival in front of the temporary workshop building
At the lecture by the Social Welfare Council in Minamisanriku
I attended the lecture on the "The prospect on community welfare" by Mr. Teruo Honma, a professor of the Department of Sociology, Graduate School of Tohoku University. He firstly explained the lessons which were learnt from the previous Great Hanshin Earthquake, occurred in 1995, as well as overall damage by March 11th disaster. He pointed out that rebuilding of the disaster region must be underpinned by the force of the evacuees who support and collaborate with one another. Excessive support activities by people from other areas might be obstacles in progress of the rebuilding. We also had an opportunity to exchange ideas among the participants after the lecture, and we made decision to hold a meeting between some organizations and gather opinions from diverse backgrounds once a month. I made sure that such a periodical meeting might take a role to rebuild Minamisanriku town. (A supporter from Okinawa)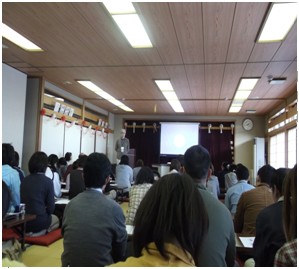 Photo: at the lecture of the Social Welfare Council in Minamisanriku
Disappeared Rikuzen-Takada City
We had an opportunity to visit Rikuzen-Takada City under the arrangement by the director of Himawari work shop during our activities involved with the workshop. This city has been preparing for rebuilding after cleaning all the debris, and nothing was there like deleting by an eraser. The cool wind with dusts in the area made us feel very sad, although amount of debris in the same area made us scare before. I strongly felt it is my responsibility to let the others know what we saw and felt in the town, as asked by the evacuees, when coming back to my hometown in order to link the next supports. (A supporter from Aichi)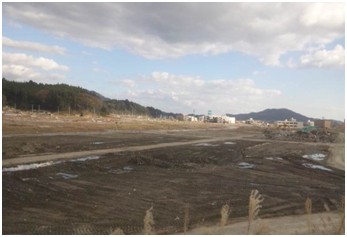 Photo: A place at Rikuzen-Takada city where the debris was carried out
Footprints of the support
The first step to the disaster region.
Despite eight months gone since the March 11th disaster, the first visit to the disaster region halted my words or thoughts. Prior to entering the region I heard a steady rebuilding process even in a small step, but the real condition in disaster region was beyond my assumption. The stories which I heard from the affected organizations and communities were very harsh to keep listening to, however I could recognize the strength of the bond tightened by the organizations and communities suffered from the disaster. In addition, I was moved with smile and words on appreciation by the evacuees when I did support activities such as changing beds and checking medicines. I am slightly proud of myself who could get in touch with this disaster region in Miyagi prefecture, and do want to leverage the experiences to my own life. (A supporter from Okinawa)
Smile
It was my first experience to do support activities in disaster region. The place I supported was Himawari work shop in Kesennuma City. In the beginning of my activity, I was very nervous in communication with those evacuees. My negative emotion was expanded in seeing the real disaster region. However, warmer welcome with smile by the evacuees blew out my nervous feeling. I could enjoy my activity because of their smile. I was definitely sure that the city of Kesennuma will be rebuilt and re-created a wonderful one even with longer time to be completed. I would like to take a small part of the rebuilding process though my hometown is far from the region. (A supporter from Okinawa)
Toward the termination of the support
I firstly came to the disaster region. I had no words when I saw real scenes of disaster region although I knew the region through a television. The scars left by the disaster were still visible although eight months was gone since the disaster. The rebuilding small processes, encouraged me and deleted my anxiety. The thing which I need to do the most is to pass on what I saw and listened to here to people living in other regions. I do hope that rebuilding will be accelerated under the activities by numerous supporters managed by the JDF. (A supporter from Yamagata)
Unite our hopes by 33 cool
---
Translated by Japanese Society for Rehabilitation of Persons with Disabilities