Miyagi Support Center News "Link (Yui)" No. 56, November 26, 2011
Support our Tohoku fellows with bonds of friendship and strength
Issued by Japan Disability Forum (JDF)'s Support Center for Persons with Disabilities affected by the East Japan Great Earthquake
Miyagi Support Center: Itsutsubashi 2-12-2, Aoba-ku, Sendai-shi
Phone: +81-80-4373-6077 Fax: +81-22-266-0292
Miyagi Eastern Area Support Center: 99-7 Motomachi, Wakuya-cho
Phone: +81-229-43-6639 Fax: +81-229-43-6685
Website:http://www.dinf.ne.jp/doc/english/resource/tohoku_earthquake.html
---
Number of interview with persons with disabilities: 1,593
Total number of supporters: 817
---
March 30 → December 4 → where from here
In the 8 months since our support center started, about 800 persons from all over Japan have volunteered mainly for persons with disabilities, mostly on a week's basis. As of December 4 the Miyagi Eastern Area Support Center will close and the dispatching supporters program will end. The head office, Miyagi Support Center will join in the establishing a new support program in Miyagi prefecture. The support will continue to assure the equal rights and participation in community life of persons (children) with disabilities as part of the overall recovery and rebuilding efforts.
We are looking forward to your support and cooperation.
JDF Miyagi Support Center
Sendai-city Welfare Association for the Disabled
Phone: +81-80-4373-6078
---
Thank you very much to the Shimizu Social Welfare Fund for kindly donating two cars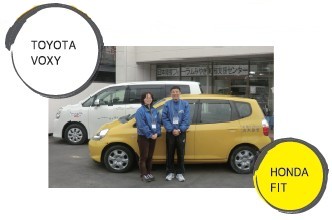 Photo: supporters of Miyagi Support Center standing in front of two cars donated
Messages from supporters in the 35th group.
It is evident to me that progress is being made towards the reconstruction and revival of communities. Thank you for giving me the opportunity to tie the bonds which many supporters have built. (A supporter from Shiga)
I am confident that the revival of the community will be achieved through the vitality and forward looking people that I met. (A supporter from Tokyo)
I still think much more manpower is needed to support persons with disabilities, who are now living in temporary housing, and was moved by the people who had positive feelings and who talked to me with beautiful smiles. Upon return home I will inform people of the conditions in the disaster areas. (A supporter from Okinawa)
---
8 months have passed since the East Japan Great Earthquake
- Gratitude for the activities done of JDF Miyagi Support Center and tasks for the future -
By: Kazuhiko Abe
Representative JDF Miyagi Support Center
Representative Disaster Survivors Support Group Miyagi


Photo : Mr. Kazuhiko Abe
2011 has been a year of confusion and incomprehension of the unimaginable destruction by the great Japan earthquake.
Everybody has been affected and people with disabilities have been more affected with a lot of anxieties that continued day-in-day-out. On March 30 the JDF Miyagi Support Center was launched and many many volunteers from all over the country came and provided continuous necessary support. Even Privacy Protection Law sometimes proved to be a barrier to identifying and meeting the people most in need.
Even though Muen Shakai (the disconnected society) had become one of catch phrases of the year, the supporters in their blue JDF uniforms got noticed many persons with disabilities and us presences of "bonds", "relationships" and "mutual support". In the aftermath of this disaster it was clear that in spite of all the social change bonds, friendships and mutual support were still very much alive.
Although the road to recovery is still unclear, at least most people now have been housed in temporary housing after staying in emergency accommodations (shelters). With this achievement of our activities, we will close the Eastern Area Support Center as of December 4, and JDF Miyagi headquarters will take a next step. One of our main tasks is the continuous support for 22,000 people living in prefabricated houses and 25,000 people living in rental houses. Through our connections with various organizations and communities, bonds of friendship and mutual support we will continue to reach out to those with special needs, above all to prevent people becoming isolated in their homes or even to prevent people from dying lonely.
I will end with a "thank you very much from the bottom of our hearts" for the support of our many volunteers and kindly ask for your continuous hard-needed support in the time to come.
---
JDF Miyagi Support Center's Footprints
Link and connect, 8 months of support for people with disabilities
JDF Miyagi Support Center


Photo (left): the supporters wearing in blue uniforms
Photo (top of right): a boy playing outside with a supporter
Photo (middle of right): a man enjoying paintings
Photo (bottom of right): a temporary building of the Nozomi Workshop
---
Translated by Japanese Society for Rehabilitation of Persons with Disabilities
Volunteer translator: Mr. Peter Bontje