ISPO An Asian Prosthetics and Orthotics Workshop '98 in Japan Final Report
| Contents | | Photos | | Previous Page | | Next Page |
---



Commemorating the Mid-Point of Asia and
Pacific Decade of Disabled Persons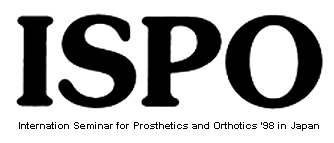 An Asian Prosthetics and Orthotics
Workshop '98 in Japan
February 2 - 4,1998
Tokorozawa (NRCD), Saitama
Final Report
Organized by
Japanese Society for Prosthetics and Orthotics
Japanese Society for Rehabilitation of Disabled Persons
International Society for Prosthetics and Orthotics
Collaborated with
Ministry of Health and Welfare
Ministry of International Trade and Industry
N.E.D.
Chiba Prefecture Government
Japanese Association of Rehabilitation Medicine
Japanese Orthopaedic Association
Japanese Academy of Prosthetists and Orthotists
Japan Orthotic and Prosthetic Association
Japanese Physical Therapy Association
Japanese Association of Occupational Therapy
Japan Rehabilitation Nursing Association
Rehabilitation Engineering Society of Japan
Japanese National Member Society of ISPO
Techno-aid Association
---
This book was produced with the assistance of the public benefit promotion fund of the Japan Motorcycle Racing Organization.
Educational Seminar in Japan
ORGANIZING COMMITTEE
Consultants

S. Sawamura
Y. Hatsuyama
M.Yamashita

Financial Chairman

Y. Tazawa

Programme Chairman

Y. Tobimatsu

Secretary General

E. Tazawa

C. Aoki
T. Aoyama
Y. Ebara
F. Ochiai
S. Kakurai (Chairman)
J. Kawamura
T. Kurokawa
H. Kojima
H. Sueda
S. Tanaka

K. Terayama
S. Tokuda
S. Nakajima
T. Nakamura
I. Nara
H. Furukawa
M. Mikami
K. Yonemoto
---
Contents
Overview - Brendan McHugh
Messages
Papers
Who Guarantees the Cost of Prostheses or Orthoses?
What is the Social Status of People with Disability?
What is Status of War Victims?
What Prosthetic Treatment is Provided?
Appendices
---
| Contents | | Photos | | Previous Page | | Next Page |
---
Commemorating the Mid-Point of Asia and Pacific Decade of Disabled Persons
ISPO An Asian Prosthetics and Orthotics Workshop '98 in Japan Final Report
- Contents -
Editors:
Eiji Tazawa
Brendan McHugh