HIGHLIGHT
(10 December 2003)

An opening ceremony of the summit was held from 14:00 to 15:00 on 10 December 2003.
The heads of state of the host countries, the Secretary-General of the United Nations, the Secreatary-General of ITU. the President of the Preparatory Committee, the Executive Head of an intergovernmental organization, and onte top level representative from civil society (including NGOs) as well as one top level representative from a business sector entity (including ITU sector members), identified through their self-organizing mechanism, in coordination with Secretary -General of the Summit,was invited to make remarks. Their remarks were made in the following order.
Mr.Kofi Annan, UN Secretary-General said, ".Information and communication technologies are not a panacea or magic formula, but they can improve the lives of everyone on this planet. However, while technology will shape the future, it is people who shape technology, and decide what it could and should be used for. These new technologies should, therefore, be embraced, while recognizing that this is an endeavour that transcends technology."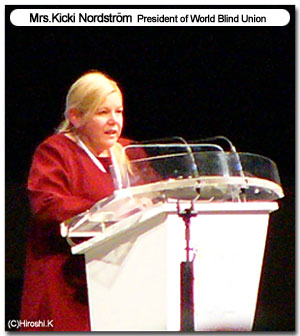 It is noted that Mrs. Kicki Nordstrom, President of Workd Blind Union made remarks on behalf of the whole civil society and it could increase disabiltity awareness.
Opening Ceremony, 14:00h-15:00h GMT+1
Switzerland
His Excellency Mr. Pascal Couchepin
President of the Swiss Confederation

United Nations
His Excellency Mr. Kofi Annan
Secretary-General

Tunisia
His Excellency Mr. Zine El Abidine Ben Ali
President of the Republic of Tunisia

International Telecommunication Union
His Excellency Mr. Yoshio Utsumi
Secretary-General

World Blind Union
Mrs. Kicki Nordstrom
President

Thuraya Satellite Telecommunications Company
Mr. Mohammad Omran
Chairman of the Board

WSIS Preparatory Committee
His Excellency Mr. Adama Samassekou
President