World Summit on the Information Society Geneva 2003-Tunis 2005 and Follow-up Activities
The 2nd International Conference on Disaster Preparedness of Persons With Disabilities 12-13 May 2009,Phuket,Thailand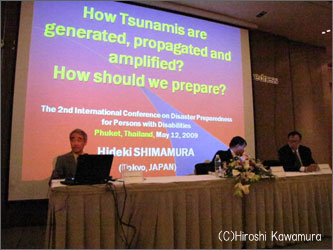 Basic Information
The World Summit on the Information Society (WSIS) is held in two phases.
The first phase of WSIS took place in Geneva hosted by the Government of Switzerland from 10 to 12 December 2003, where 175 countries adopted a Declaration of Principles and Plan of Action.
The second phase took place in Tunis hosted by the Government of Tunisia, from 16 to 18 November 2005, where 174 countries adopted the Tunis Commitment and the Tunis Agenda for the Information Society.
We will provide information on WSIS from the perspective of disability.
First Phase of the WSIS (10-12 December 2003, Geneva)
Second Phase of the WSIS (16-18 November 2005, Tunis)
WSIS related-events
2009
2008
2007
2006
Achievement from Phase2 Tunis 2005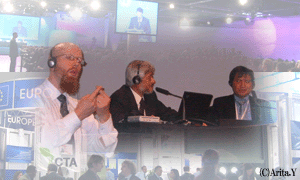 WSIS Phase 2 Tunis 2005
Second Global Forum on Disability in the Information Society(15,18 November 2005)
UNESCO Workshop (16 November 2005)
PrepCom-3 (19-30 September 2005 and 13-15 November 2005)
Tokyo Ubiquitous Network Conference (16-17 May 2005)
PrepCom-2 (17-25 February 2005)
PrepCom-1(24-26 June 2004)
WSIS Phase1 Geneva 2003
First Global Forum on Disability in the Information Society(12 December 2003)
Exhibition
Plenary Session (10-12 December 2003)
Draft of Declaration of Principles and Plan of Action
Civil Society Plenary (8 December 2003)
PrepCom3A (10-14 November 2003)
Background of WSIS