HIGHLIGHT
From the Exhibition
(11 December 2003)
From the Exhibition
The ICT for Development Platform is a major summit event complementingand enriching the political core segment of the WSIS in Geneva.
It is organized by the Swiss Agency for Development and Cooperation(SDC), which forms part of the Swiss Agency of Foreign Affairs; and the Global Knowledge Partnership (GKP).
The Platform is dedicated to the human and development dimension of information and communication technologies(ICT) and consists of an exhibition and a comprehensive conference programme.
More than 200 Governments, organizaitons and companies from 80 countries participated in this exhibition and hundreds of innovative projects, products, technologies, services, and best practices doucumenting the potential of the ICT for development are introduced there.
Booth of UN Volunteers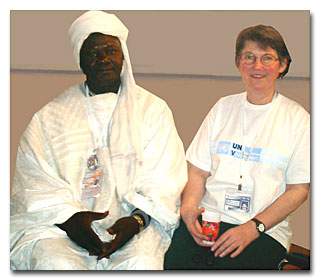 At the Booth of UN Volunteers the launching of the internet portal of the City of Timbuktu was done with the attendance of Mr. Mohammed Cisse, Mayor of Timbuktu.
This website address is http://www.tombouctou.net/index.php. The site contains information for not just local people but also those who wish to visit this city.
In Timbuktu, a remote city of the Northern Mali, the "on-line mayor" pilot project is going on as part of the decentraization work of the United Nations Volunteers (UNV) in Mali to apply information and communication technology (ICT) for the develoment of rural regions. Its main object is to help bring government and decision-making closer to the people.
Four UN volunteers are very active in this work. They set community networks and train up these networks and train personal in managing the computor systems that back up these networks of people.
They also develop computer programmes and research content for websites. The Mayor told that he enjoyed the work of mayor in a new way using ICT.