Miyagi Support Center News "Link (Yui)" No.13, May 18, 2011
"Let's support our fellows in Tohoku with our bonds of friendship and strengths!"
Issued by Miyagi Support Center of Japan Disability Forum (JDF) Headquarters for Support of Persons with Disabilities affected by the East Japan Great Earthquake
Office: c/o Haginosato-Daini-Fukujuen, Taihaku-ku, Sendai-shi (since May 1)
Website: http://www.dinf.ne.jp/doc/japanese/JDF_shienhonbu.html
---
It has been almost two months now since Miyagi Support Center started its activities. Supporters have been coming from all over Japan. We feel a strong sense of solidarity. This week, in the devastated Southern Sanriku area, we made a big positive step as described later in this news.
Accumulated number of visits as of May 17 (the numbers on May 17 only are shown in parentheses.)
| | | | | | | |
| --- | --- | --- | --- | --- | --- | --- |
|   | Supporters | shelters | municipal government offices | support centers for persons with disabilities | organizations concerned | individual houses and other places |
| 5/17 | 42 | 18 | 5 | 4 | 5 | 0 |
| Total | 1443 | 618 | all the affected municipalities | 356 | 137 | 450 |
From the visit activity logbook
Establishment of Counseling Counter in Minami-Sanriku-Cho
On May 17, we, with people of local welfare service centers, established a counseling counter, which people can readily drop into. This service was realized thanks to the kind understanding of local governments and the cooperation with service providers. JDF supports local welfare service centers by coordinating for their received requests with JDF's concerned support organizations.
The requests on the first day include;
"I would like to ask somebody to teach me for a written part of driver license exam."
"I would like to have someone to talk to."
"There is a need for accessible temporary toilet for wheelchair users."
"I need transportation service to the workshop."
We have been listening to these requests and coordinating for them. This activity has just begun by local service centers' initiative. Hopefully, more needs and requests will be coordinated and solved through this mechanism.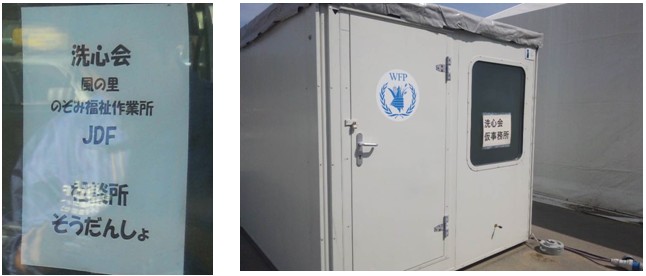 Photo 1: Temporary facility of Counseling Counter of Senshinkai
What's happening in our office.
May 15 (Sunday): Confirmation of needs for activities
May 16 (Monday): Visit by Secretary-General Mr. Isobe to Kobo-Chikyu-Mura in Yamamoto-cho
May 17 (Tuesday): Visit by Mr. Isobe to Higashi-Matsushima-shi for a meeting on distribution of taxi tickets
What's happening in Miyagi Northern Part Support Center working since April 28.
May 15 (Sunday): In Bayside Arena, consultation with local government logistics officials on transportation of goods.
May 16 (Monday): Meeting with the section chief of Health and Welfare Division of Minami-Sanriku-Cho on the site of Senshinkai's temporary counseling counter. Delivery of 300 paper cups and 300 paper plates to Tome Community Center
May 17 (Tuesday): Meeting with Mr. Ogawa of Nippon Foundation.
Words from the supporters
"I worked for 3 days from May 14. That was my second time here. Last time was survey visits to member organizations of Natori Association of Persons with Physical Disabilities, and I worked exasperatedly.
This time's area was Ishinomaki-shi and Onagawa-cho. The traces of the earthquake have been cleared away every day, and the streets became wider and wider, which cheered me up." (Supporter from Tokyo)
"A caller from a shelter told me that a woman with disability in the shelter was in extremely difficult physical and mental condition. Another call came, asking for a help for a girl with severe disability to go to the medical center to receive a wheelchair. There are still a lot of persons with urgent needs although two months have already passed since the earthquake occurred. Supports based on long-term needs such as place to live will be necessary from now on. We need to work together with various sectors." (Supporter from Tokyo)
For reconstructing better living in community for persons with disabilities, we are in need of human power now. Your support is greatly appreciated!
We need more supporters for the following activities.
① As supporter in Miyagi Support Center; Visits to shelters and welfare service providers for finding out needs as well as responding to concrete needs.
② As office staff in Miyagi Support Center; Telephone consultation, needs coordination, accounting, logistical work, clerical work, coordination of supporters and cars, public relations, activity reporting and recording.
③ As supporter in Miyagi Northern Part Support Center; Visits to shelters, needs survey and safety confirmation activities in Kesennuma and Southern Sanriku areas.
Translated by Japanese Society for Rehabilitation of Persons with Disabilities
Volunteer translator: Mr. Shintaro Nakamura